Are you new to using cast iron skillets? Learn how to clean your skillets and ensure you're taking care of cast iron properly.
Because if not properly cared for, cast iron will rust. But good care will result in a go-to kitchen tool.
The cast iron skillet will be non-stick and over time, easier to clean up and care for.
I mean, I even bake bread and roast my own coffee beans in mine!
I've been using cast iron from the very moment that I traded in my city life for country living. It's almost like a right of passage for the rural, homestead life.
Several years ago, while cleaning out the attic of our first rented home at the beginning of my marriage, I found a dusty old box of super old and rusty cast iron.
After checking in with the owner's, I inherited my first set of cast iron!
And so the cleaning and re-seasoning began. But, once I learned how to properly care for and use them, I was hooked!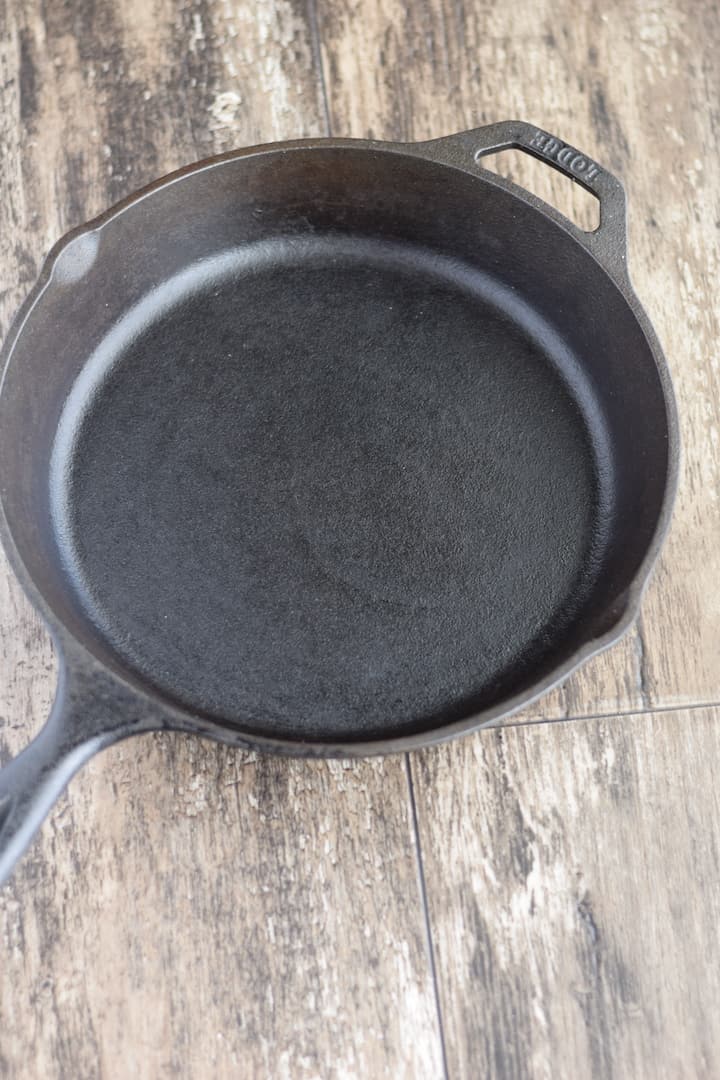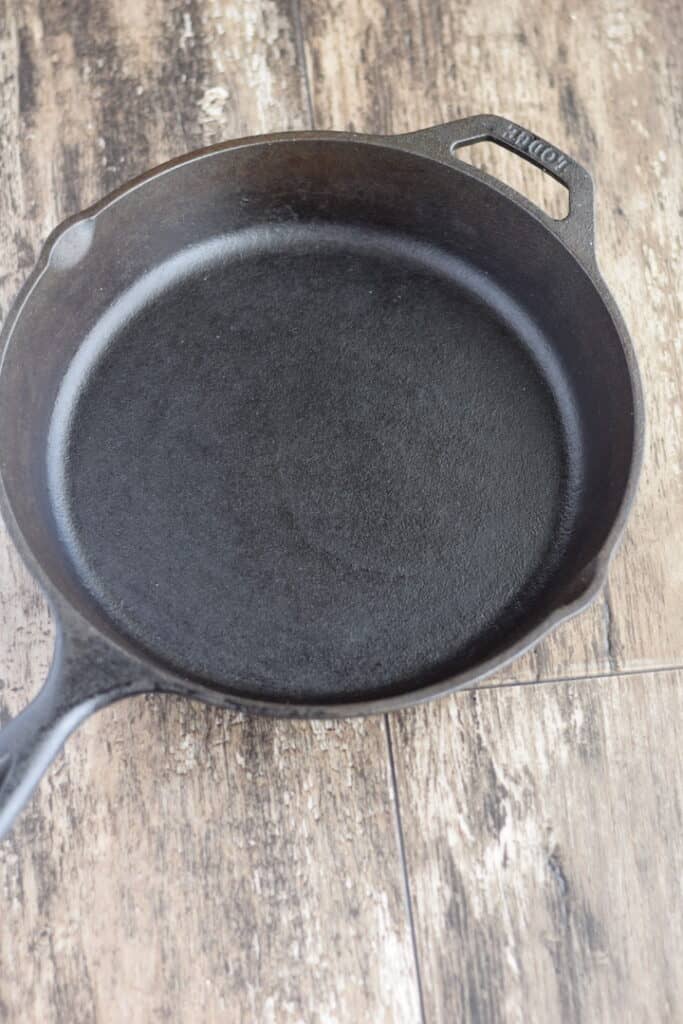 Taking Care of Cast Iron
We recently moved into our new home on the ranch. But while we were waiting for the house build to finish, we downsized and put a lot of things in storage.
My beloved cast iron was severely neglected for several months. I'm not sure how it happened, but they got a bit rusty.
And so I needed to clean and re-season them.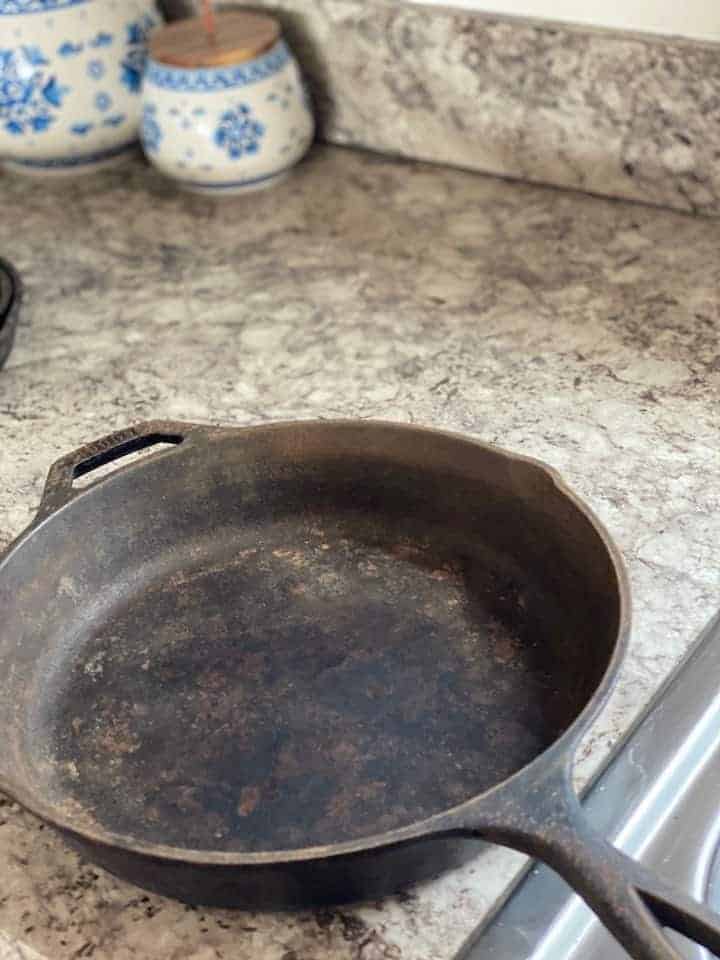 Cleaning Care
Typically, I don't use water very often to clean my cast iron skillets. Occasionally, it might need a bit of water.
But if doing that, it is important to dry it thoroughly and then season with a small amount of oil.
In this situation, my cast iron was really rough and needed a very good scrub with soap and water.
Otherwise, soap is also to be avoided as it will remove the seasoning.
I was sent this plastic food scraper when I ordered my bread pan from Pampered Chef. It works really well at removing burnt on food from cast iron skillets.
Ordinarily, I will just use coarse sea salt and a bit of oil for a quick clean up of my cast iron.
Cast Iron Recipes
Re-seasoning Cast Iron
What to do when the cast iron needs a bit of a re-season?
Like in my situation of my skillets getting dirty and rusty in storage over several months.
First thing to do is preheat the oven over 425 degrees F.
The next thing needed to do is to give them a really thorough scrubbing and dry them very well.
You could place them on the stove top over low heat to remove extra water and ensure they're dried through.
Next, you'll apply a very thin layer of oil on the entire skillet – inside, outside, handles, etc.
I then line my baking sheets with parchment paper. This is optional, but it saves on extra clean up.
And place the cast iron upside down on the baking sheets. It shouldn't drip excess oil if only using the small amount of oil.
Place in the oven for an hour, turn off the oven when done, and allow to cool down.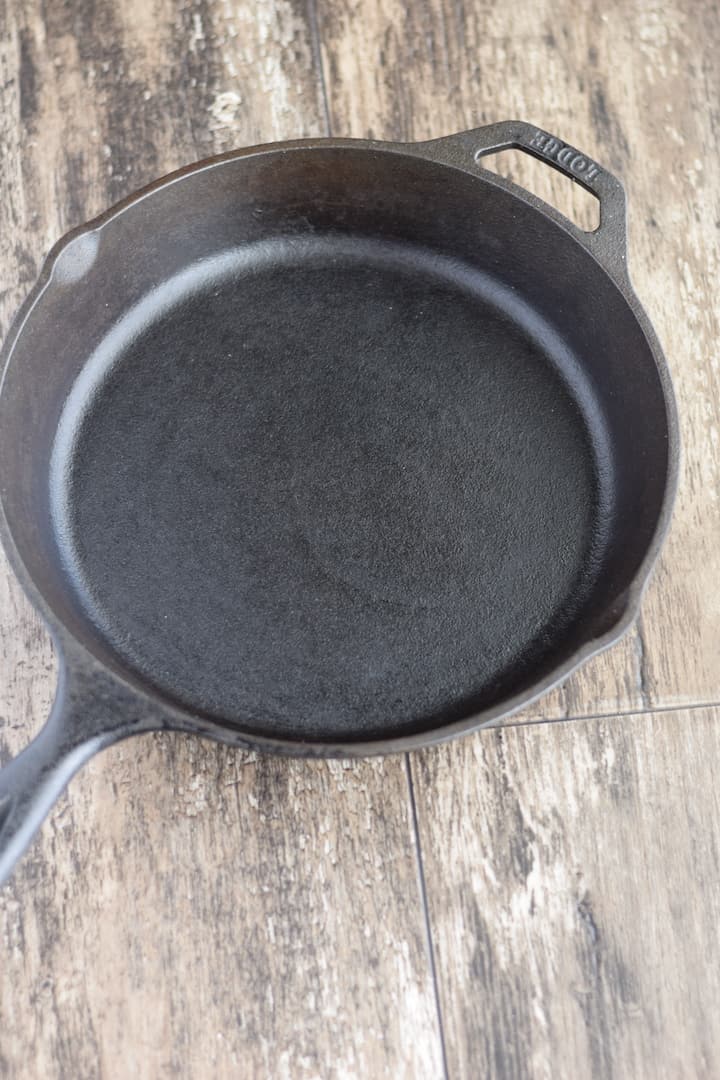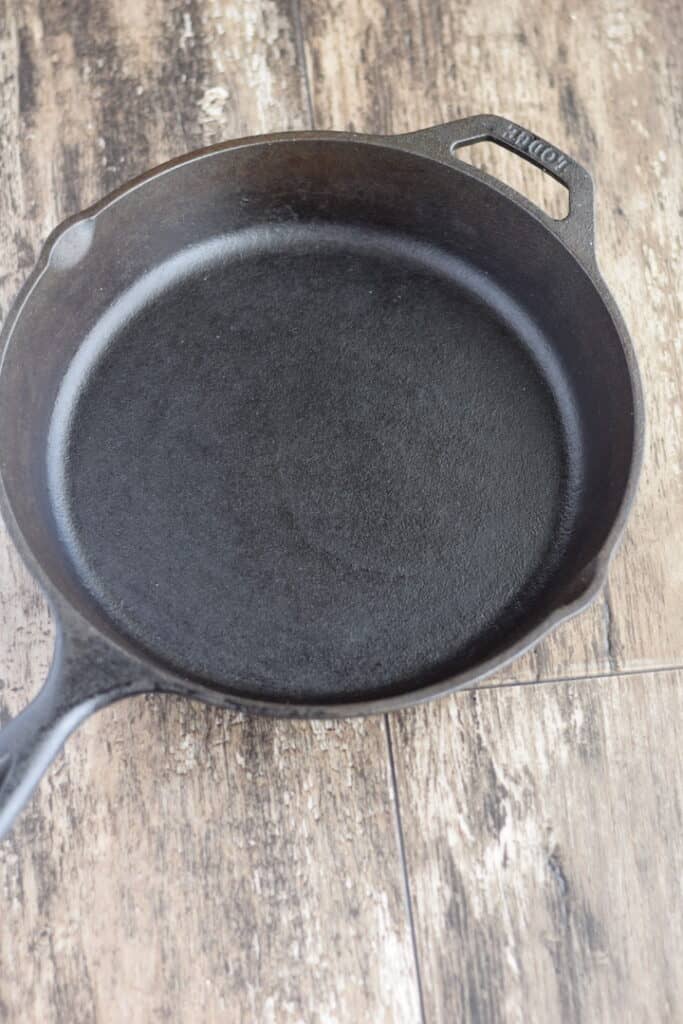 Tips for Proper Care
When re-seasoning the cast iron skillet, it is super important to only apply a thin layer of oil. Usually about a tablespoon or so is sufficient.
If too much oil is used, it will leave the skillet sticky and tacky to touch.
When applying, I use a soft cloth and rub it all over the skillet.
It will take several applications or seasonings over time to get the proper non-stick and seasoned cast iron.
The properly seasoned skillet should be smooth and black.
What Type of Oil to Use
We only use butter, quality olive oil, and bacon grease for cooking in our home. And they are great for cooking in a cast iron skillet.
But terrible for seasoning.
So what oil should you use to season a cast iron skillet?
Here are our top choices:
Other people highly recommend the use of flax seed oil, but I have personally never tried it.
And there are other oils like canola / vegetable oil that are highly recommended.
But we don't keep those in our home, so I have no experience with using them.
With proper care, your cast iron skillet will last practically forever!
More Natural Home: