This incredibly easy and delicious moringa smoothie is packed full of amazing benefits. It is also a great way to get in your daily nutritious greens!
Plus its an easy way to sneak greens to your little ones!
Not only is this moringa smoothie delicious and easy to make, it is also incredibly beneficial! And it is vegan friendly.
♥
What you'll love about this recipe:
KID FRIENDLY – This smoothie is a definitely a favorite in our home. And a great way to sneak in healthy greens.
HEALTHY – Creamy and full of nutritious, whole food ingredients. Including superfoods!
What is Moringa?
In a nutshell, moringa is a superfood. It is loaded with beneficial nutrients. Also known as moringa oleifera, it comes from a tree that is native to tropical and subtropical regions.
Basically all parts of the moringa tree are useful as food and medicine. But the most nutrient rich and healing comes from the moringa leaves.
I've been using moringa daily for a few of weeks now. The first thing I noticed was an increase in energy. As a mom of little ones, this is a huge bonus.
Did you know you can grow moringa? If you live in growing zones 9 and above, with the right conditions, you certainly can grow your own moringa. Learn more from this post!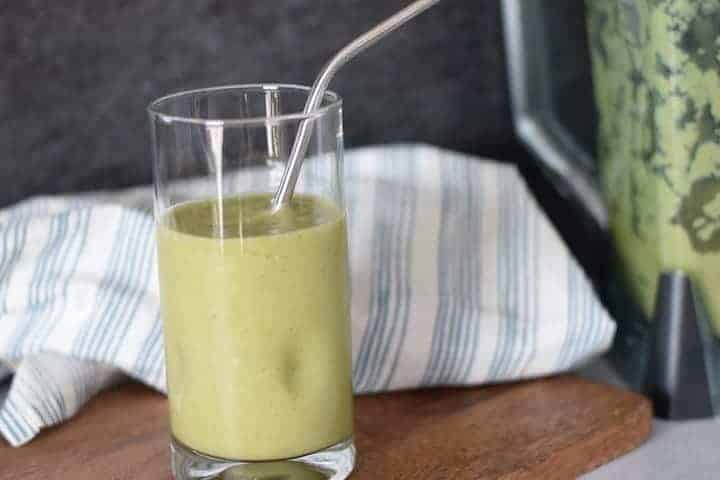 Benefits of Moringa
There are many amazing benefits for using moringa in a daily diet. Some of which are that moringa is anti-inflammatory. There are healing elements that benefit your heart, skin, and more.
Here's some more amazing moringa benefits:
Reduces inflammation
Treats and prevents diabetes
Prevents weight gain
Maintains healthy blood sugar
Hydrates skin
Fights wrinkles & sagging skin
Helps to keep skin clear
Find more information about the benefits of moringa here.
Moringa Smoothie Recipe
This smoothie is super easy to make. Just grab a few ingredients like bananas, avocado, frozen pineapples, ice, and non dairy milk.
And of course, the moringa powder! Then blend away.
Smoothies are best when they are served immediately after making them. If you need to store yours for later, be sure to freeze it instead of storing in the fridge.
Freeze into ice cube trays or popsicle molds for a delicious treat!
want more recipes?
Check out the recipe index where you can discover more homemade recipes from my homestead!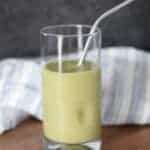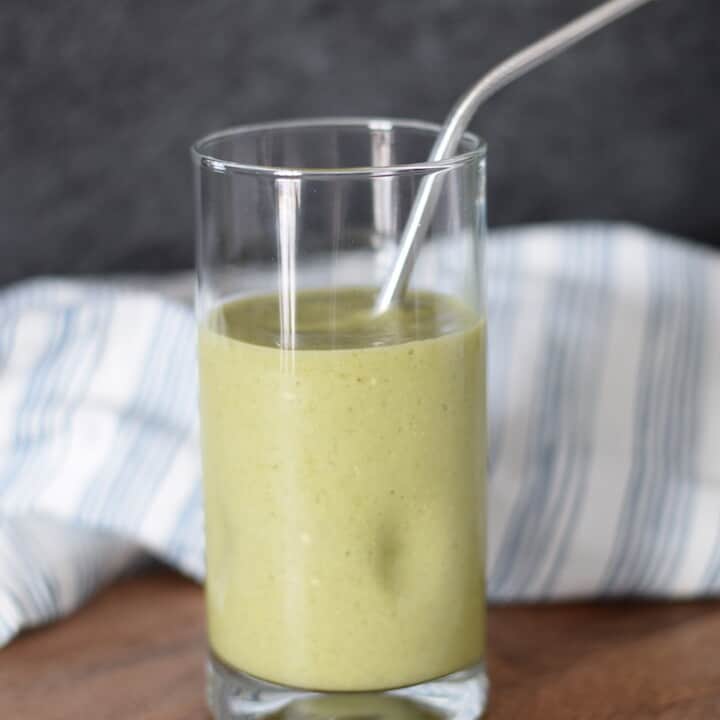 Moringa Smoothie
This moringa smoothie is incredibly nutritious and delicious. Give your morning smoothie a boost with this awesome and beneficial superfood!
Ingredients
1 small avocado approximately 1/2 cup
1 cup fresh or frozen pineapple
1/2 cup unsweetened and unflavored almond milk
1 teaspoon moringa powder
approximately 1 cup of ice
Instructions
Prepare all ingredients.

Add the bananas, avocado, frozen pineapple, ice, moringa powder, and almond milk to a blender.

Blend all ingredients until smooth.

Serve and enjoy!
Nutrition
Serving: 1cCalories: 322kcalCarbohydrates: 47gProtein: 5gFat: 16gSaturated Fat: 2gSodium: 112mgPotassium: 1036mgFiber: 12gSugar: 23gVitamin A: 2940IUVitamin C: 63mgCalcium: 153mgIron: 2mg
Tried this recipe?Give it a 5 star rating and pin it to your Pinterest account!
where would you like to start?