This spring season has been very busy with transformation in the homestead garden. We added several new beds and reconfigured the garden layout a bit. I wanted to walk you through a brief raised garden bed update.
And also to share what our summer goals in the garden are now that we have most of our plants out and ready to go.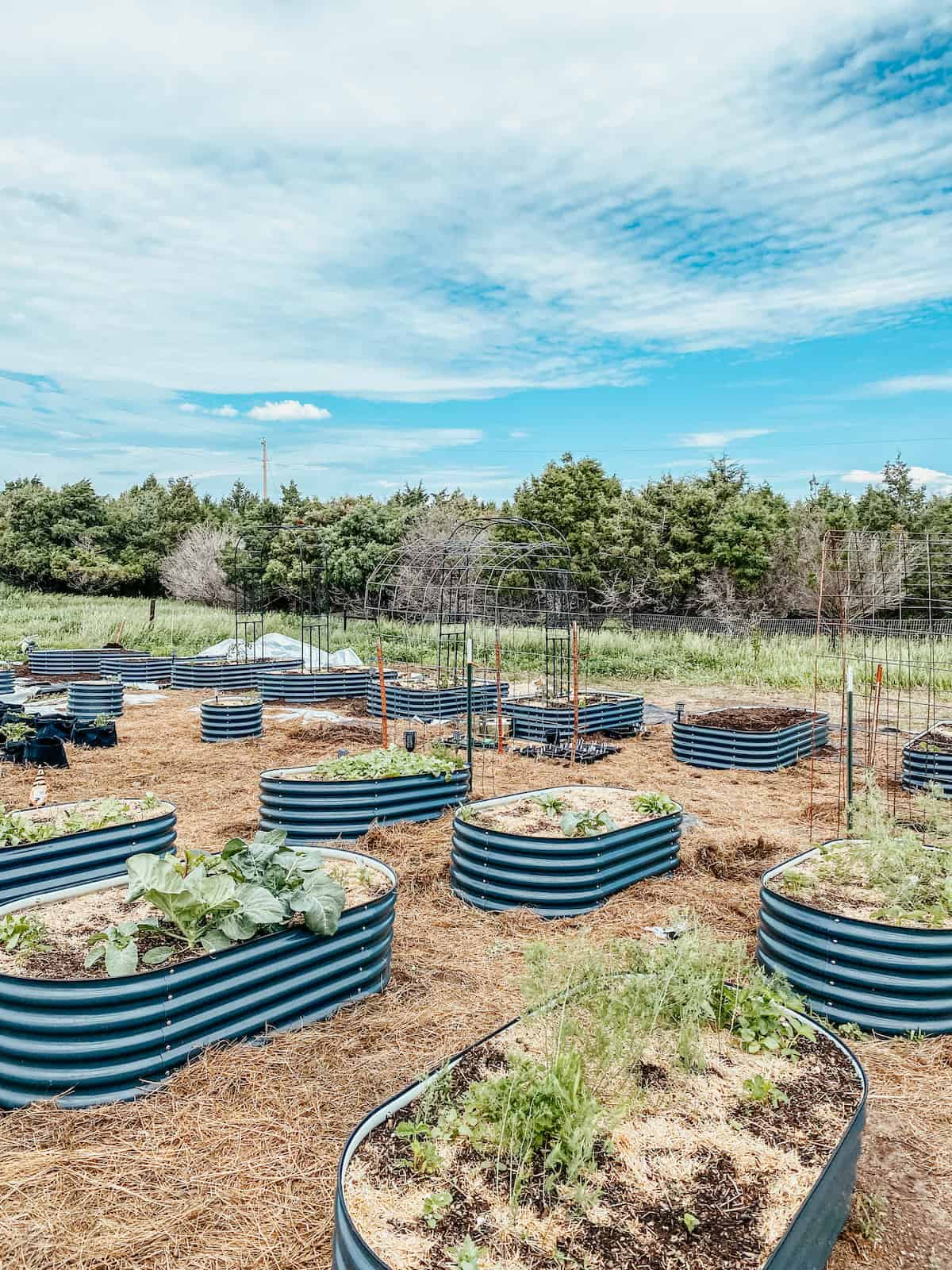 Earlier this year, I shared a homestead and garden update. I shared a lot about what varieties of plants we are growing and some of our plans for getting this garden converted. As well as a brief look back over the past few years.
It has been a lot of work to get this portion of the garden converted from a cattle pasture into what it is now. And there's still a ton of work to do!
We have been slowly converting this pasture over the past 4 years. And it's a continual work in progress.
I will provide more updates on the garden process as things progress through the season. I would also love to put together a video walkthrough. But I don't use social media, so I'm not sure how to share that just yet. TBD…
Raised Garden Beds
Last year, Olle Gardens sent us some raised garden beds for a review. We absolutely fell in love with them for a variety of reasons. Read our Olle Gardens Raised Bed Review here.
We were so happy with them that we purchased 14 more raised beds!
This brings our total garden space of 22 raised beds. Plus, 15 grow bags.
Ready to purchase your own galvanized raised garden beds from Olle Gardens? Visit this link and use code BHH10 for 10% OFF your first order!
The beds were a little time consuming to build, but they are pretty easy. In fact, I built the majority of them myself… so pretty much anyone can do this! 😅
We used these 17" 12-in-1 galvanized raised beds for this project.
The beds are finished and filled with layers of logs & twigs, old hay, soil, and compost. Then we top off with garden straw over the top for mulch. If you'd like to learn more, read this post about filling raised beds.
We've planted many of our spring and summer crops, but are waiting on a few more to harden off. We have also direct sown many seeds like melons, corn, popcorn, variety of beans, and root crops.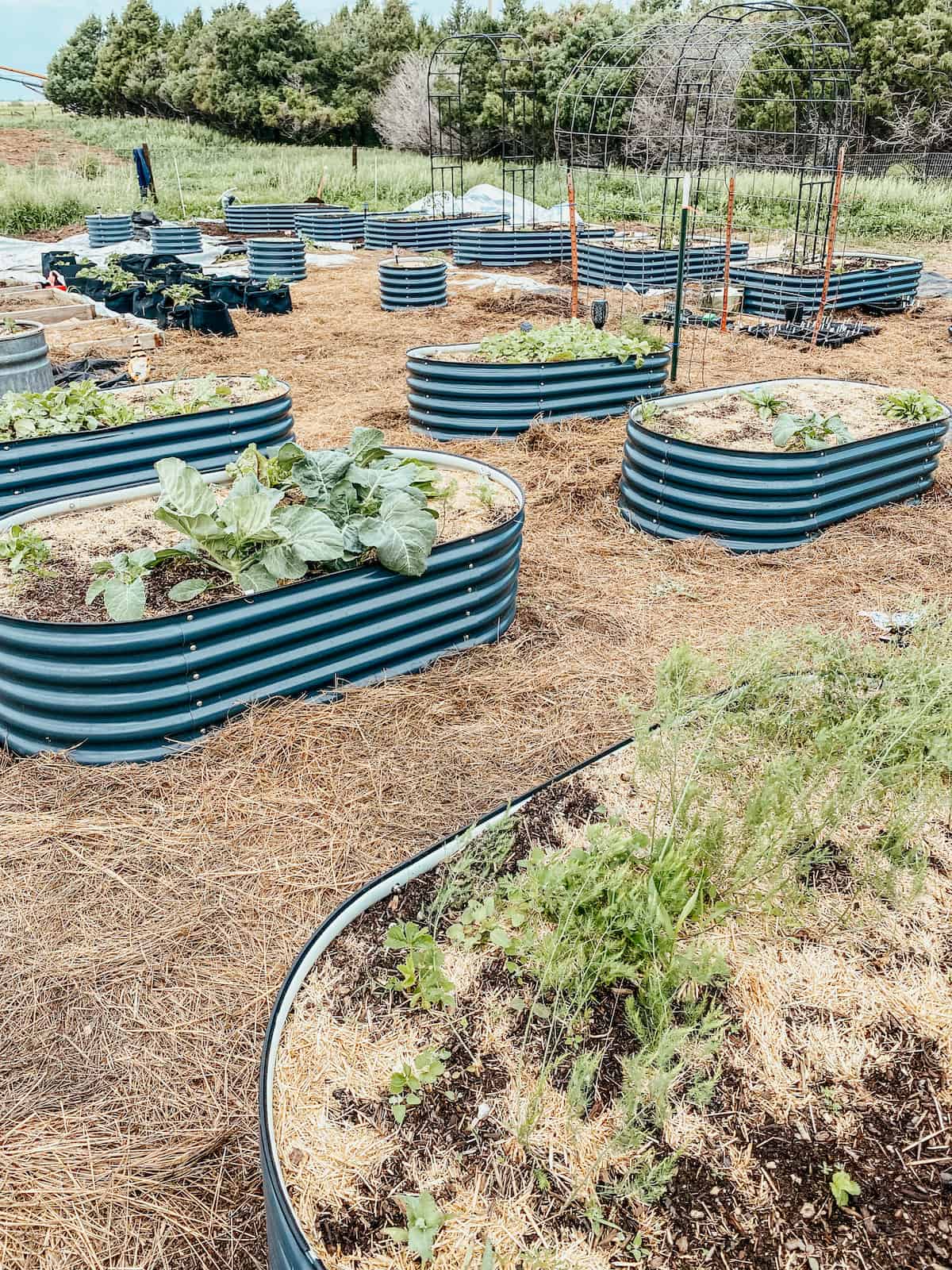 There's still much work to be done in the garden.
There's many seeds to germinate, plants to harden off, and to finish planting summer crops. Some of our plants either didn't germinate well or were stunted. But I think that most should pull through now that they've been hardened off and are in the garden.
We need to finish cleaning up the pathways and lining them with old hay for weed control.
There are a few empty spots in the layout of the garden that I'm still trying to decide what we should do with.
Garden progress
We are experiencing new issues in the garden this year. This year is the first time I've had a skunk come through and uproot some of the new plants. Fortunately all of the plants were salvageable!
And I'm also seeing the results of cutworm. 😑 It has destroyed several seedlings like our Jimmy Nardello peppers, Tuscan kale, and one of the Northeaster pole beans. To combat this, we are sprinkling diatomaceous earth around the new seedlings in the raised beds.
We've planted out some new fruit trees this year and several more berry bushes for the children to snack on all summer.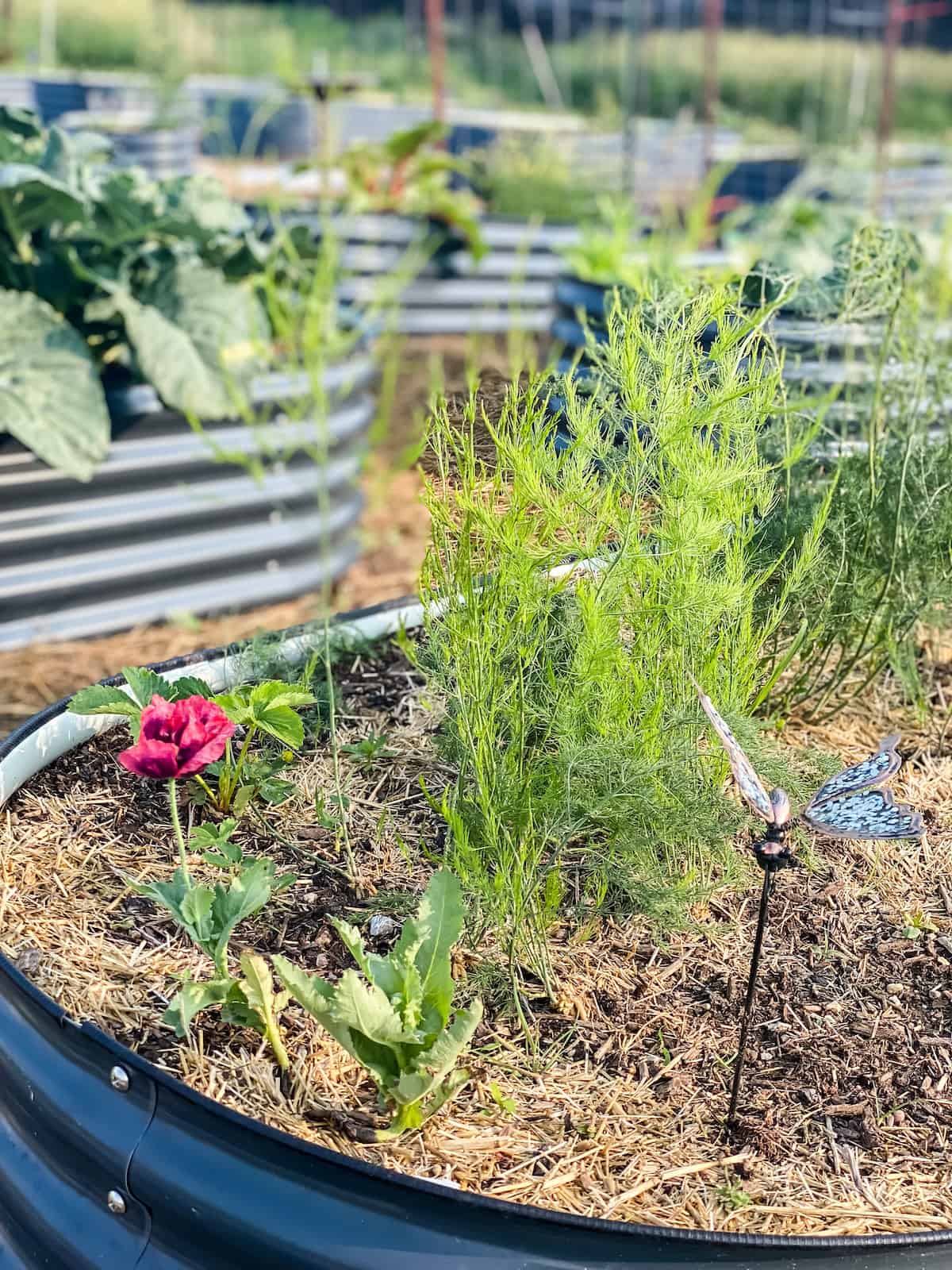 Here's what we added:
cold hardy fig, dwarf apple, and cherry trees added to side portion of the garden
2 new grape vines
weeping mulberry, blueberries – (planted in whiskey barrels), and additional raspberries & blackberries
50 more bare root strawberries (which we planted out with the asparagus crowns). We also just ordered 30 more bare root strawberries to plant out this weekend next to our garden peas.
Since we live on a prairie, the winds are pretty intense here. So we also planted out several fast growing wind break trees on the outside of the garden fence.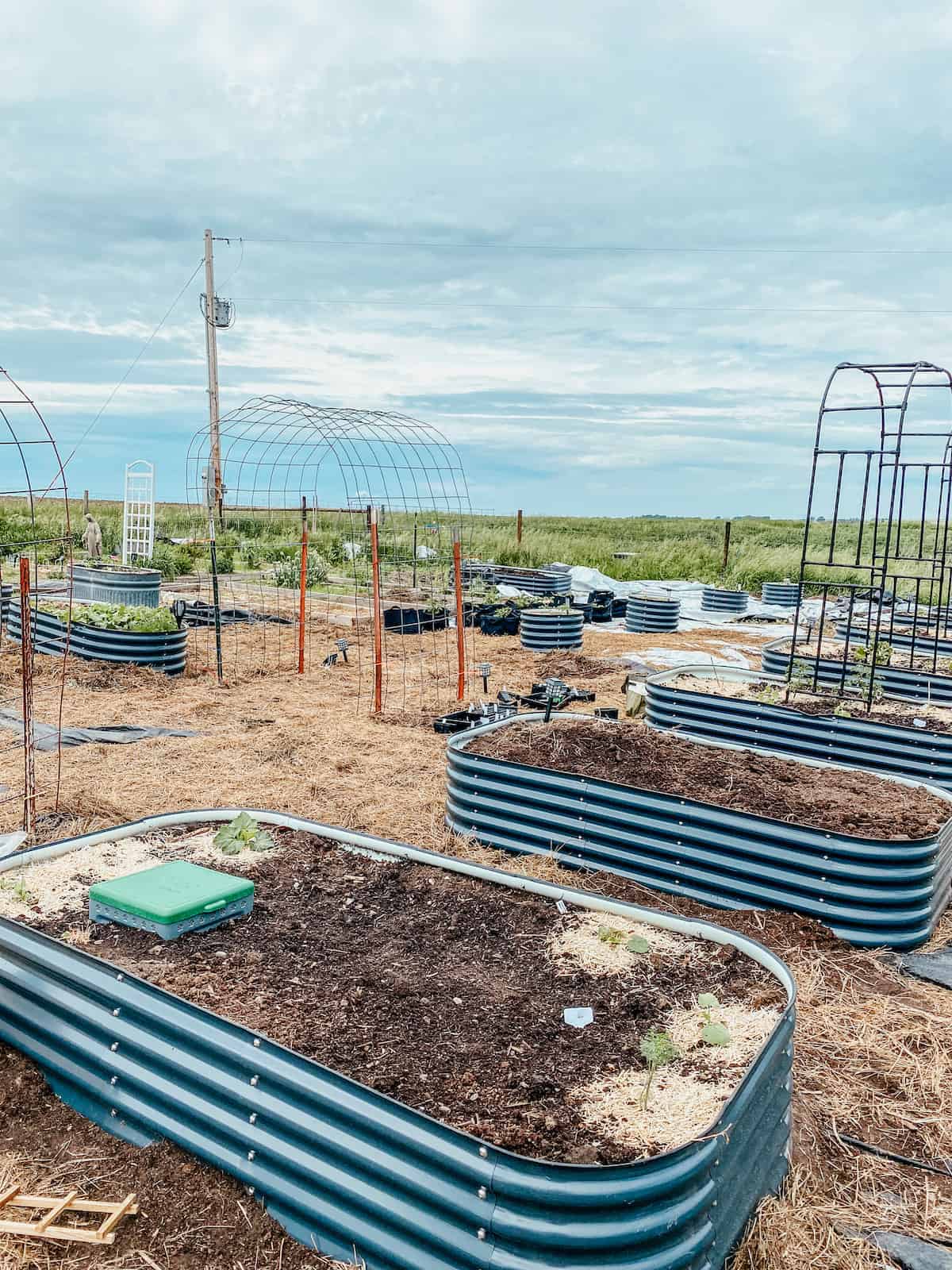 Last year, we had 2 cattle panels set up for arch walkways which we grew cucumbers and cucamelons on. This year, we added two more for climbing beans. The first two arches has either Blue Moon wisteria or New Dawn roses to climb over for the entryway.
They are still new and not much for growth. Hopefully as the season progresses, I can get some pretty photos taken of them.
So… here is one of my favorite peony plants in the cottage part of the garden.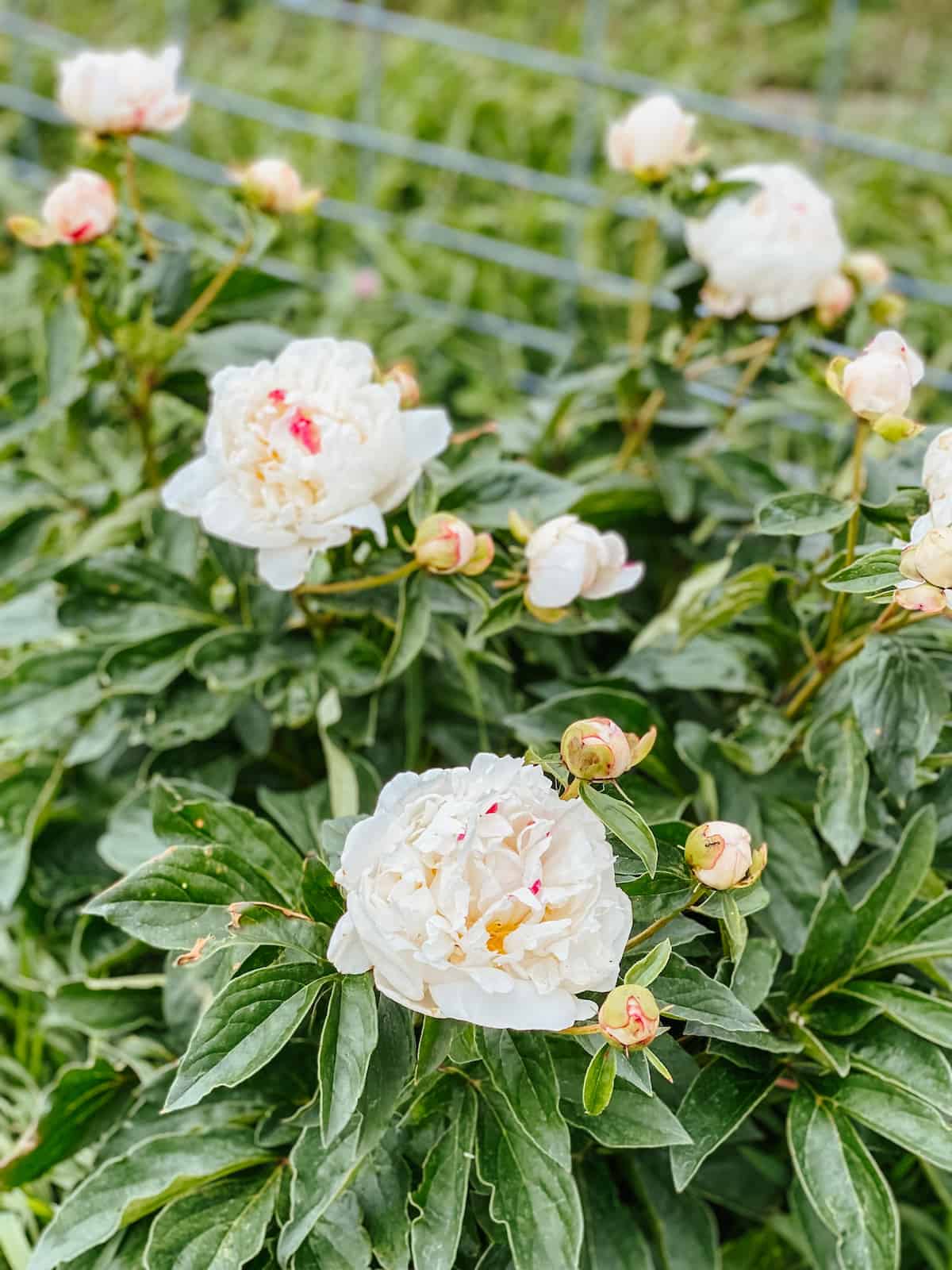 In addition, we added two of these black arch trellises inside of the raised beds — which are really lovely with contrast of the green plants. So far, I've planted out two tomatoes to one side of each of these arch ends. With either a cucumber or climbing bean to climb over the side of the arch.
So… one of these arches will have 4 tomatoes total, and 2 cucumbers or 2 beans climbing over the arch.
Kids garden beds
New this year, we also added new raised beds for the children. They went to the local greenhouse and picked up a couple of things to add to their own raised bed. And they are learning to start plants from seed too.
While they have helped with our main gardens in the past, they are very excited to have a space all of their own.
We are making this a teaching lesson and they're learning to raise their own crops, keep the plants alive, companion planting, and weed control. Essentially, I am supervising them, but these beds are their own responsibility.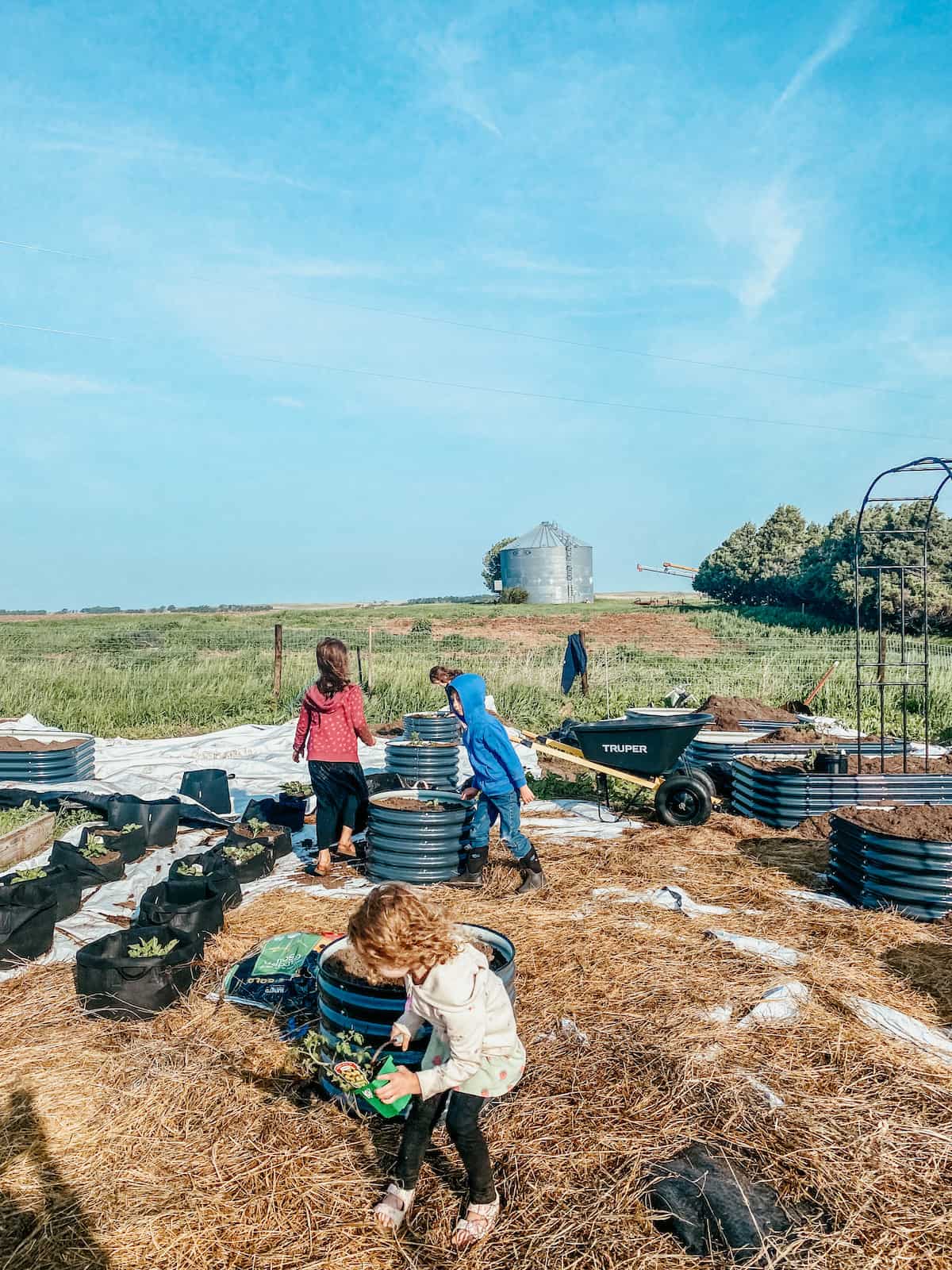 We are using these round raised beds for the children's garden area. They are the perfect size for them to easily maintain.
I will be back with another update on the progress of the raised beds, gardens, and how our plants are handling all of the new pests we're dealing with!