This Smoked Meatloaf recipe is perfectly juicy and tender. It is smoked to perfection, making it a super delicious summer time dinner. Keep the heat out of the kitchen and whip up dinner out on the Traeger grill..or your favorite smoker!
With only a few simple ingredients, you'll have a dinner that the whole family will enjoy!
Meatloaf is a great alternative to hamburgers and makes such a great option for summertime meals, family dinners, and when you have guests over!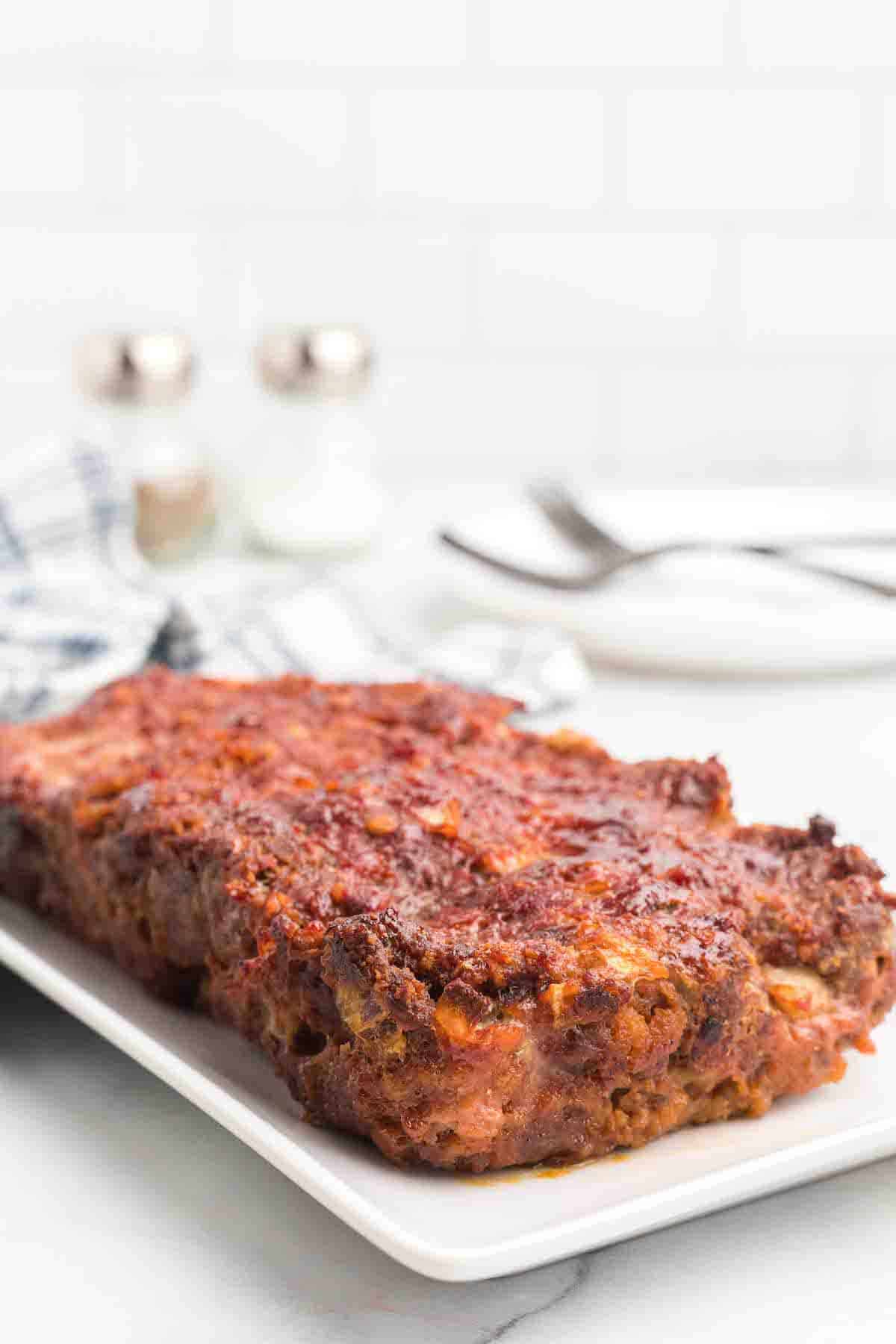 This posts has been updated from its original publish date of June 13, 2020. It has been updated to provide better photos, additional helpful information and step by step instructions.
Traeger smoked meatloaf tips
This is an incredibly delicious take on a traditional meatloaf. Using a Traeger pellet grill (or your favorite smoker), gives an amazing smoky flavor that pairs well with the BBQ sauce.
Using a sweet wood pellet like cherry or apple works really well for this recipe. We alternate between the two and they are both incredible!
Be sure to choose good quality beef. You'll want one that has a bit of fat to keep it moist and juicy, but not leave it overly greasy.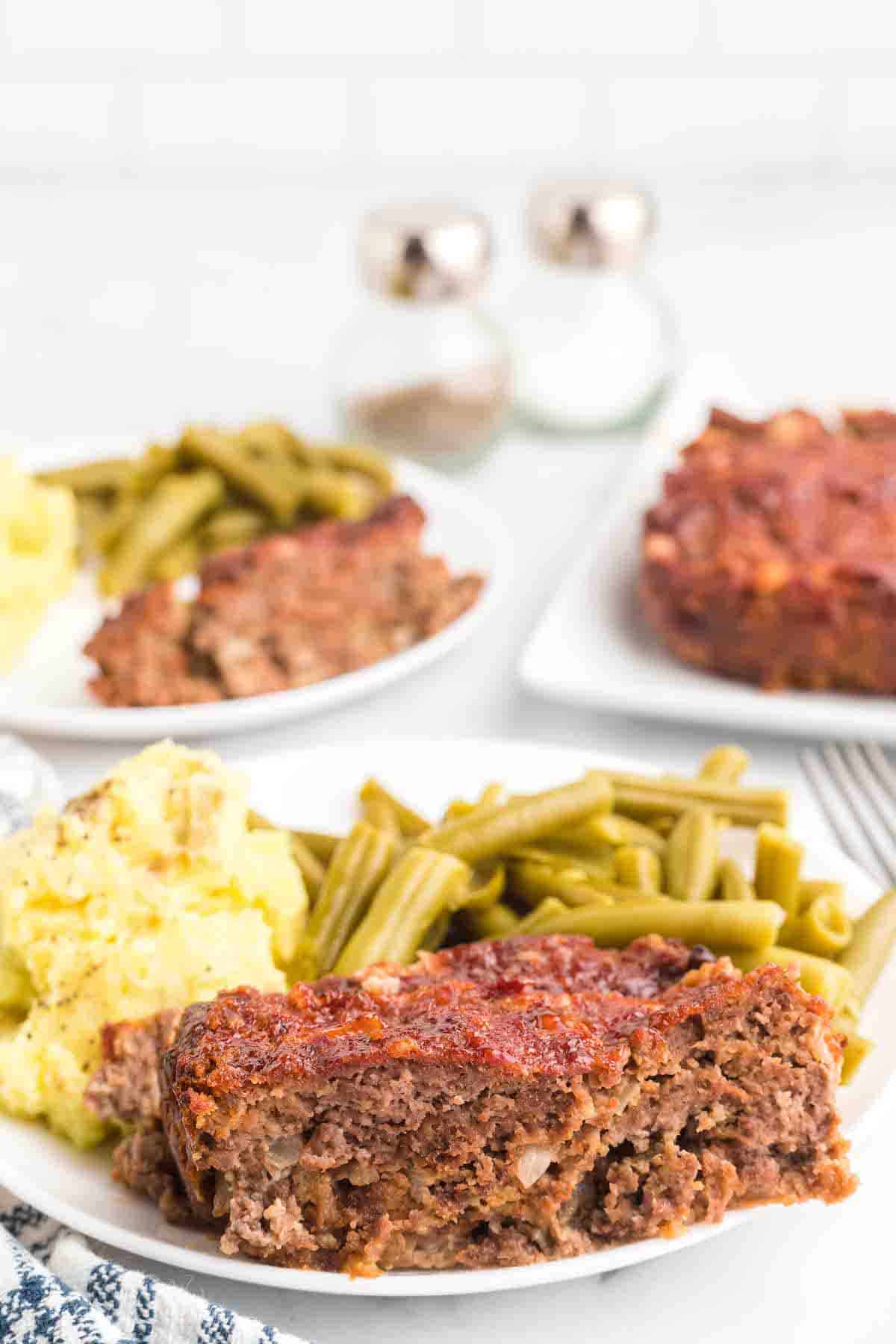 Ingredients
I love a simple recipe that uses the best basic ingredients. And my favorite smoked meatloaf uses a barbecue sauce vs the standard tomato sauce or ketchup topping.
Here's what you'll need to make this meatloaf:
ground beef – choose a good quality that is more lean but also has a little fat.
onion, chopped
large eggs
bbq sauce – choose your favorite! I like to use a honey based one like this homemade bbq sauce, a mesquite sauce, or one with a little hickory flavor and brown sugar.
breadcrumbs
salt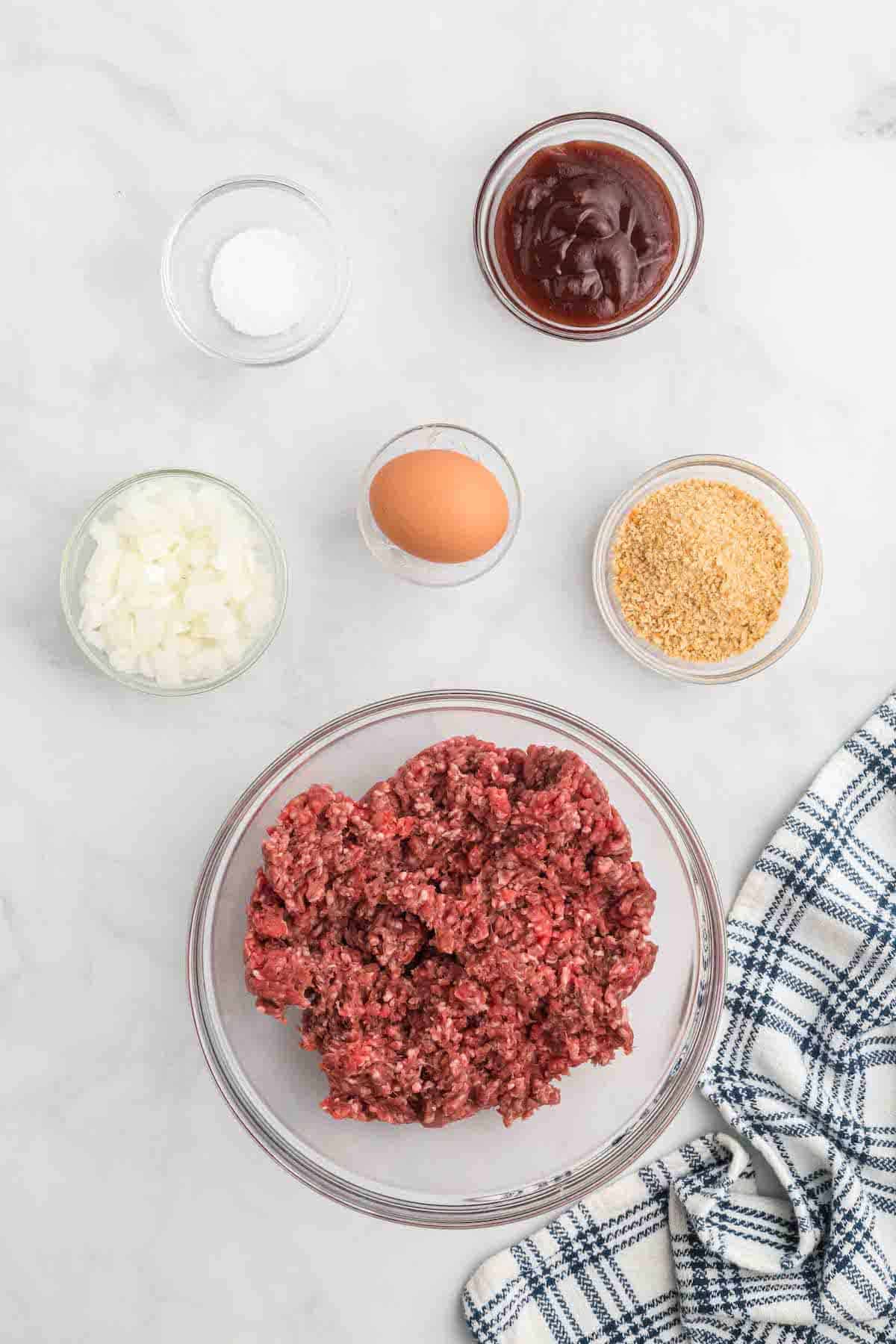 Instructions
Begin by preheating the smoker at 375 degrees F for about 10-15 minutes. Next, mix the meatloaf ingredients in a large glass bowl.
When mixing up the ingredients, be careful not to over mix because this will make this meatloaf a bit tough.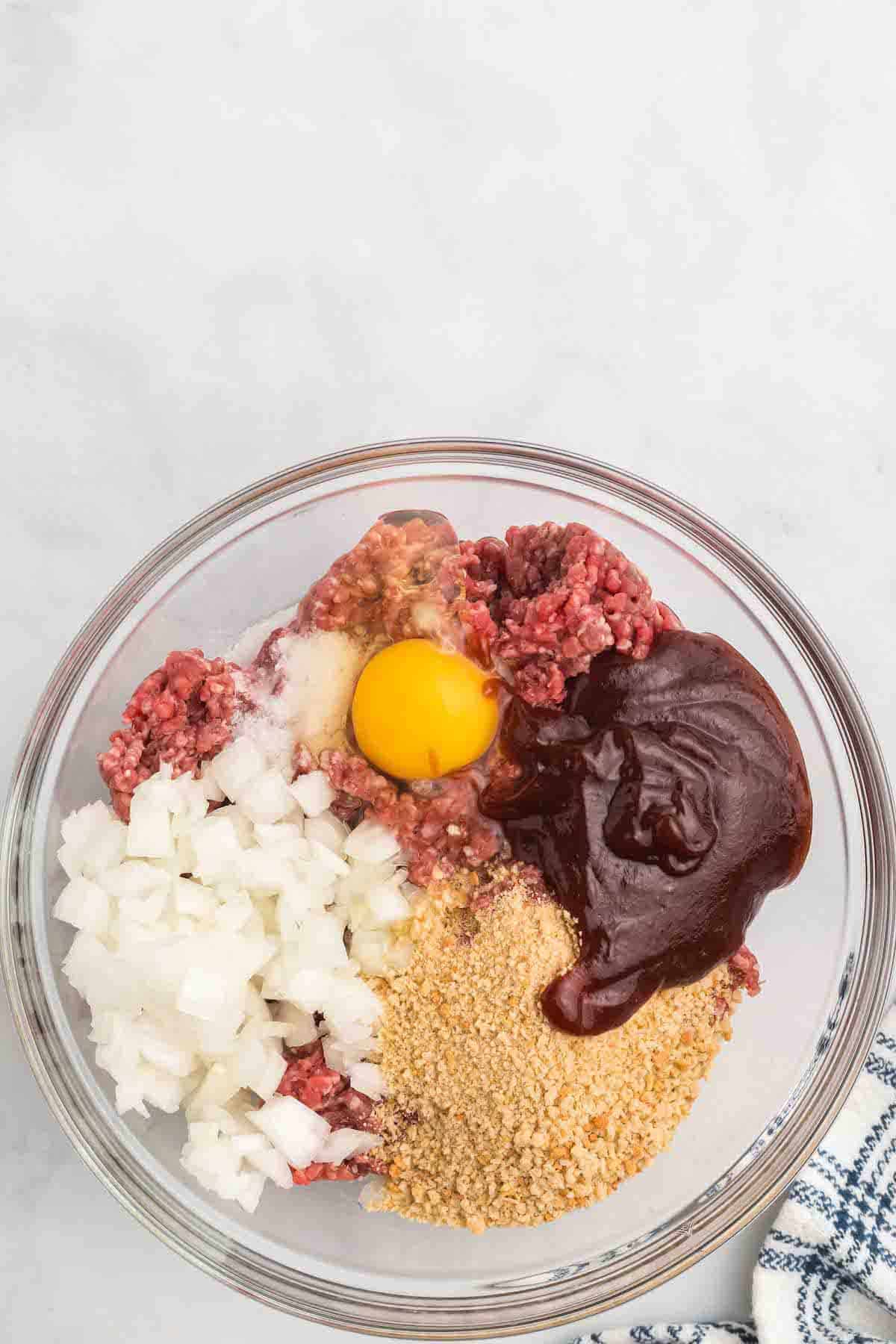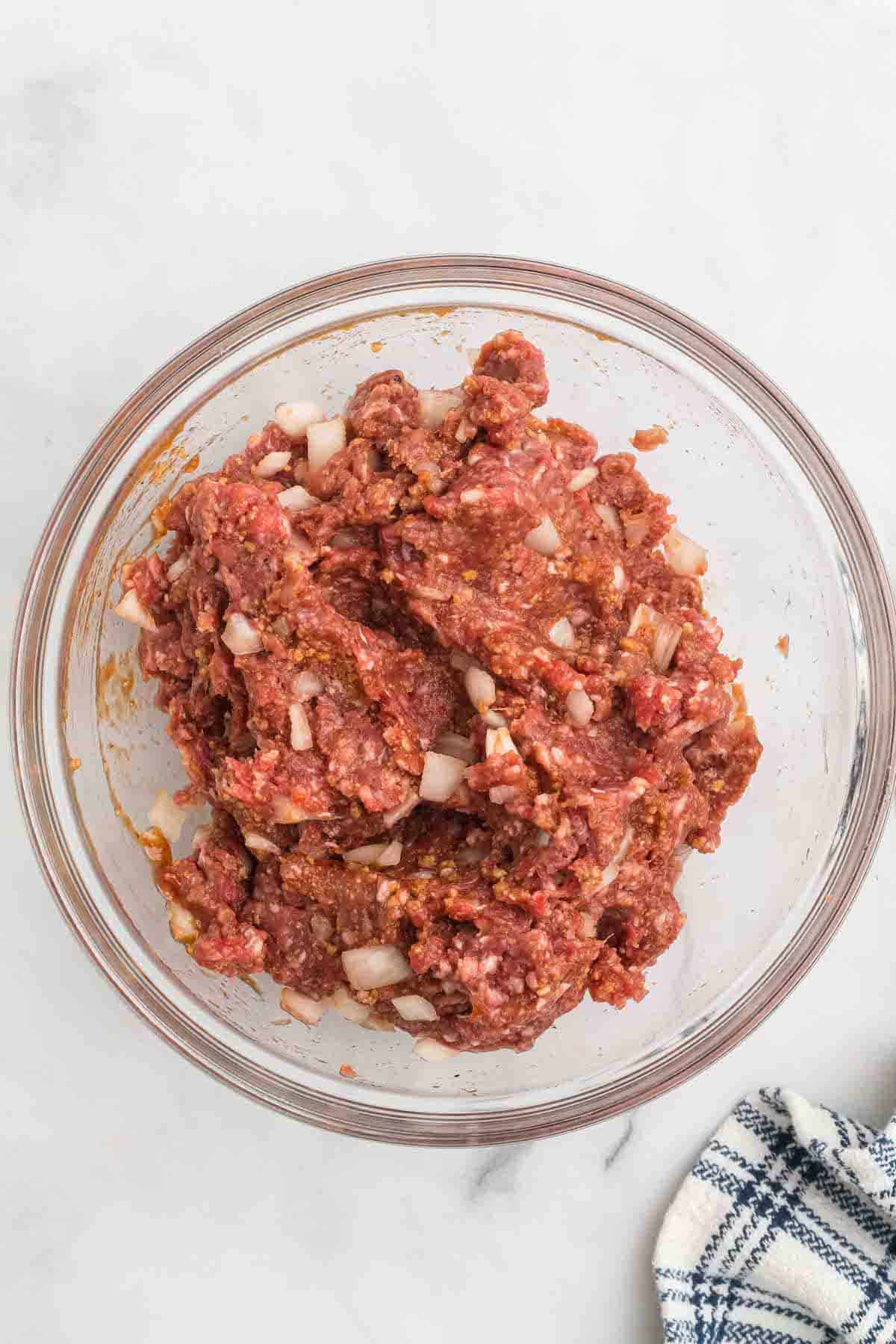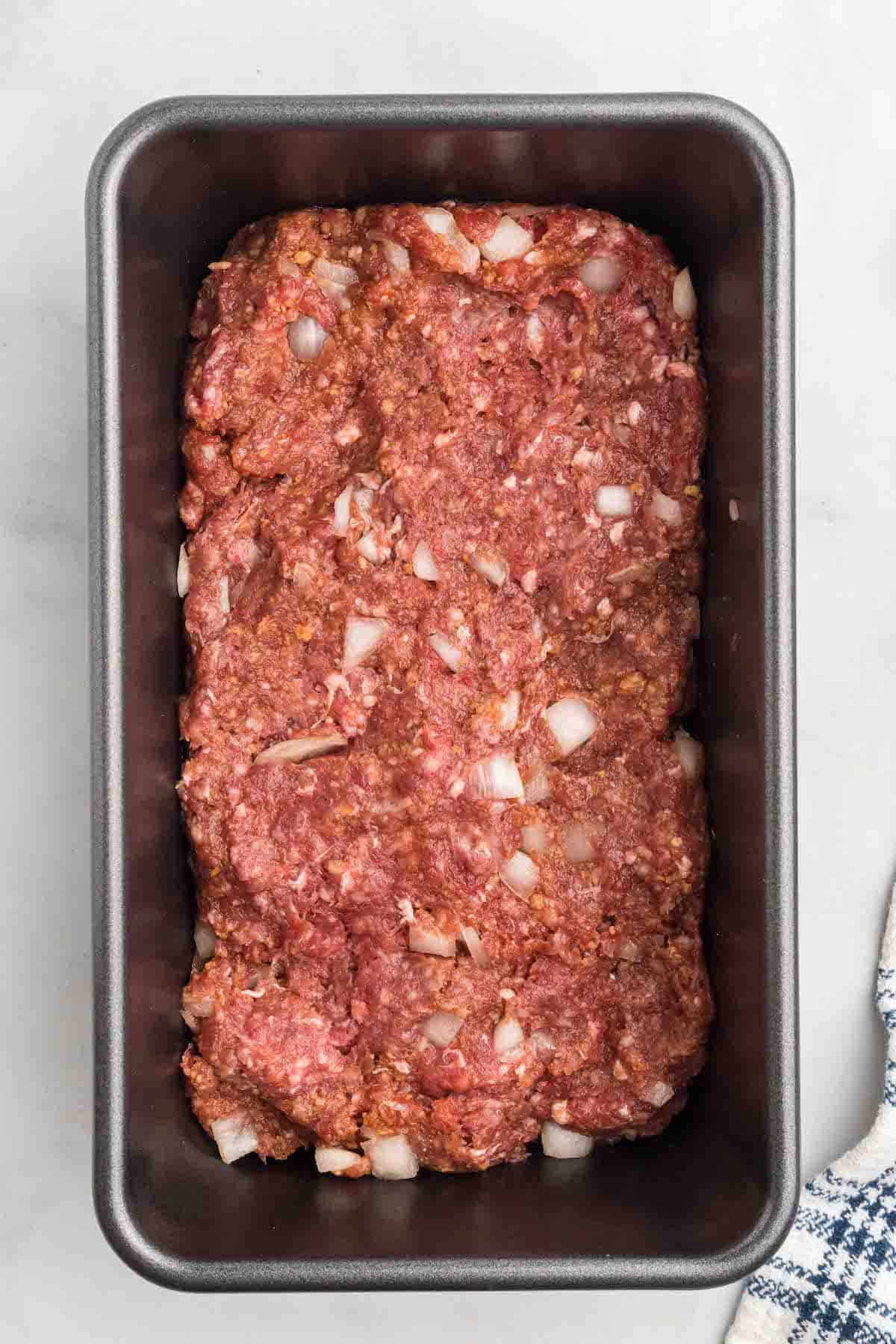 Shape the meat mixture into a loaf shape inside of a bread loaf pan.
Brush the top of the meat mixture with a little bit of your favorite bbq sauce.
Place in the preheated Traeger grill racks and smoke for about an hour or until cooked through. Don't overcook. The internal temperature should be about 160 degrees F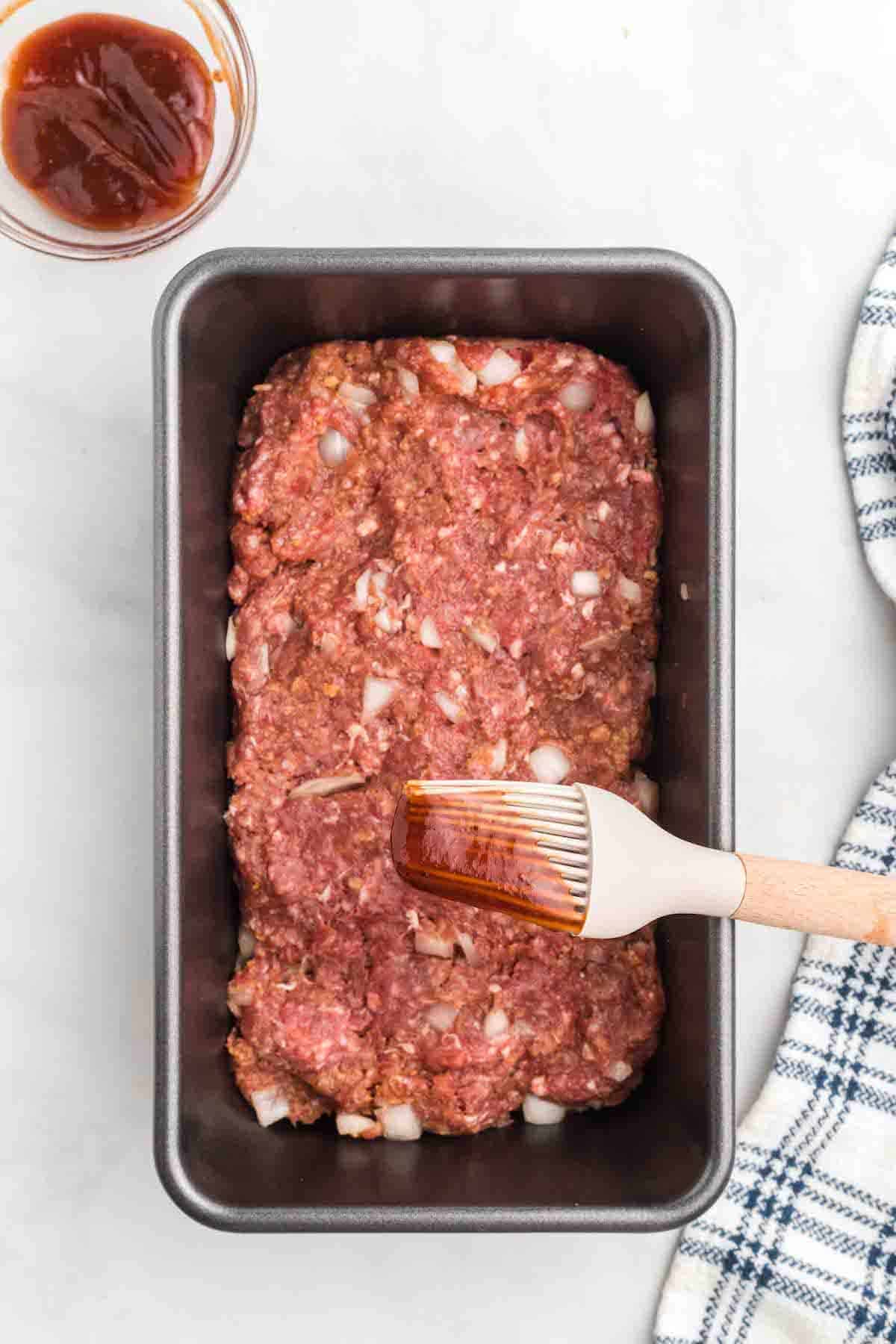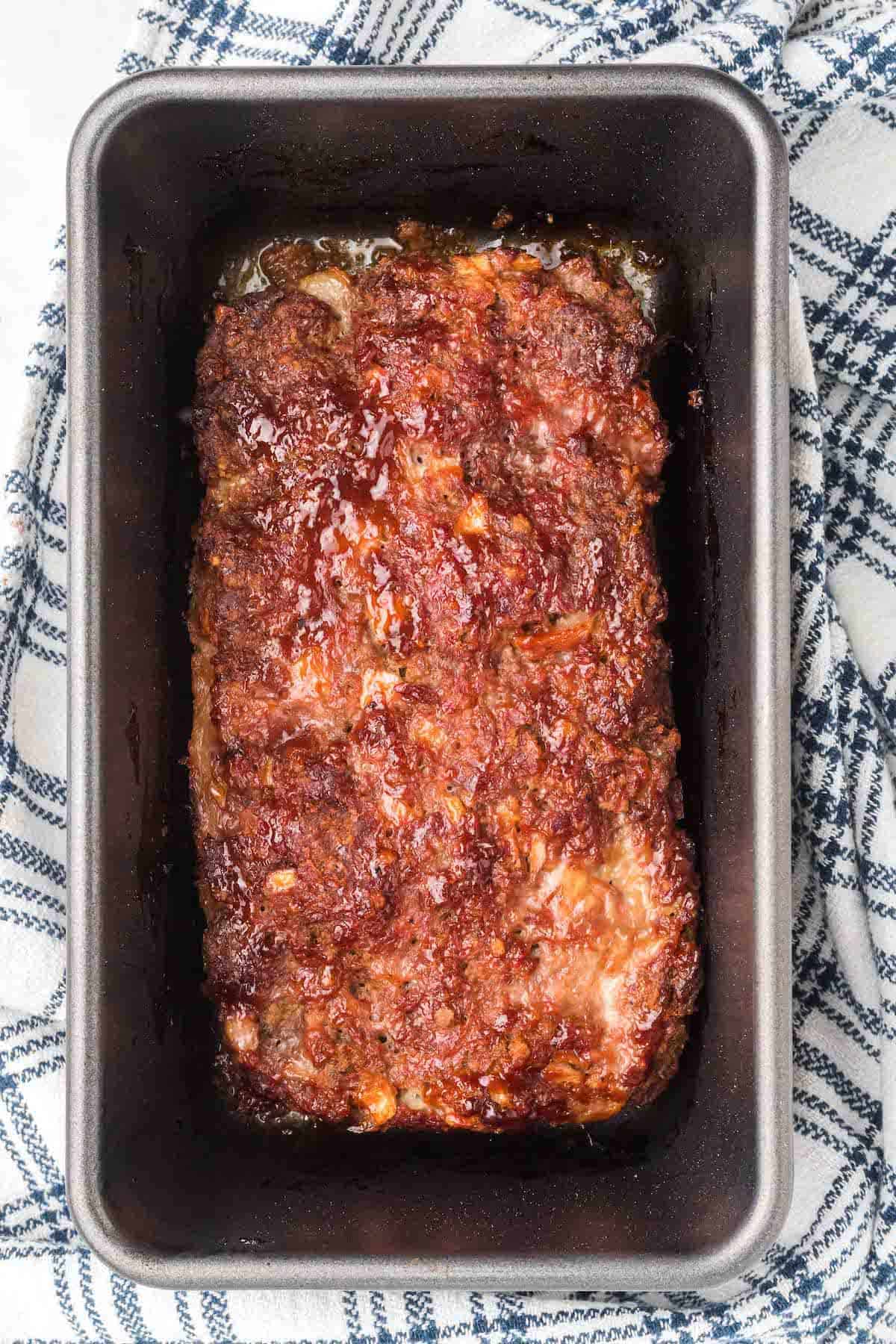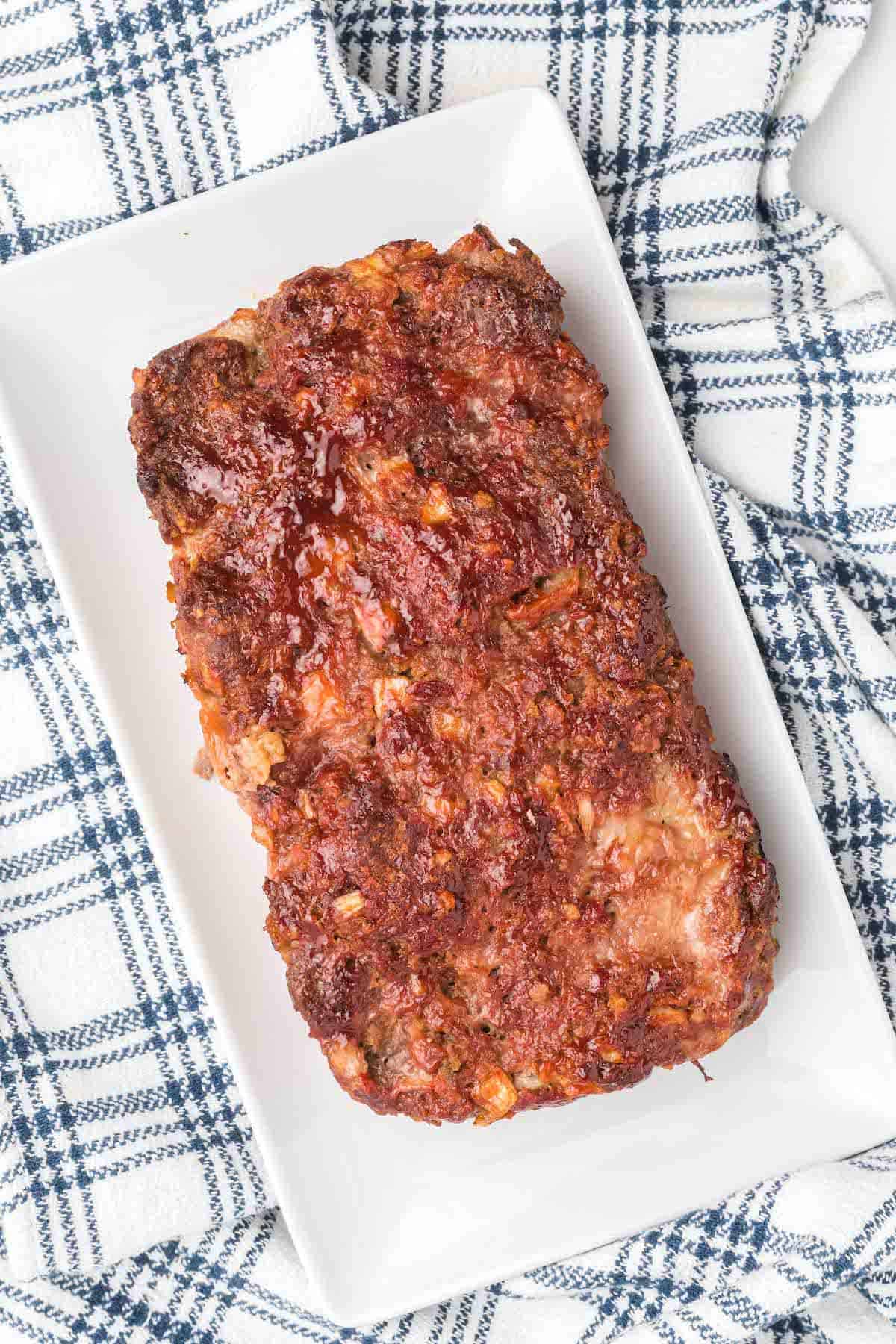 Allow the cooked meatloaf to rest about 10-15 minutes before slicing.
Enjoy paired with your favorite side dishes like mashed potatoes, gravy, and green veggies for a complete comforting meal.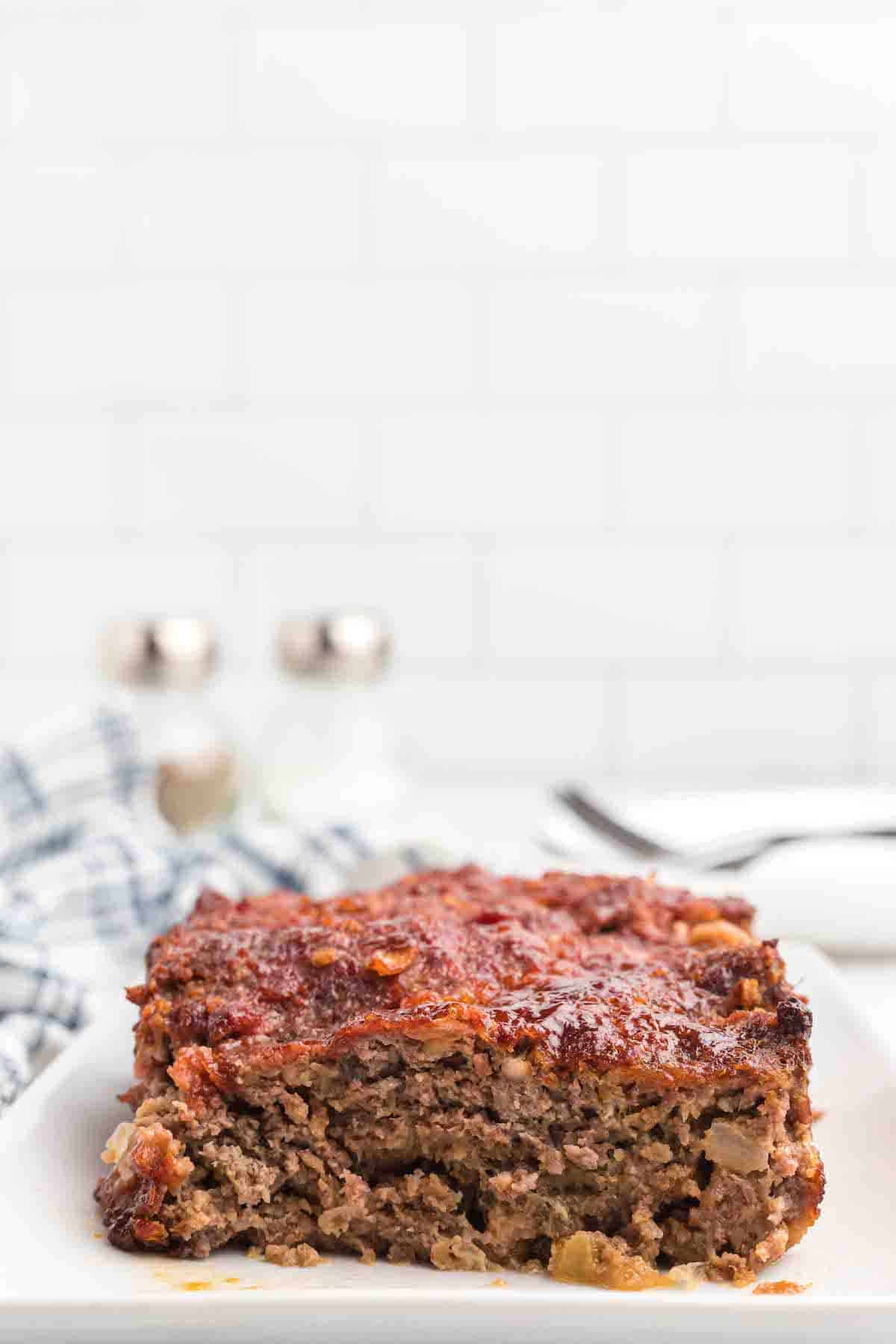 How to store and reheat leftovers
If you have leftovers, they can be refrigerated for up to 5 days. Add the slices of meatloaf into an airtight container in the refrigerator and reheat in a preheated 350 degree F oven until warmed through.
Favorite recipes that pair well with this meatloaf:
If you're looking for a few yummy dishes that pair well with this summer time favorite, try one of these!
Cheesy Ninja Foodi Mashed Potatoes
FAQ (frequently asked questions)
What do you put in meatloaf to keep it from falling apart?
To keep a meatloaf from falling apart, you'll need binding ingredients. This recipe uses eggs and breadcrumbs to hold it together.
What is the secret to moist meatloaf?
Using a good quality ground meat with a little fat, but not too much or it'll be greasy. Combining ground beef and ground pork together is another great option for a moist meatloaf. And avoid over mixing and over cooking when making the meatloaf.
want more recipes?
Check out the recipe index where you can discover more homemade recipes from my homestead!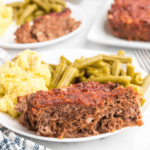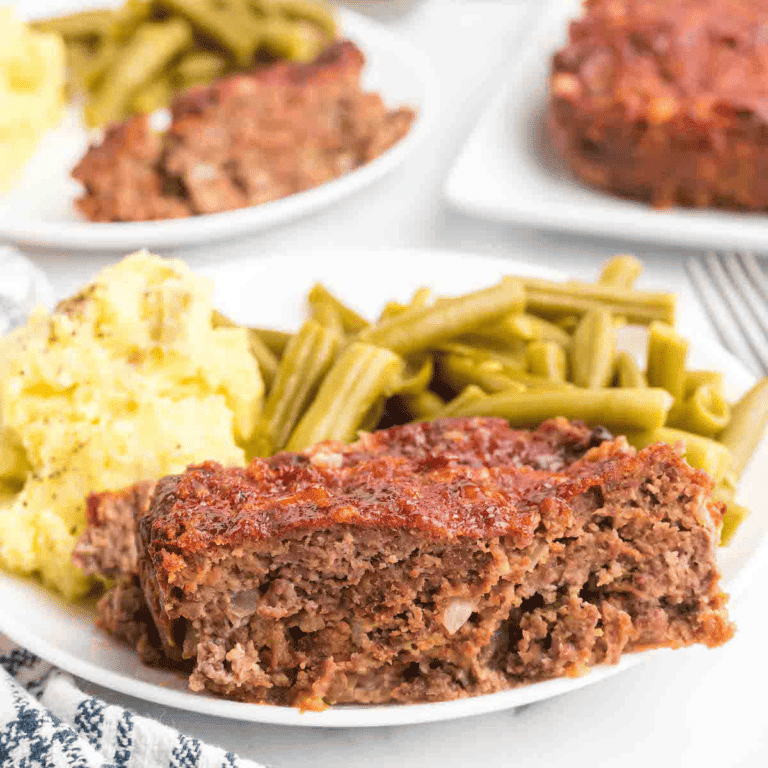 Traeger Smoked Meatloaf
This Traeger smoked meatloaf recipe is perfectly juicy and tender. And it is smoked to perfection, making it a super delicious summer time dinner.
Ingredients
1 pound ground beef
½ cup chopped onion
1 large egg
⅓ cup bbq sauce plus a little for the top
⅓ cup bread crumbs
1 teaspoon salt
Instructions
Preheat the Traeger grill to 375 degrees F for about 10-15 minutes, or until it comes to proper temperature.

In a large bowl, add the ground beef, egg, bread crumbs, chopped onion, bbq sauce, and salt. Mix well, but be careful not to over mix.

Shape into a loaf and place in loaf pan and brush with a little more BBQ sauce (about 1-2 tablespoons). Place on preheated Traeger grill and cook for about an hour or until cooked through. Don't overcook. The internal temperature should be about 160 degrees F.

Remove from grill, drain any excess grease. Allow to rest and cool for just about 10 minutes before cutting.

Serve and enjoy!
Nutrition
Serving: 1cCalories: 259kcalCarbohydrates: 12gProtein: 15gFat: 16gSaturated Fat: 6gCholesterol: 81mgSodium: 656mgPotassium: 282mgFiber: 1gSugar: 6gVitamin A: 75IUVitamin C: 1mgCalcium: 37mgIron: 2mg
Tried this recipe?Give it a 5 star rating and pin it to your Pinterest account!
where would you like to start?