Earlier this year, I promised a summer raised bed garden tour! This is our fourth year of gardening in this new home. And it is our first year of transitioning all of the garden beds to raised beds.
It's kind of crazy that the summer has flown by and here we are in early August getting our fall garden ready. This month is insanely busy with harvesting & preserving our garden bounty!
Plus, we decided to start our first week of school this week too! So if you notice some weeds popping up in the pathways or beds, that's why! 😅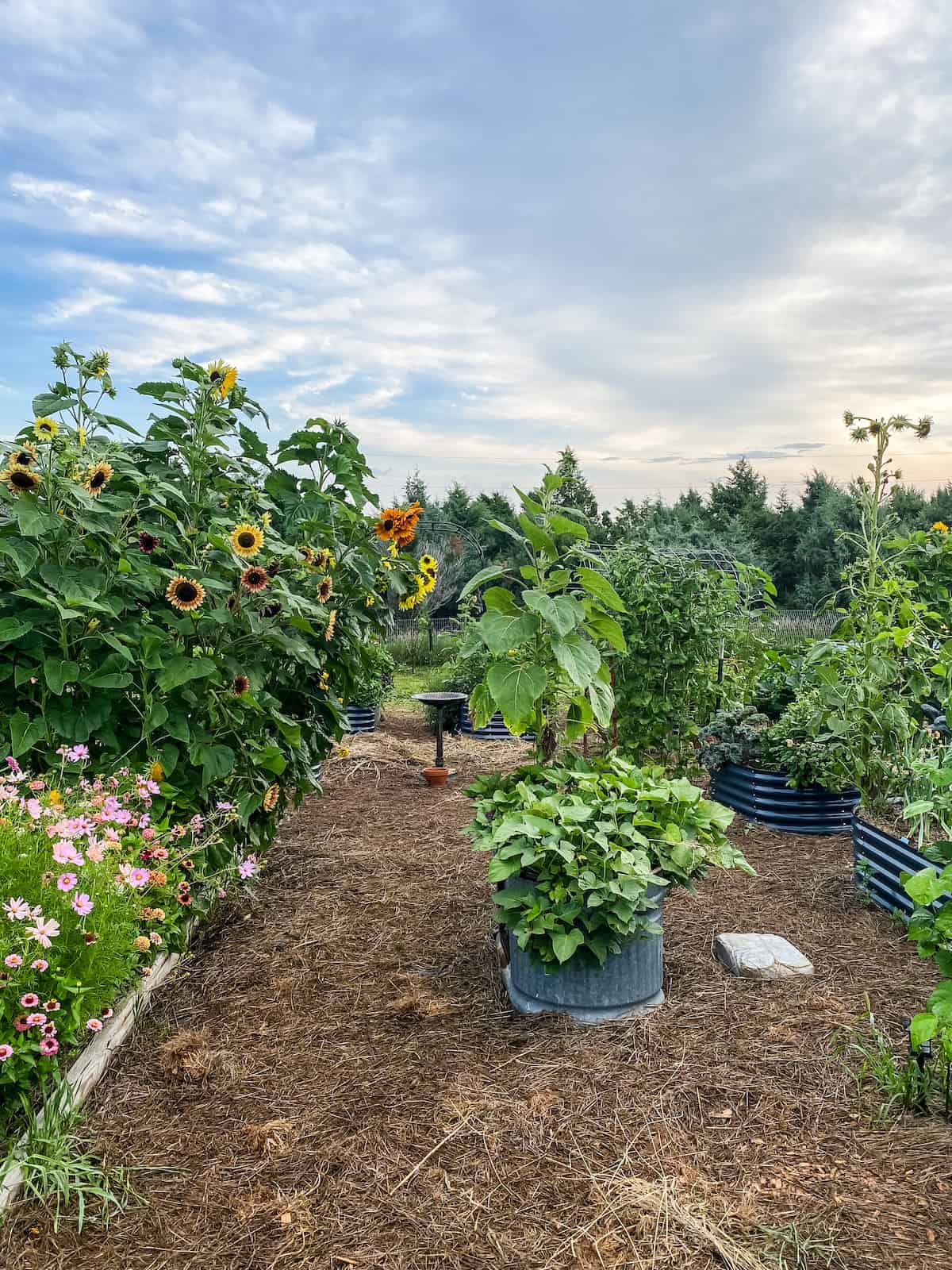 If you'd like to see how this new garden has transitioned over the past four years, check out these posts:
Raised Bed Garden Tour (summer edition)
This year we have experimented with placement and layouts of various plant varieties in our new raised beds. Some things have worked really well, and others will be relocated or changed for next year.
We've been growing these delicious Northeaster Pole beans over old cattle panel archways. This variety of beans has been extremely prolific and I've been harvesting them regularly for weeks! We have been enjoying them in stir fries, soups, as well as canning several quarts for later.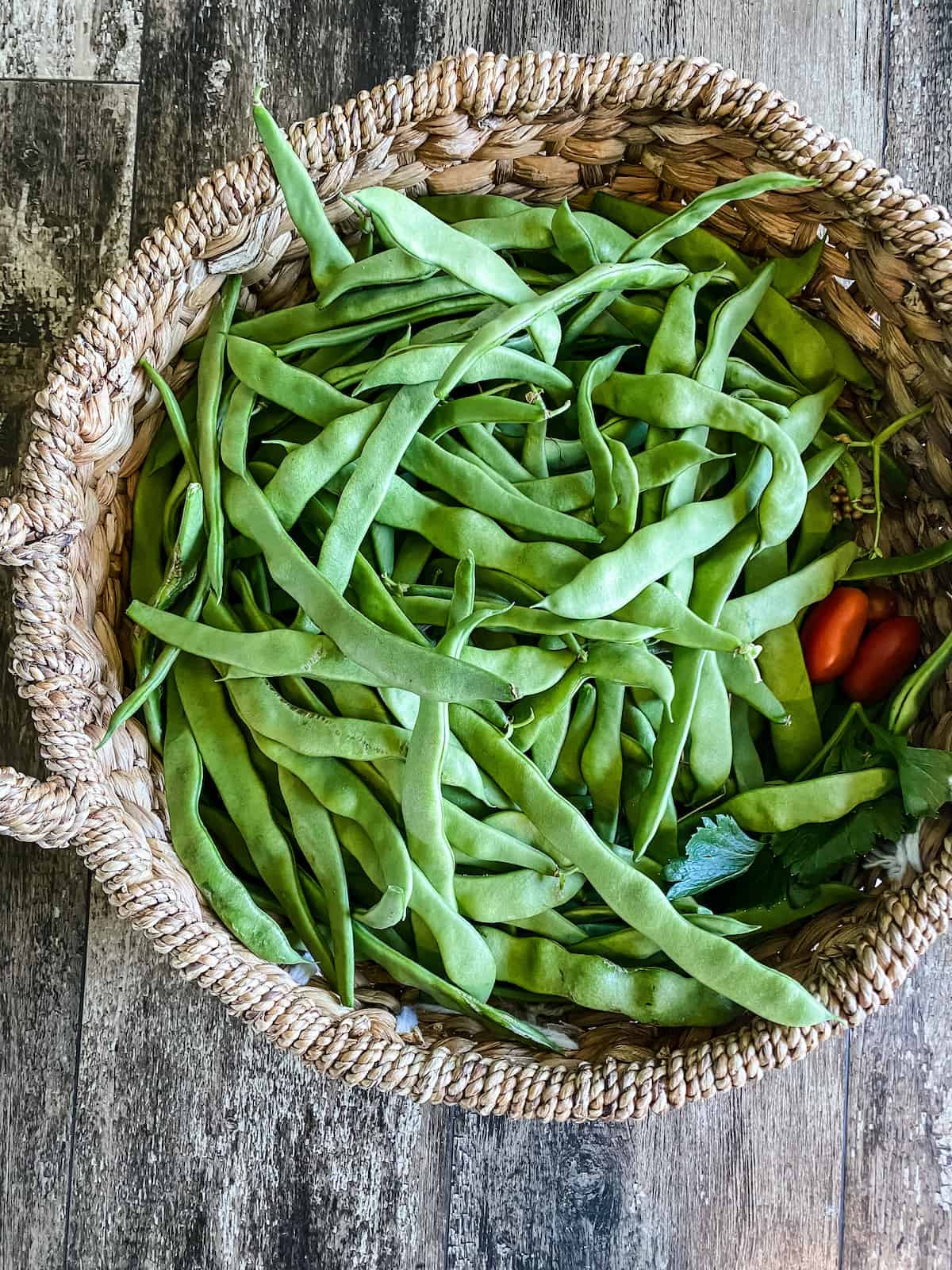 These beans grow to about 7-8" at maturity and are a definite favorite in our garden!
Btw, the cattle panels are not perfectly straight because we are repurposing from the ranch. The cattle destroy these over time and they are no longer useable for the cows. So, instead of purchasing brand new archways, my husband rescued these for our garden.
But they do serve their purpose well in the garden.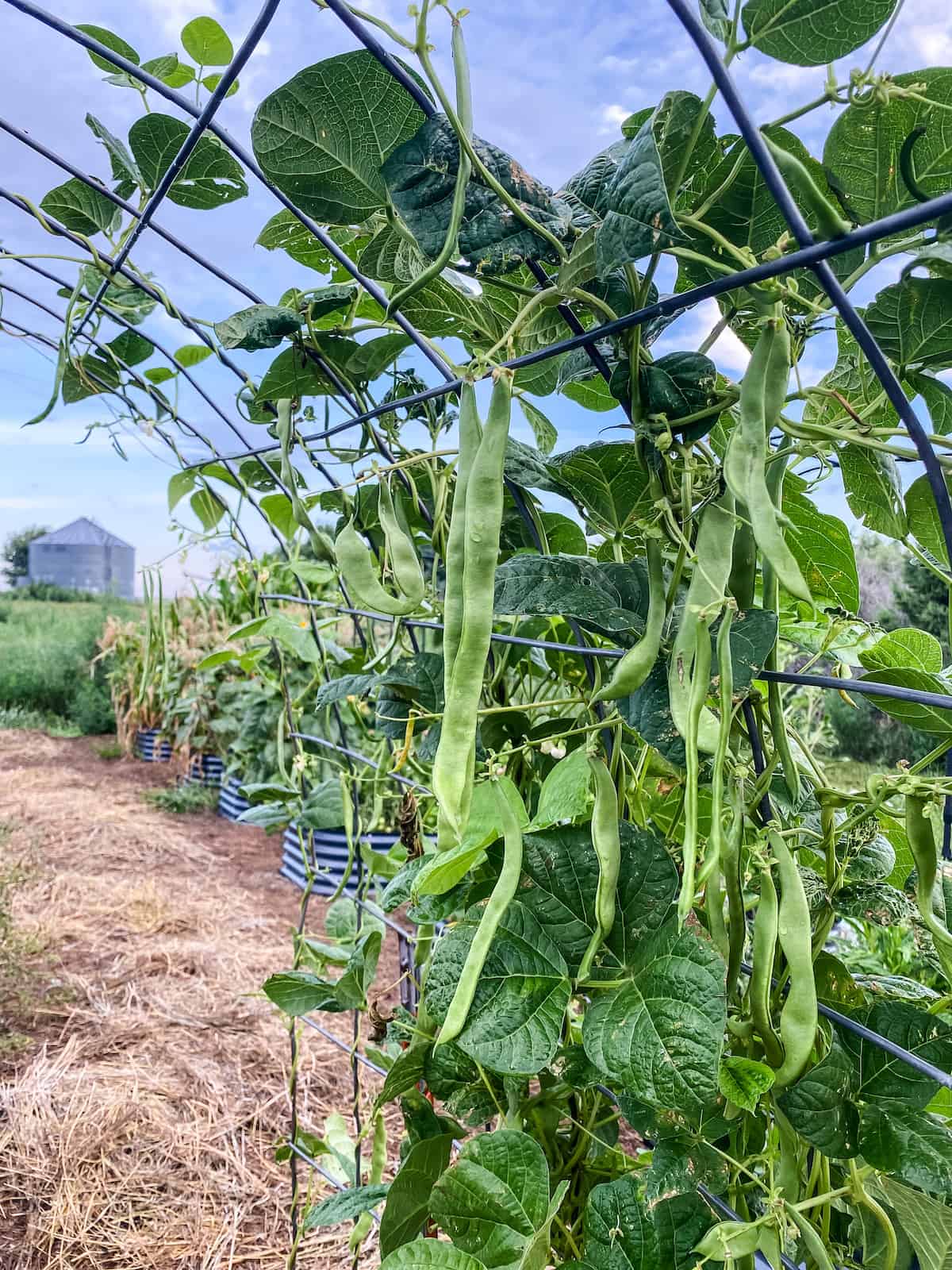 Children's raised beds
"Further up and further in"… to the garden & under the first set of archways, we have a row of round raised beds which we call the children's garden space.
And if you got the Narnia reference, high five! ✋
If not, it's ok…maybe you'll recognize Peter Rabbit's coat at the end of their row of beds? 😉 (pictured below)
No? It's ok, these are just a few of our little ways of creating whimsy and a magical experience in the gardens for the children.
We love to read rich living books in our homeschool (Charlotte Mason fans over here!) + add a bit of allegory to our every day life.
And often our children are imaginative & creative in the garden after reading a beautiful book together.
Many times I'll find them creating epic battles as they've read from The Voyage of the Dawn Treader, The Silver Chair, (well any of the Narnia books tbh), calling out "for Narnia & for Aslan".
And other times they may be hiding from Mr. McGregor or finding fairies & other woodland creatures hidden among the flowers.
I shared a bit about building our children's garden spaces in our first raised bed update post here.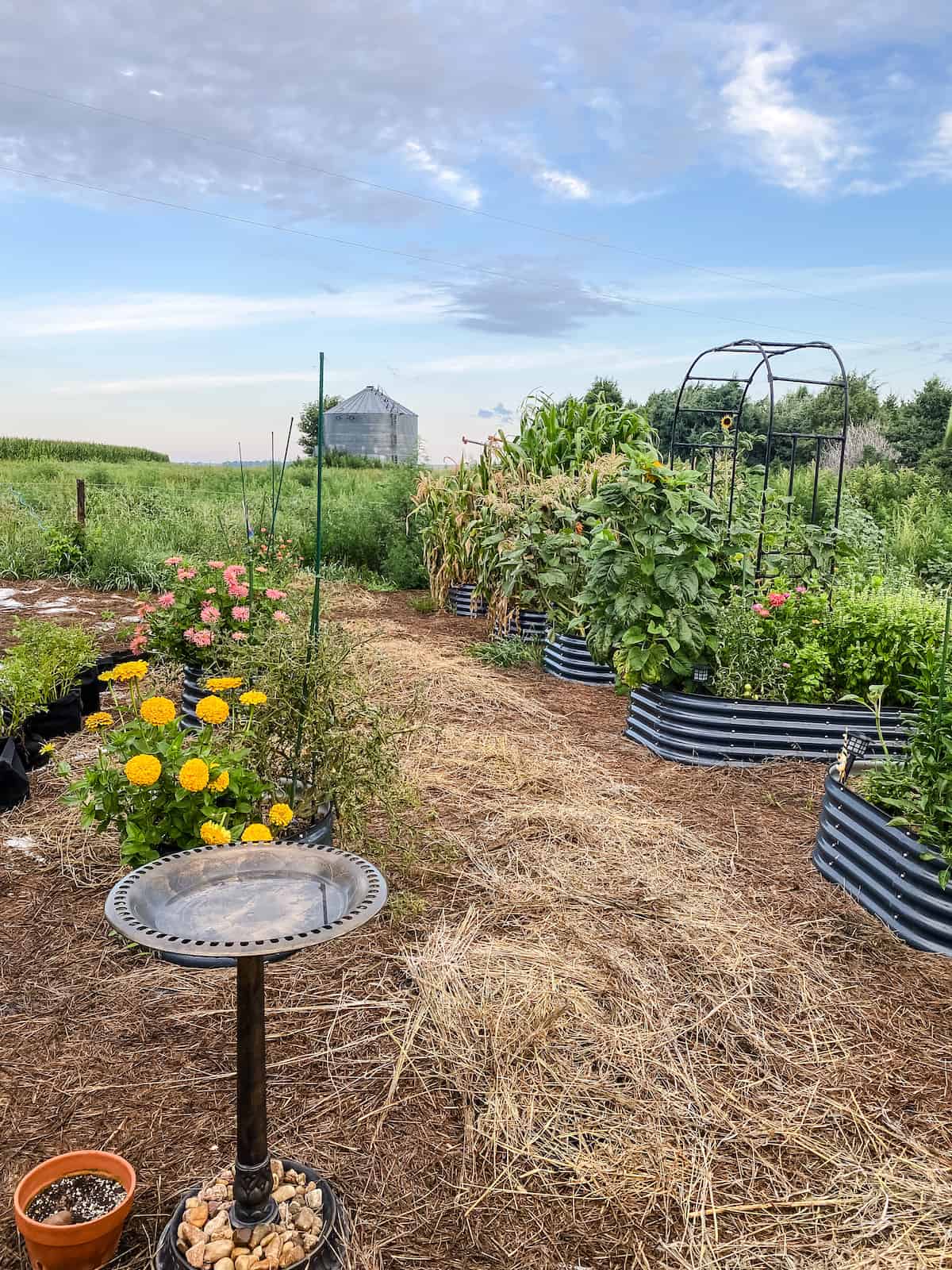 Summer varieties
If highly organized gardens are your thing, you may shudder a little bit at how much of jungle we have created. I love to pack the beds as full as I possibly can while still giving the plants a little room to breathe.
In these beds there are a variety of companion plants growing together and a whole lot of pollinators mixed in.
I will try to mention some of our favorite varieties that we are growing this year, but I also mentioned most of them in this post about our garden goals for the year.
And most of our florals are also in the post about cut flower gardens.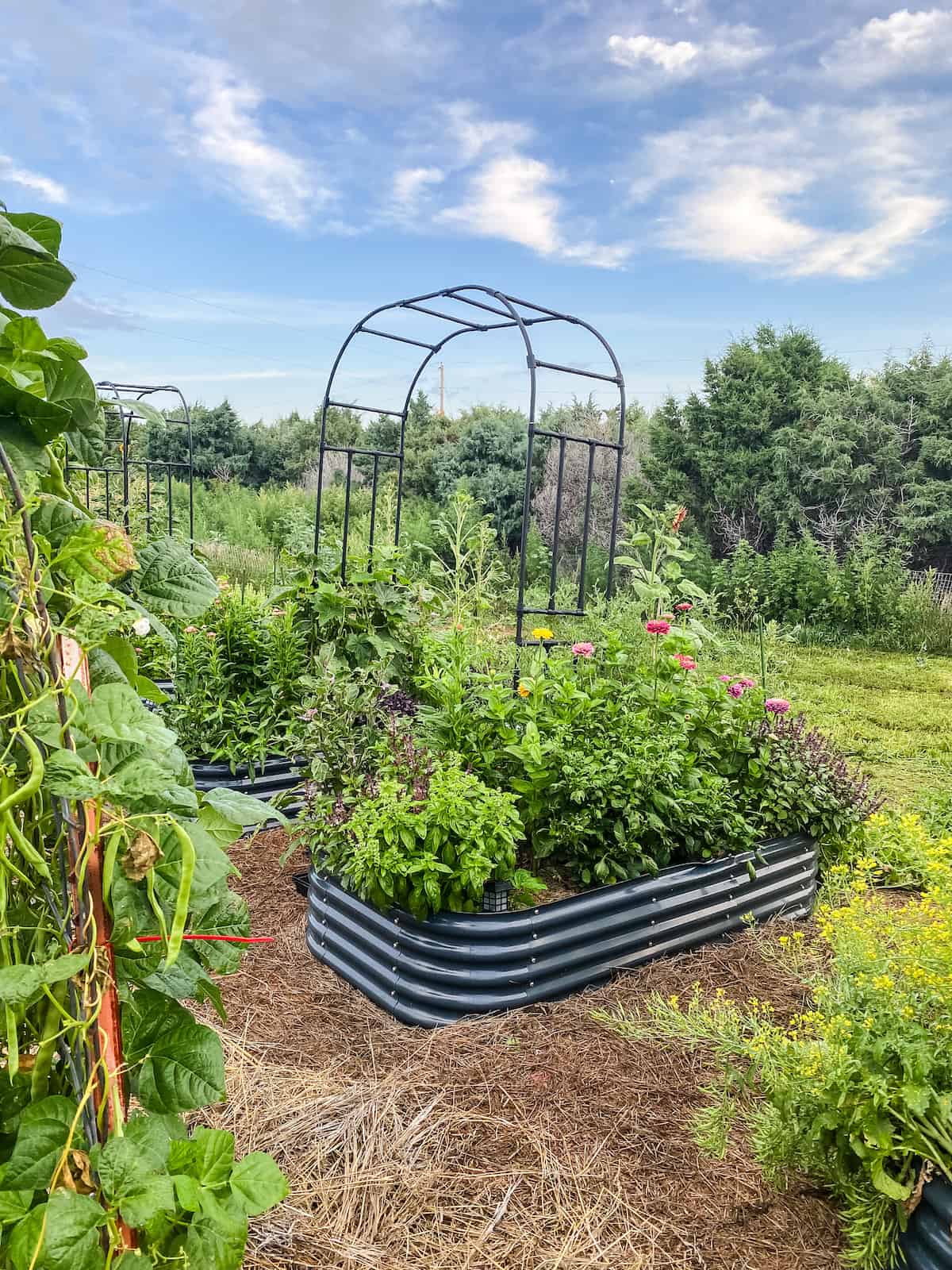 In this first picture on the above, we are growing a variety of tomatoes (grown up these black metal arches). Our favorite varieties of tomatoes:
Also in this bed are eggplants, poblano peppers, several basil plants (Genovese has been exceptional for us this year!) , California Giant zinnias, and a variety of sunflowers.
Pictured next, we have zucchini growing on the edges of the bed to trail over the edge. Companion planted in this bed are French filet bush beans, cowpeas, and a row of butter crunch lettuce. Tucked in at the edge is a teddy bear sunflower. This bed has been absolutely hopping with pollinators!
The green box inside of the bed is one of our raised bed worm composting bins.
The final image in this section is filled with two tomatillo plants which are supposed to be staked to two of the black obelisks but they basically took over the bed!
We also have a couple of artichoke plants. These haven't done great for us this year probably because I started them a little late. So, I'm hoping we get something by fall time!
At the very edge of the bed is a sunflower and pumpkins trailing over the edge of the bed.
→ related post: how to harvest and store pumpkins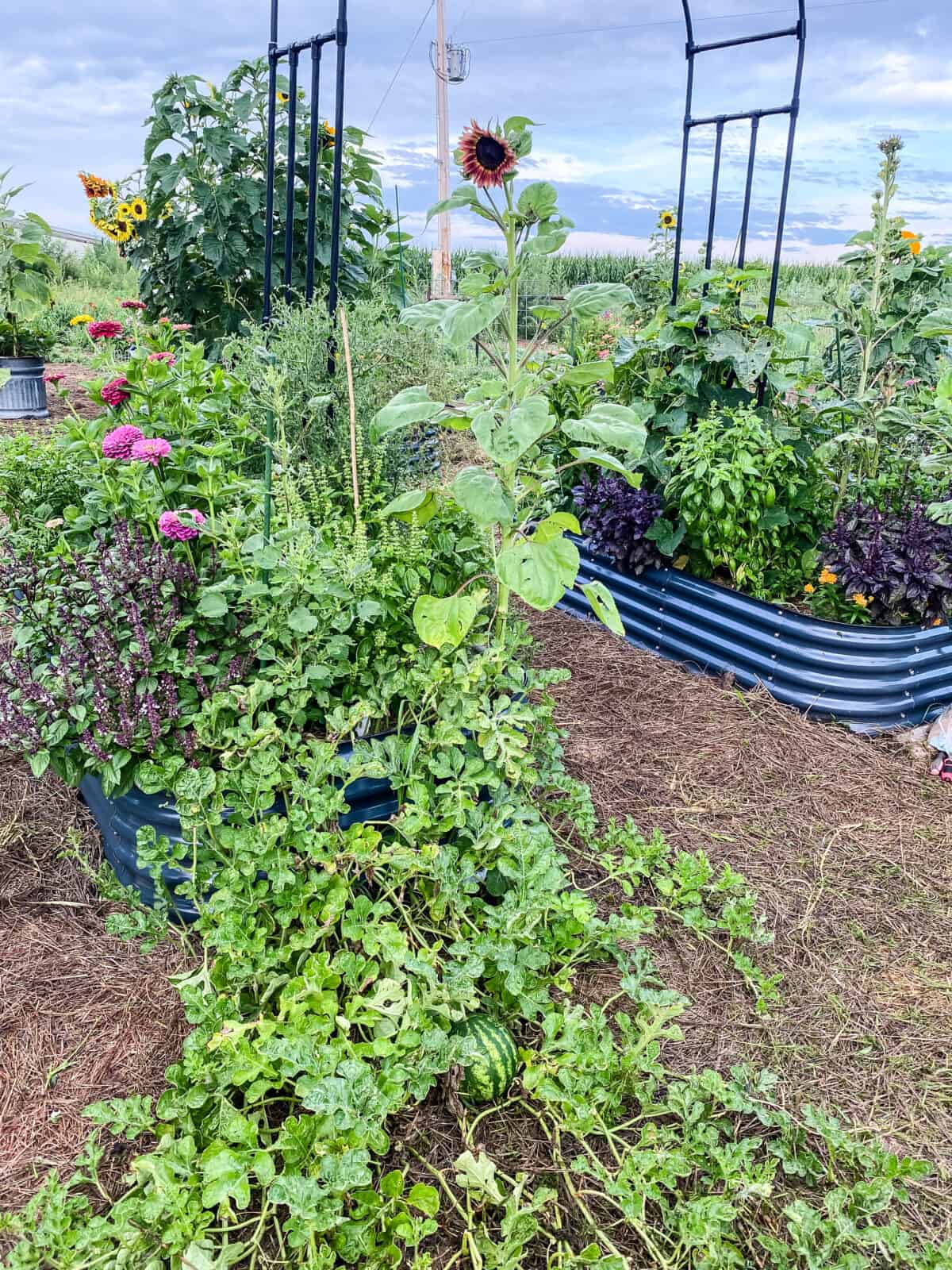 Perennial + seasonal beds
So, now let's take a look at the other half of the garden. This area is where I start our spring plants & am transitioning to fall plants currently. And this is also where we have a few perennials.
New this year, we have added asparagus to two of the raised beds with strawberry plants surrounding the edges. We have established and new strawberries in a few other beds as well. This year we added 140+ bare root strawberry plants! And we still don't have enough! 😅
In the third image below, we are growing them alongside garden peas. Not pictured, the peas are growing up a cattle panel which is staked along the side of the wooden raised bed.
In the second picture, we are growing sweet potatoes in an old cattle water tank which was added to our garden in year 2.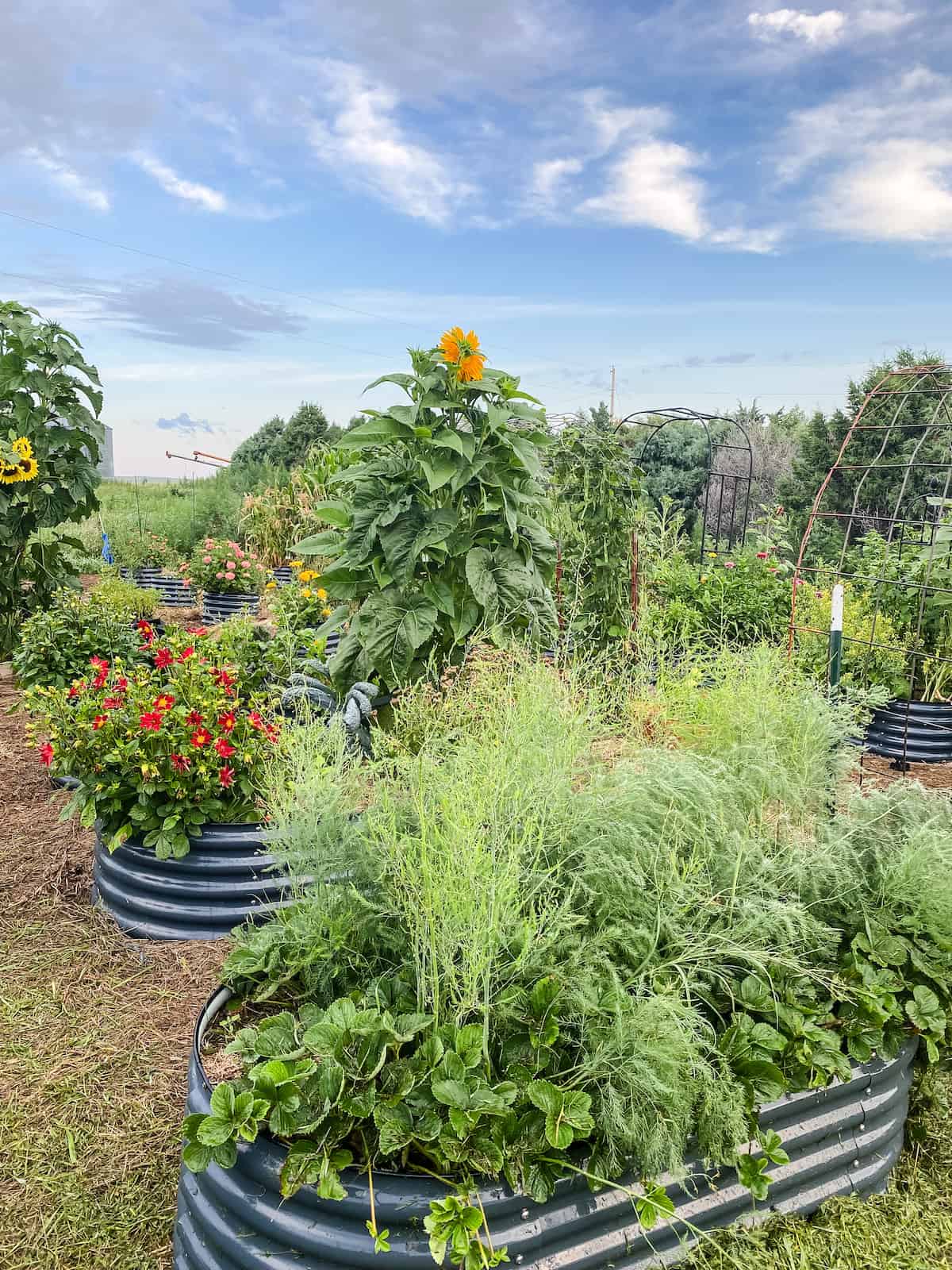 Crop rotation
In these beds, we've been rotating crops throughout the season. In the spring / early summer we grew cabbages & broccoli and after harvesting them, we planted more carrots, beans, radishes, and salad mixes.
We've been enjoying the kale, Swiss chard & celery through the season (the greens are pretty prolific this year!)
We recently direct sowed a variety of greens in places which were just harvested. So those empty spaces should start filling in soon.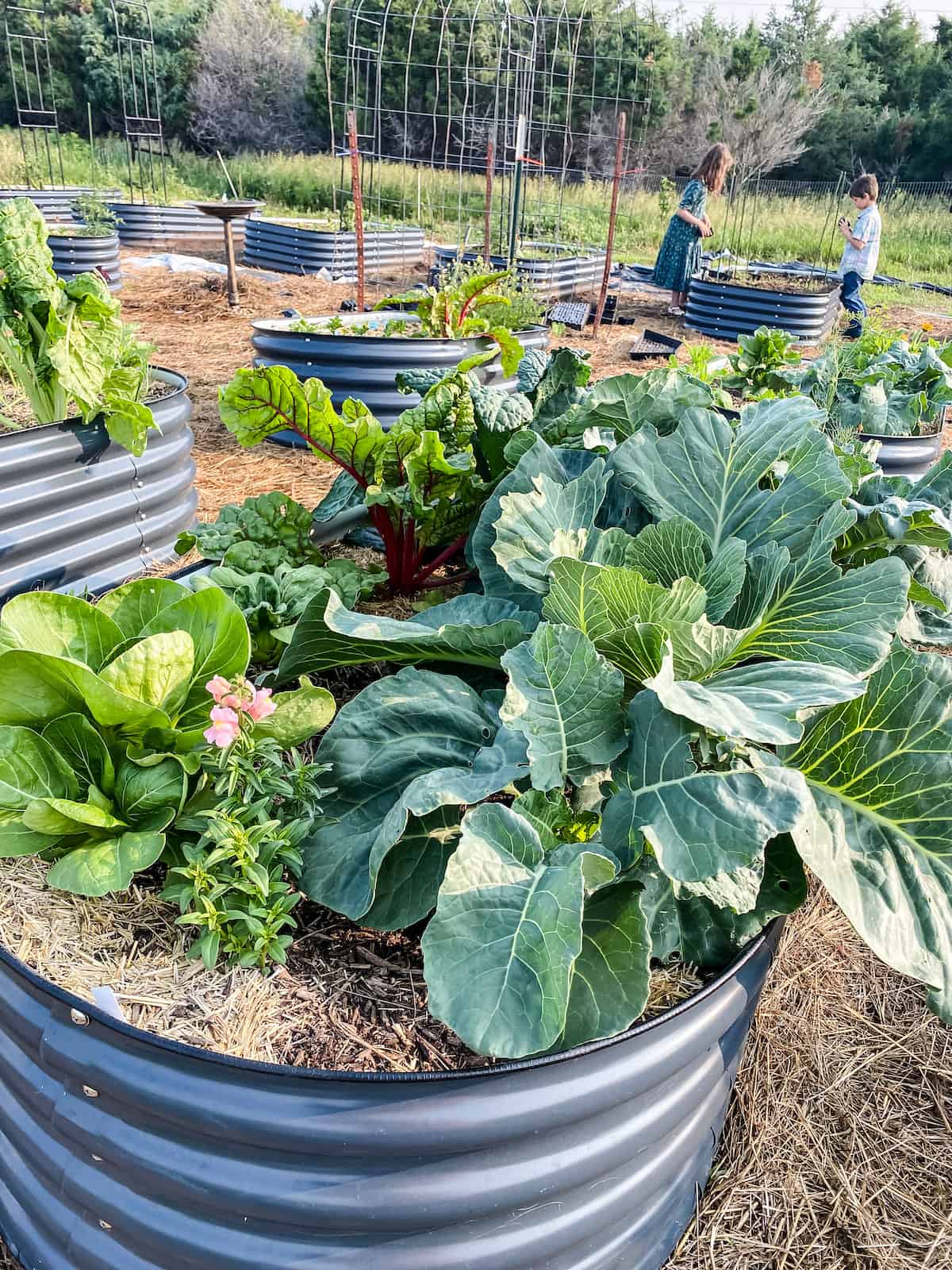 Cut flower garden update
We extended the cut flower garden substantially this year and will increase it a bit more next year.
I'm testing out a variety of plants and methods in the raised beds with the intention of participating in our local farmer's market in the future. In the meantime, we are enjoying fresh blooms for the home!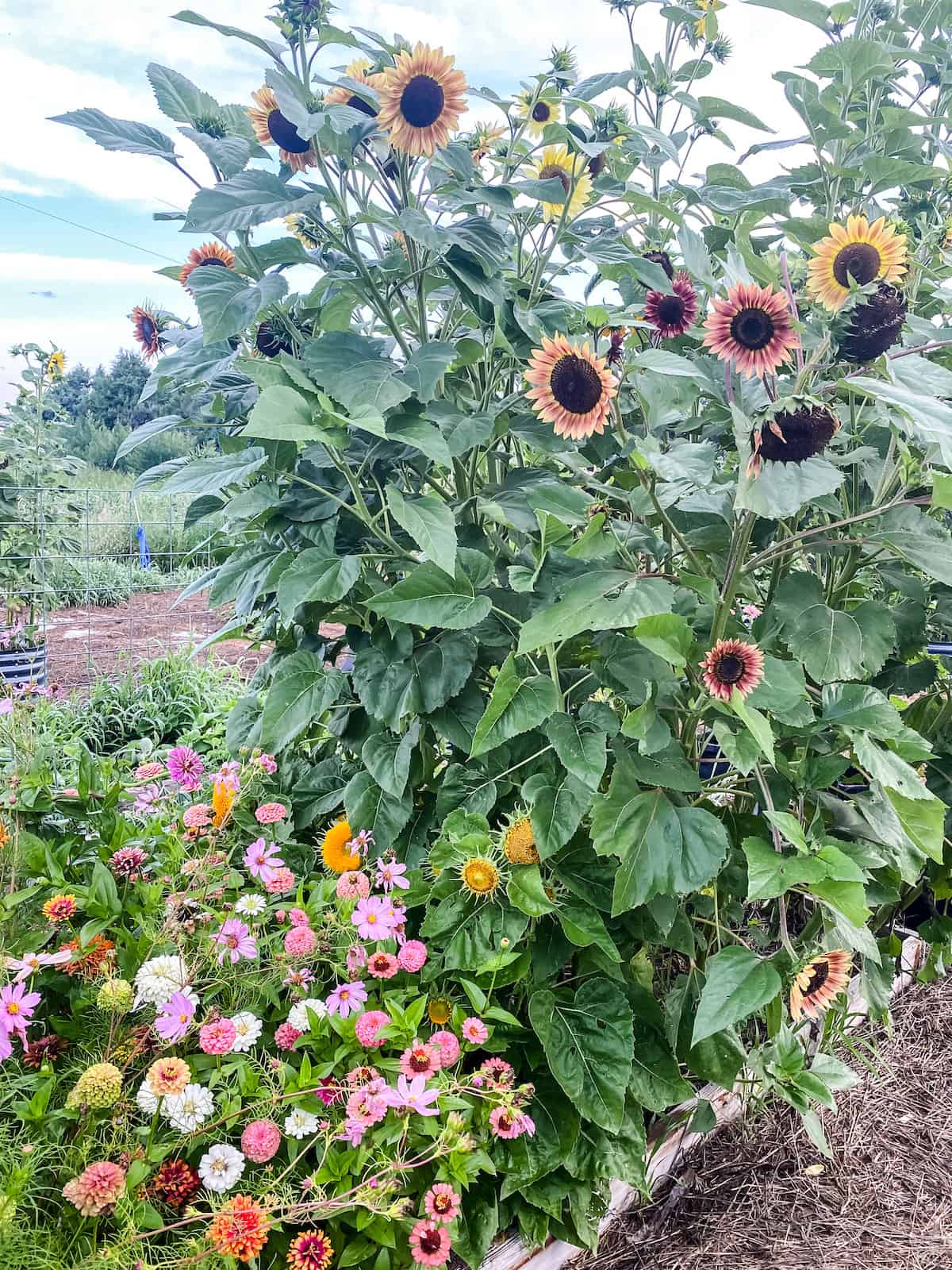 And if you'd like to see how we are growing these flowers, I shared how we built the cut flower garden in a raised bed here.
Growing Potatoes
We've had such great success with growing potatoes in grow bags over the past several years. Last year, I ventured in to growing them in the ground and truthfully, it's not my favorite thing. So, we are back to using the grow bags.
They're so much easier for me to manage and harvest.
For now, the grow bags are resting on the ground with a bit of silage tarp underneath. I'm trying to determine the best placement for them in future years.
We purchase our seed potatoes from High Mowing and have huge success & harvests!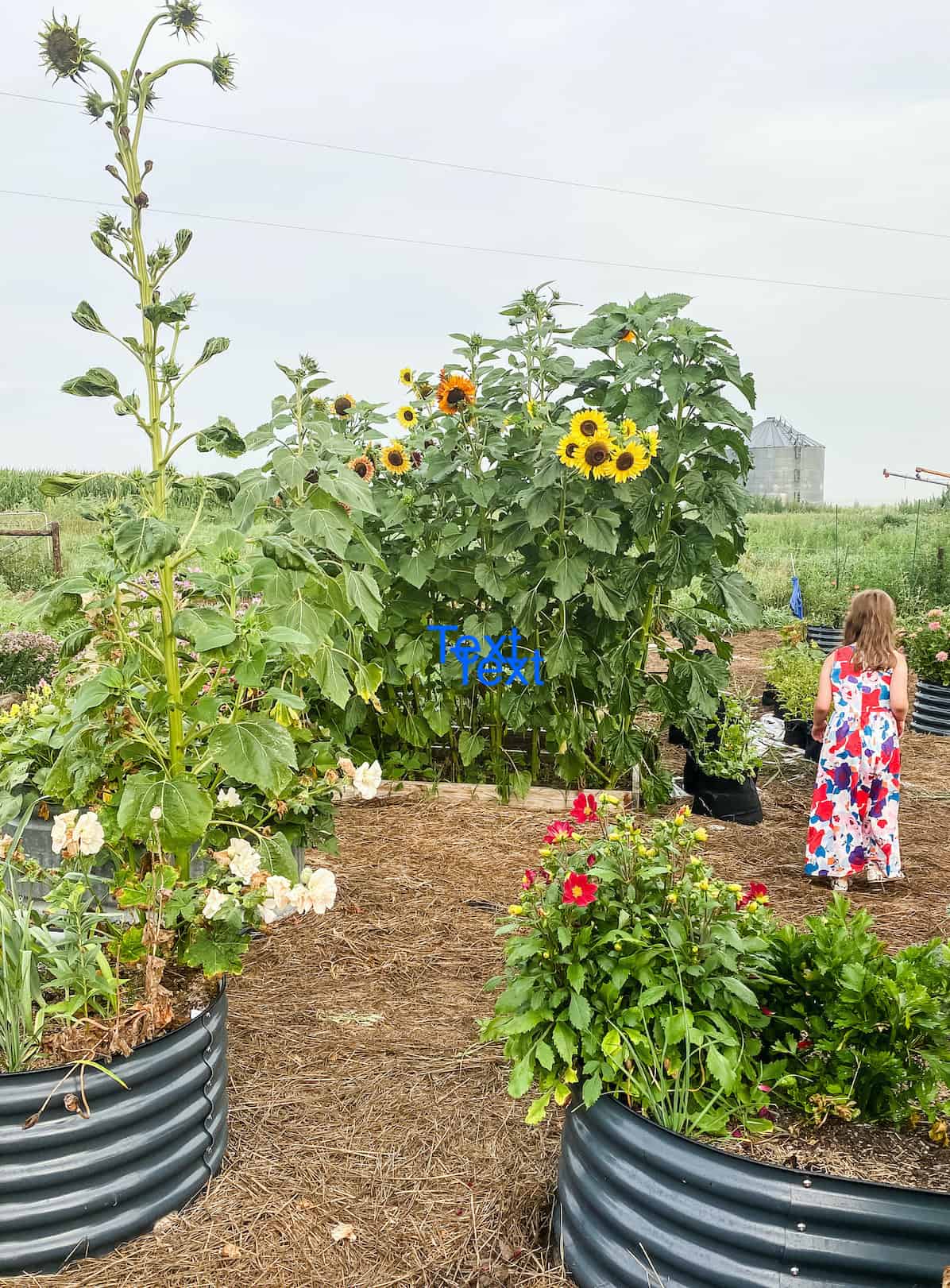 → Tell me about your garden! What are you growing this year? What has been your biggest challenge in the garden?
More raised bed posts
Here's a few of our favorite raised bed blog posts that we think you'll love too!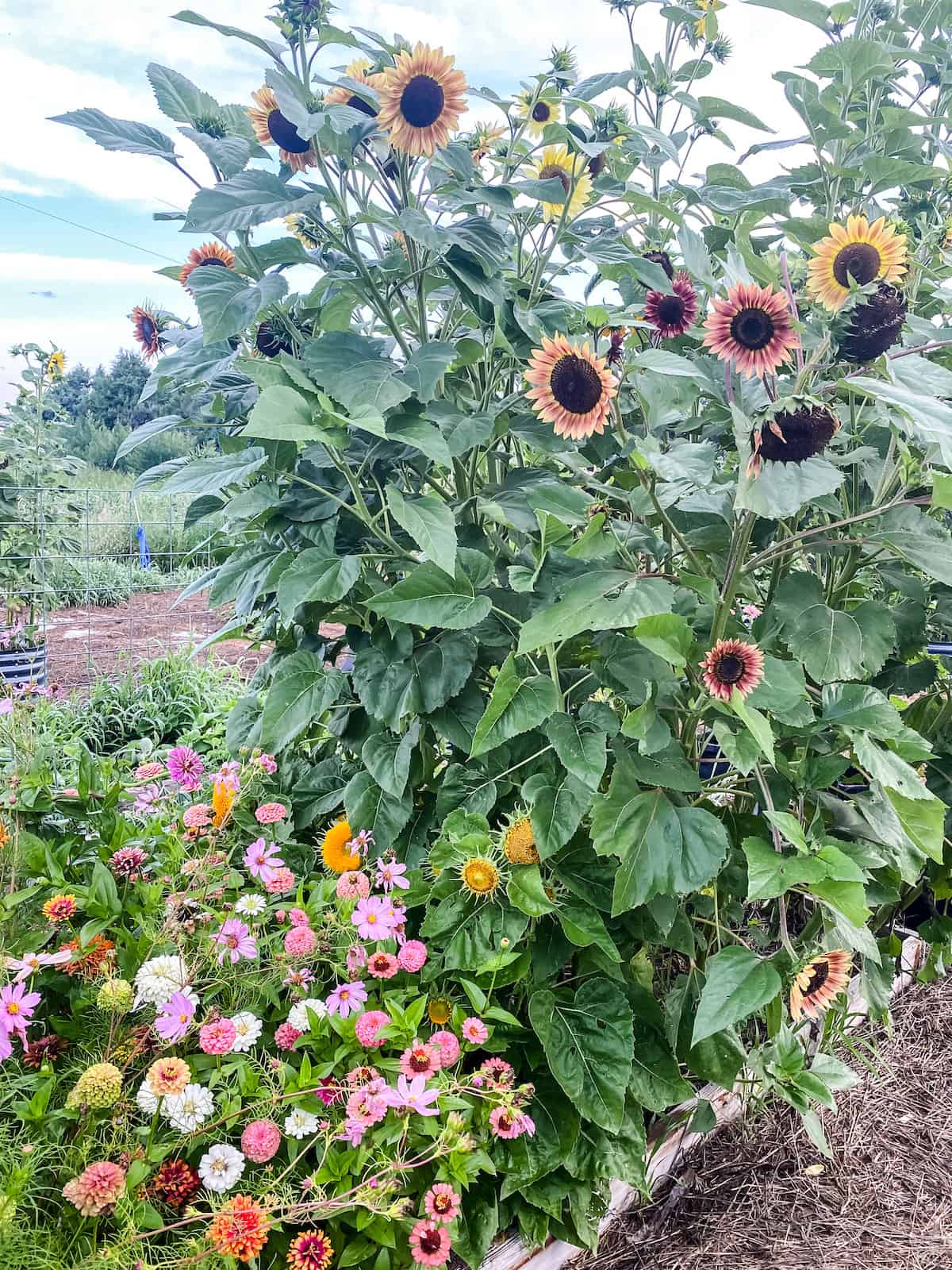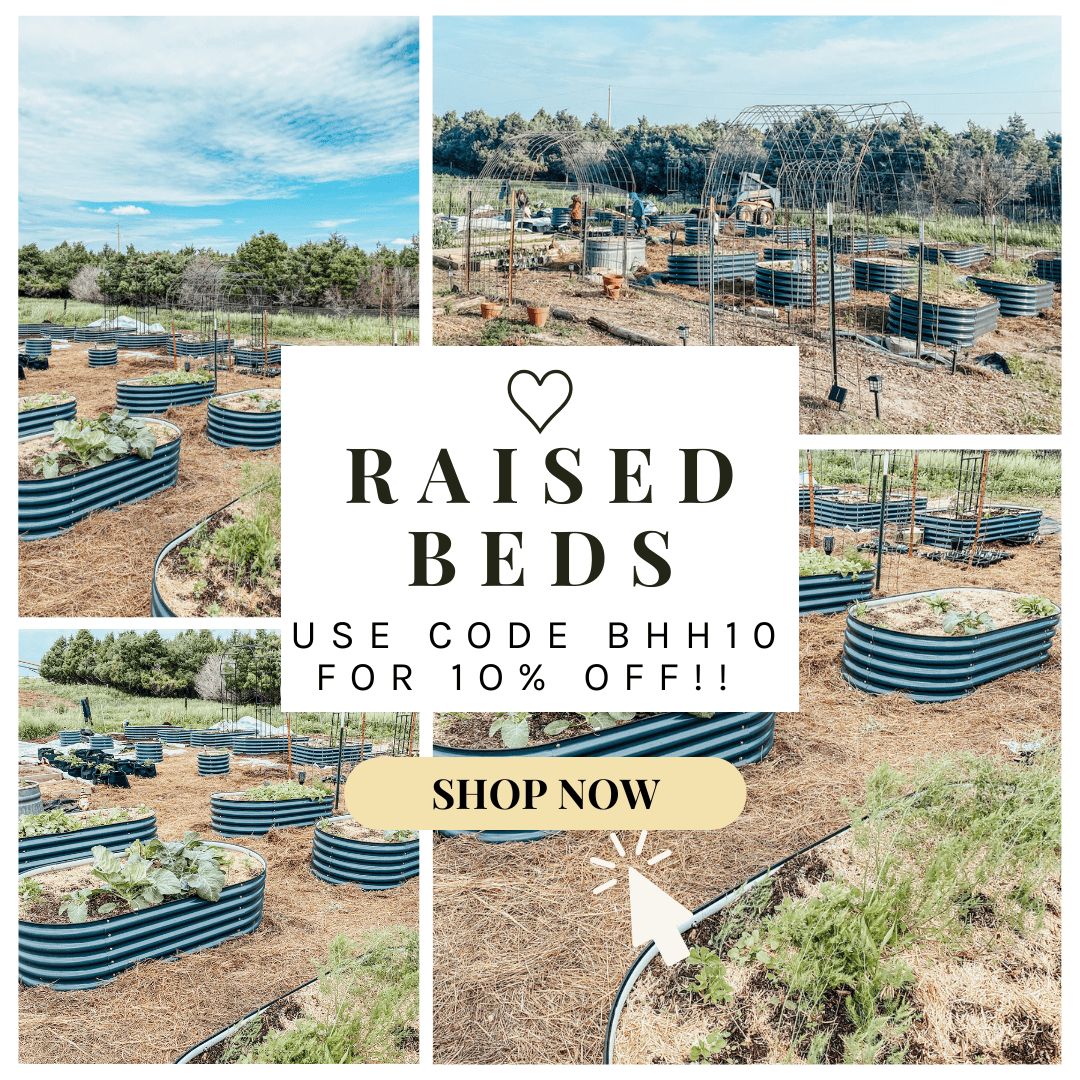 where would you like to start?