Collecting fresh flowers for the house never gets old. I'm sharing how we built two spaces using raised beds for a cut flower garden.
Want to grow your own beautiful flowers this year? We've put together some tips to growing a cutting garden—from start to finish and everything in between! It will tell you everything you need to know to grow a vibrant and colorful flower garden in raised garden beds.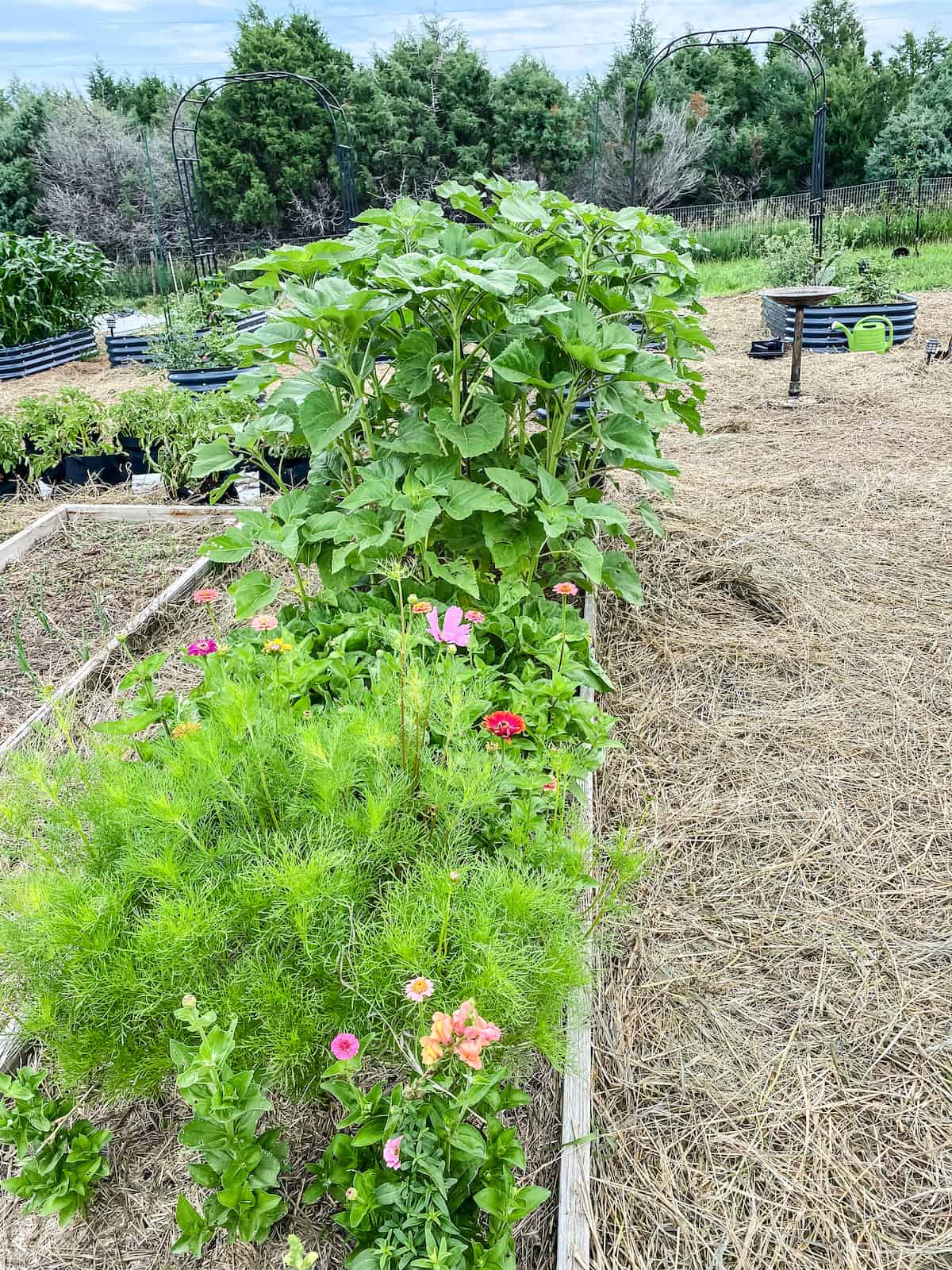 Using Raised Garden Beds for a Cut Flower Garden
We absolutely love using raised garden beds for growing our vegetables and fruits. So this year, I decided to add two new cut flower beds using new raised beds.
There are so many benefits to growing in a raised bed which I covered in this post about the benefits of raised bed gardening.
And I also gave a spring garden raised bed update tour.
When growing a cut flower garden, my plan was to treat it like any other crop that we grow in our vegetable garden. So things are planted slightly closer together than is recommended.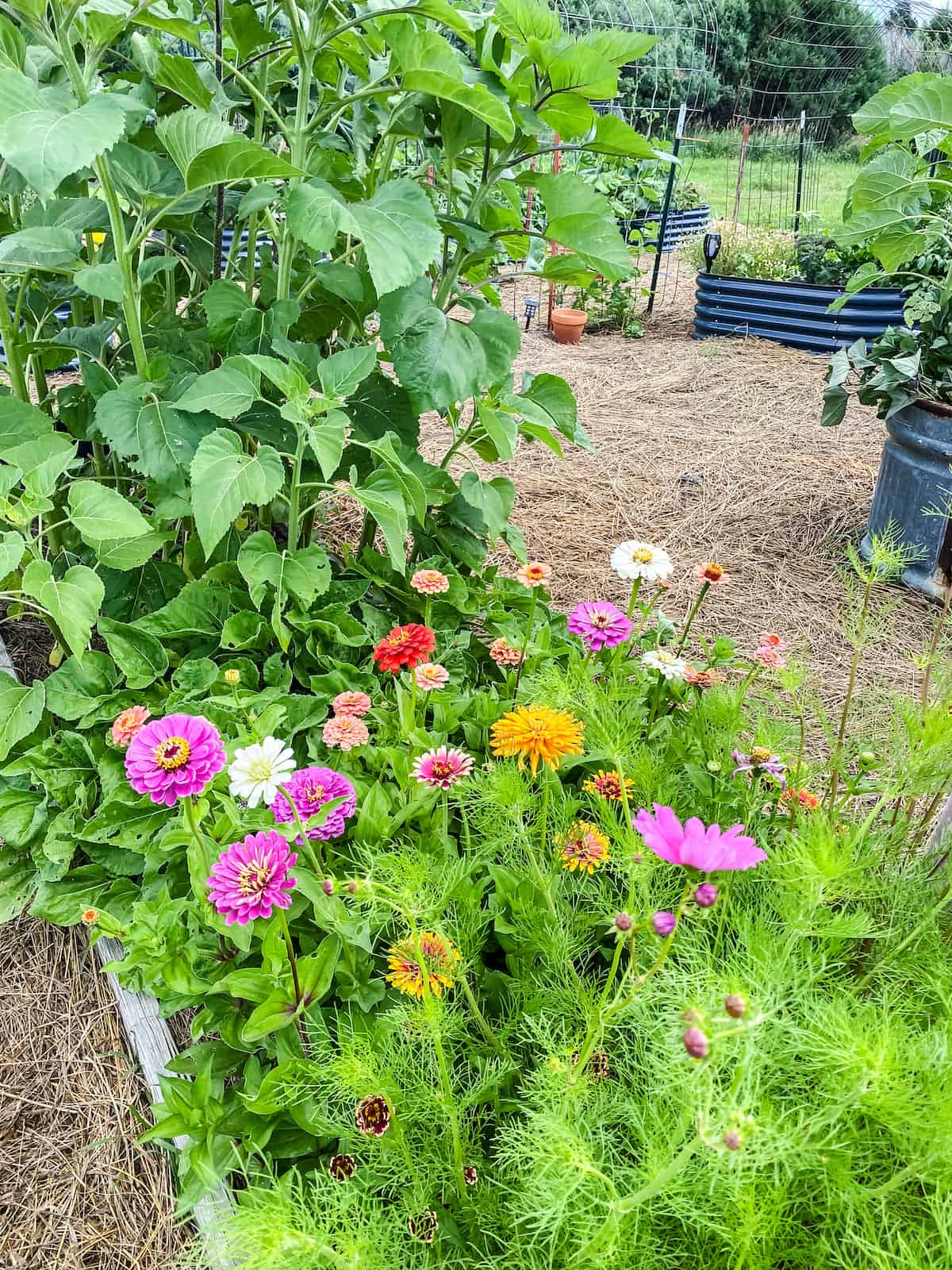 We also succession plant so that we can have a harvest of blooms all season long. And hopefully we will have plenty of flowers well into our first frost date of the fall.
This is easily done by growing quick growing varieties of flowers such as zinnias, cosmos, and sunflowers. And sweet peas in the cooler months.
The first raised beds we started with in the main garden spaces were from wood that my husband built several years ago.
This year we upgraded to using these raised beds. So in this post, I am sharing two options for growing a cut flower garden in a raised garden.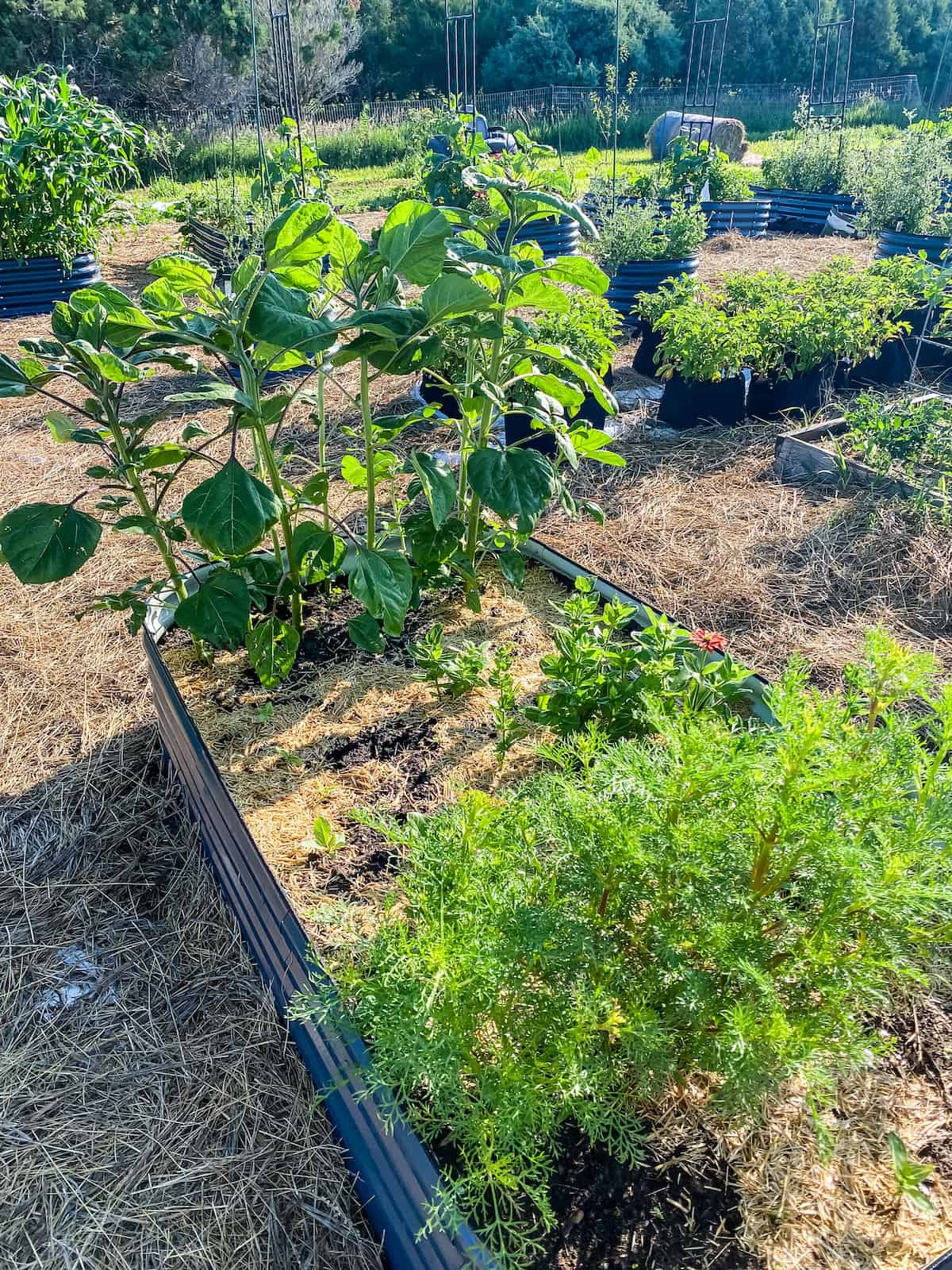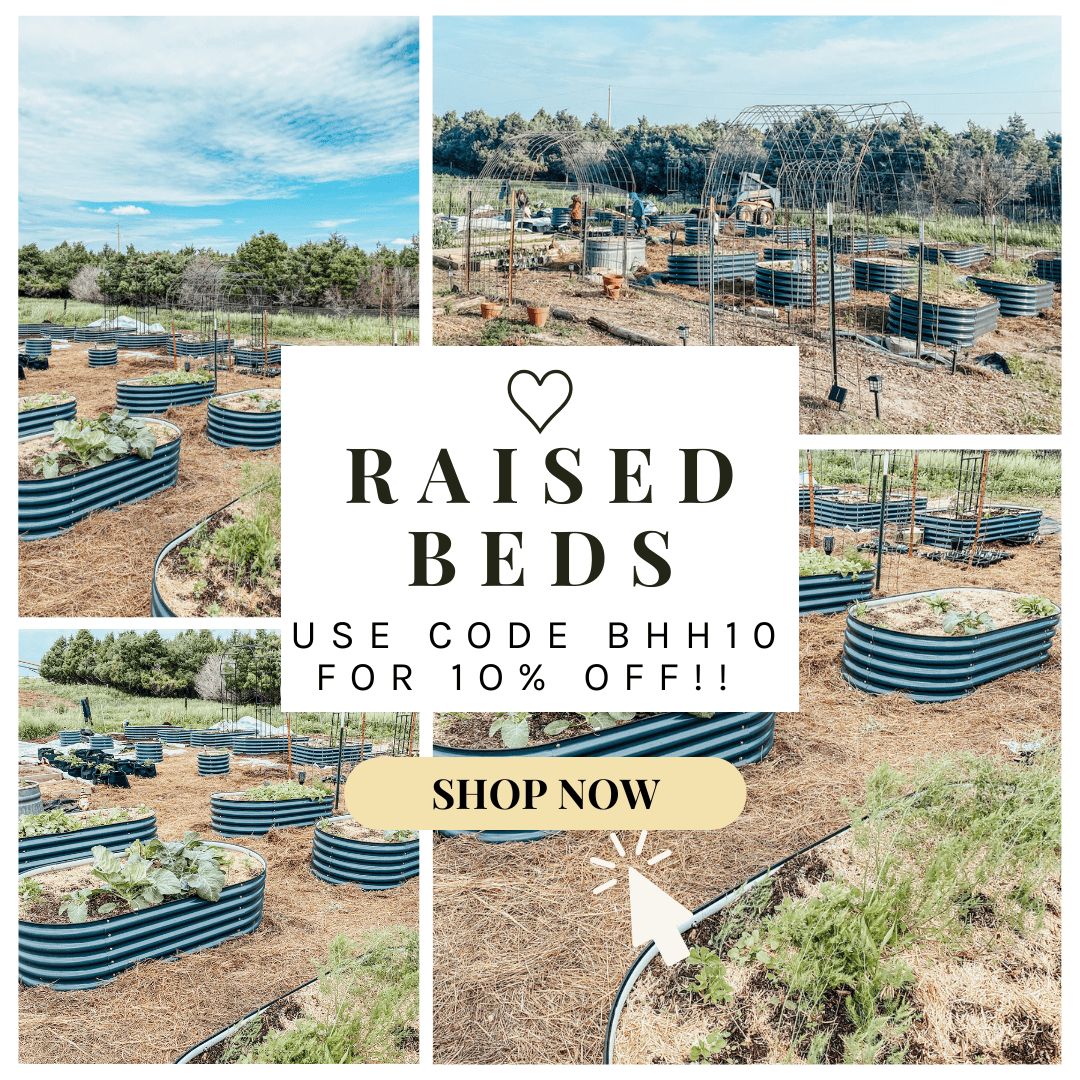 Where to find flowers
Of course you can support your local nursery for purchasing plants in early spring. I definitely love to contribute to our local businesses whenever possible.
However, in this post I am sharing mostly varieties and options for plants that you can sow directly through seeds or bulbs.
There are a few perennial options that we love too.
Our favorite places to shop for florals & bulbs are:
Favorite seed companies for flowers:
Favorite perennial flower varieties to grow
Personally, I prefer romantic florals like peonies and roses in soft colors like whites, creams, light pinks, peaches, and other pastel shades. So our cottage garden is loaded with them!
But in the cut flower garden, I have a variety of options both of softer tones and bold blends!
Below are a few of the favorite flowers that we are growing in the cottage garden. And make great additions for cutting.
These varieties are:
Peony 'Gardenia'
David Austen Rose 'Generous Gardener' climbing on a white arch trellis
Rose Grandiflora 'Queen Elizabeth'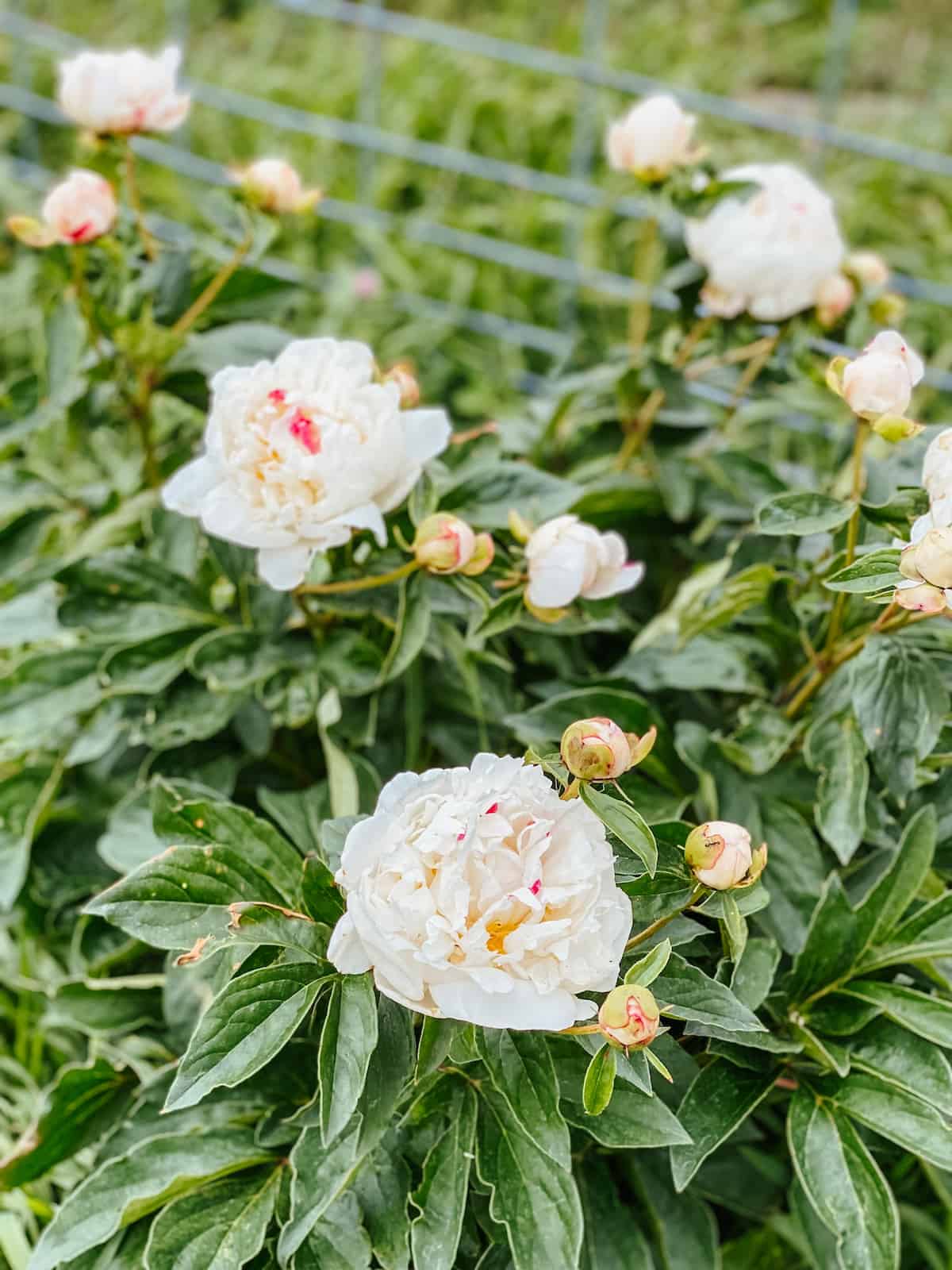 Other favorite perennial plants to grow for a cut flower garden are:
lilacs
hydrangeas
tulips
daffodils
larkspur / delphinium
dianthus
lilies
salvia
iris
Calendula
and dahlias if you're able to dig up the tuber for storage over winter!
A favorite place to purchase bulbs and tubers is from Gilbert H Wild and Son. I've had many years of success with this brand!
Also note, we are in growing zone 5a (and sometimes it feels like zone 4!) so the varieties listed in this post have worked well for us.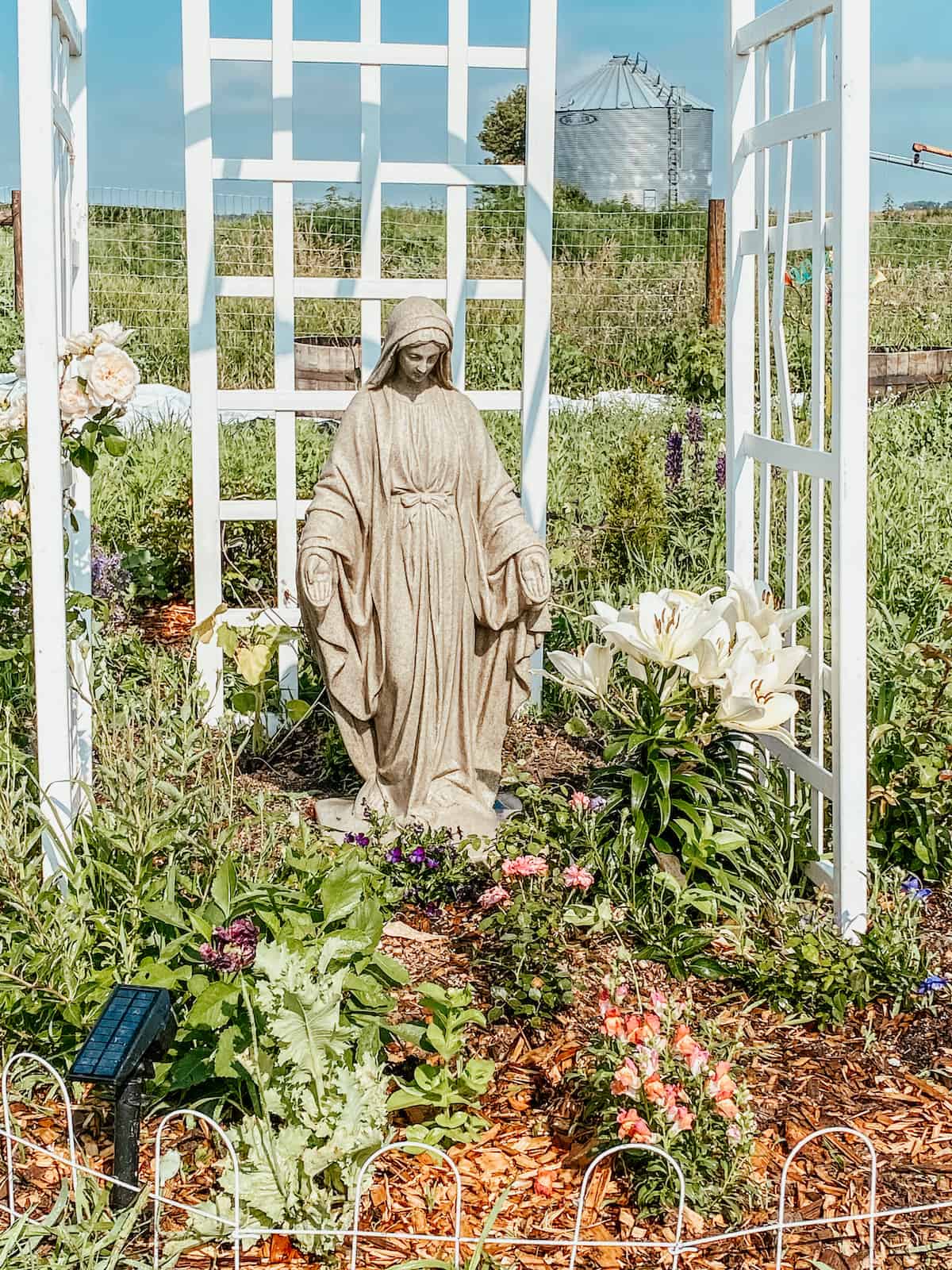 Favorite flower varieties to grow from seed (aka annuals)
Some of these varieties are perennials in certain growing zones.
zinnia
cosmos
sunflowers
snapdragons
dahlias
stock
sweet peas
chrysanthemum
poppies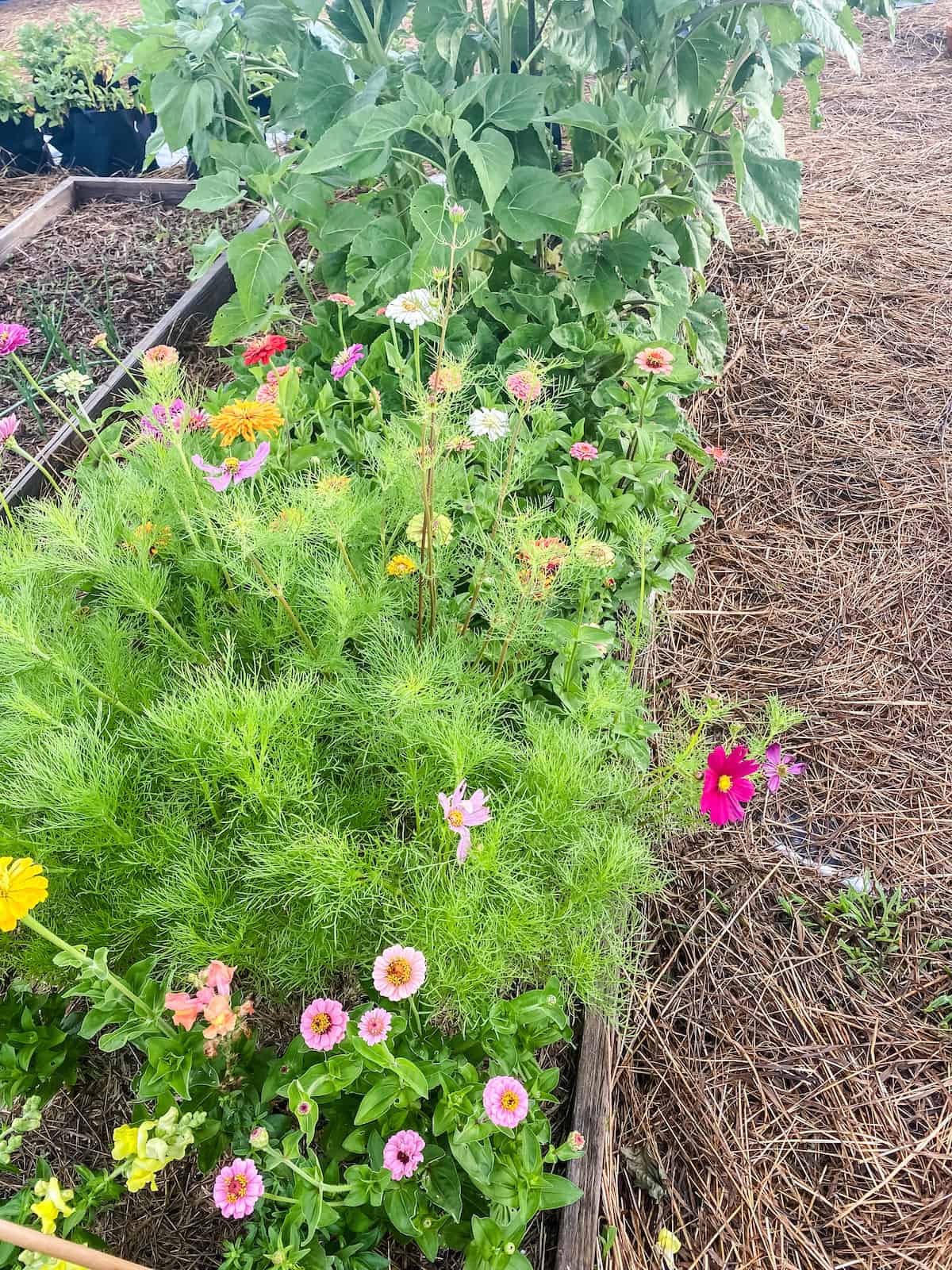 Favorite Cosmos varieties: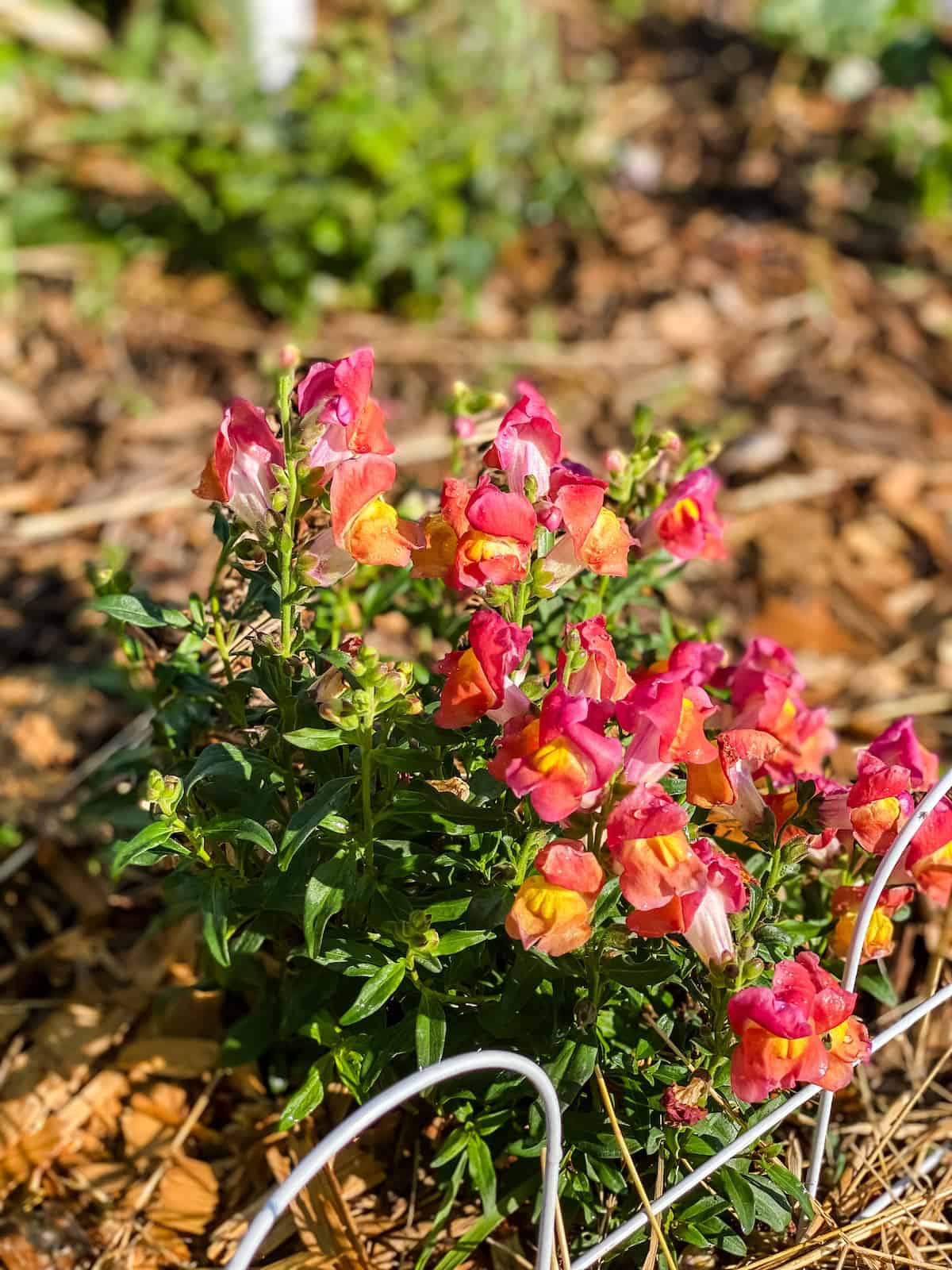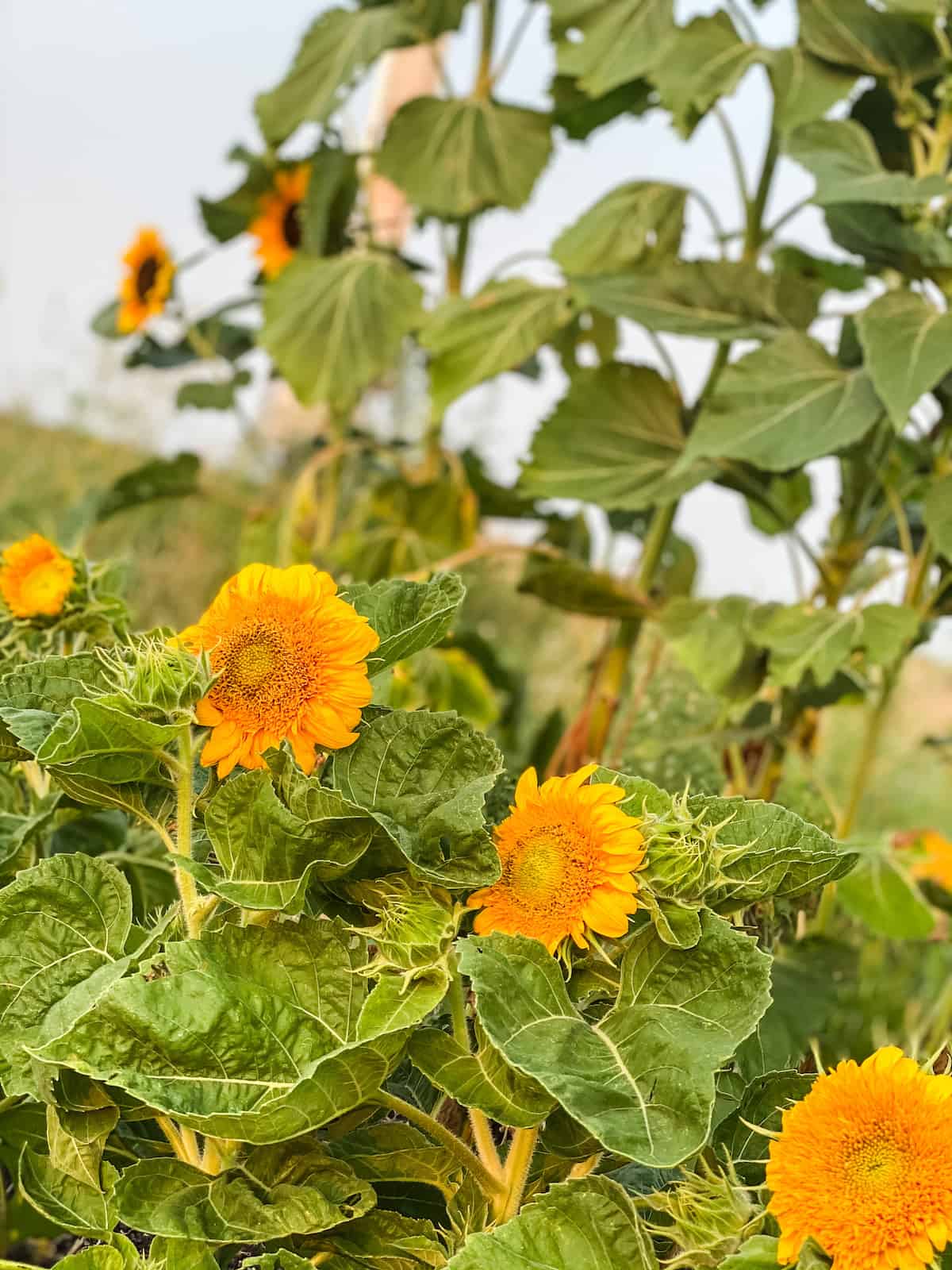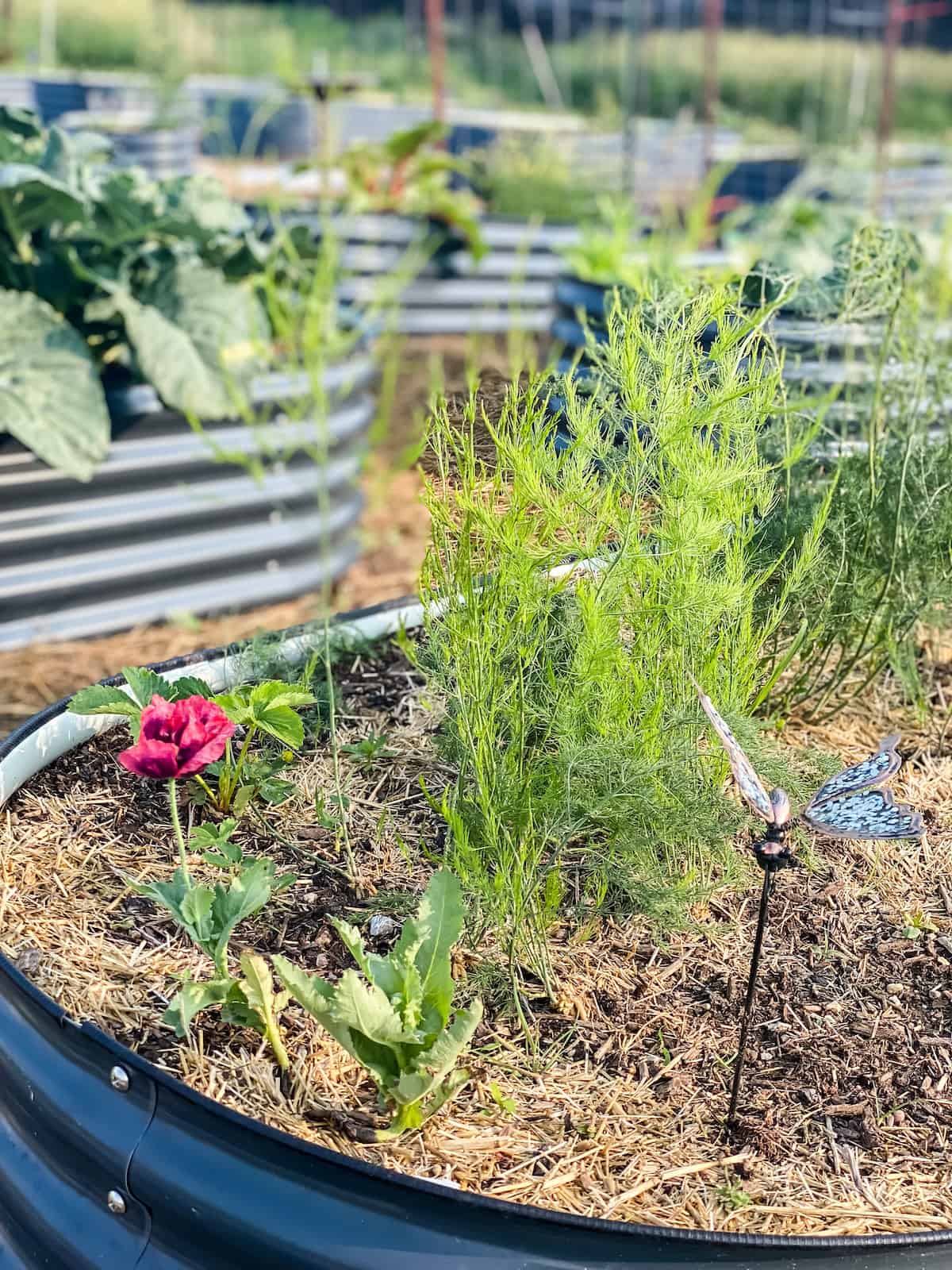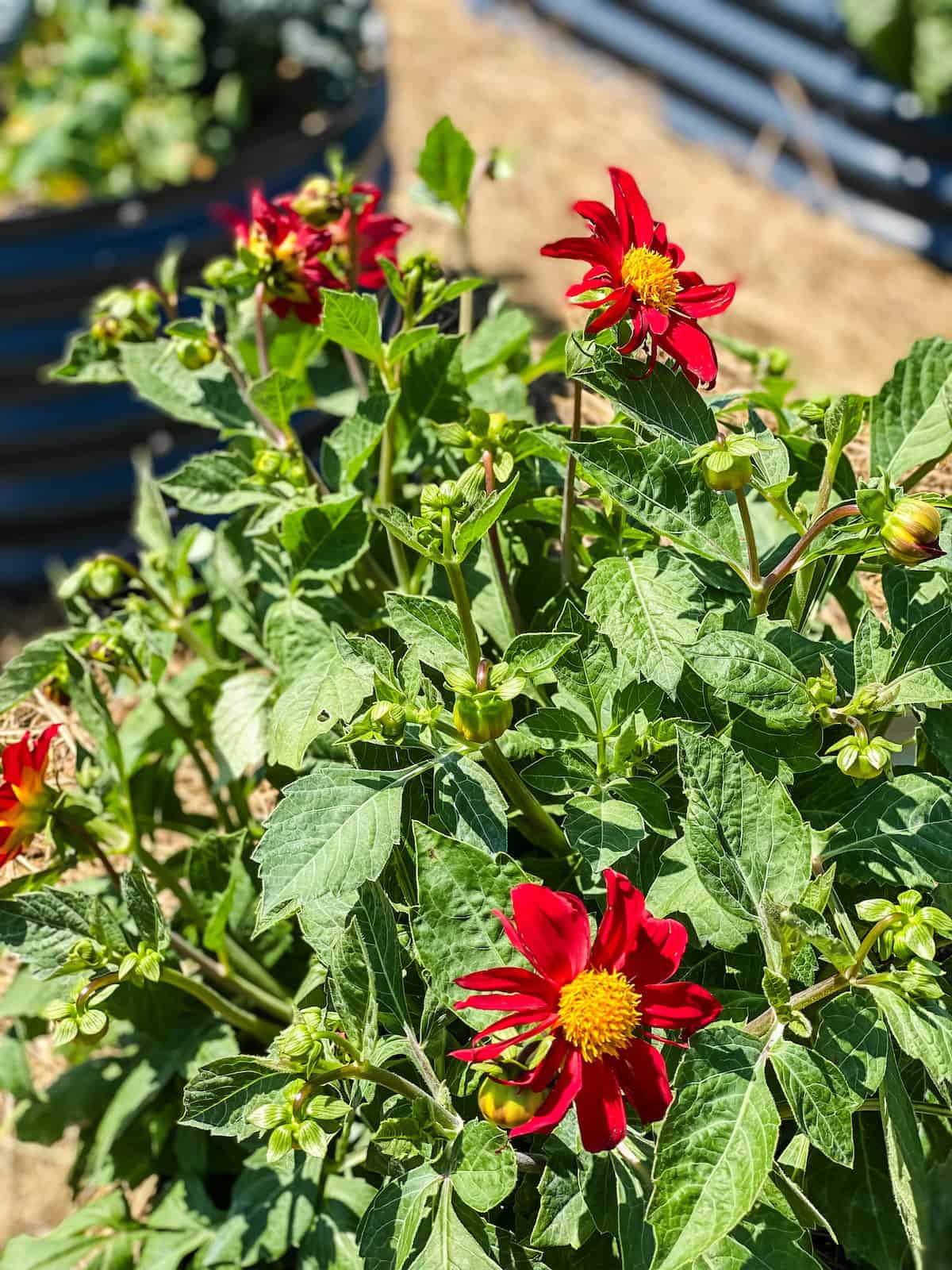 And we can't forget the foliage either! Here are a few good options for growing greenery & fillers for your cut floral arrangements: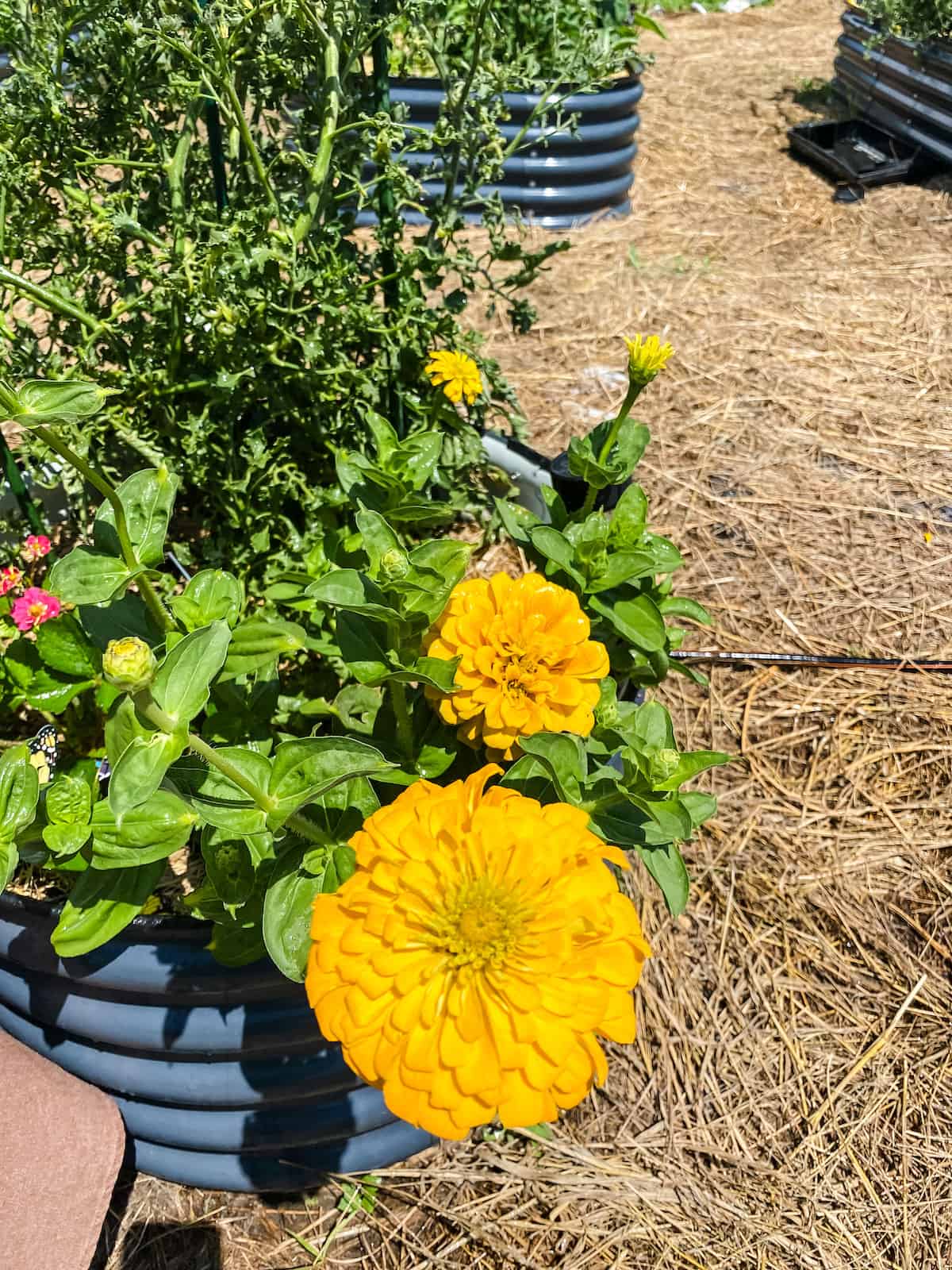 Building a raised bed for cut flowers
When we build a new raised bed, we typically follow the Hugelkultur method. This is the process of layering organic garden waste inside the raised garden bed.
So essentially, we would fill the raised bed with logs, twigs and sticks at the bottom layer. Next we layer on old rotted hay (kitchen scraps, leaves, grass clippings also works).
Filled in with a mix of good quality organic garden soil and compost – homemade compost is such a great option for keeping costs down and providing beneficial nutrients and organic matter for the garden.
Pro tip: When looking for organic materials be sure to look for the OMRI logo on the label! Otherwise the product could claim to be organic and is not truly organically certified. This could create trouble with pesticides and herbicides being used previously which can destroy your garden! Ask me how I know. 😕
Don't forget to mulch your beds! We love to use garden straw for our raised beds. They not only keep the soil more moist, but they also keep the weeds away and feed the soil with good organic material!
Using landscape fabric for the pathways or around the raised bed is a great option for weed control. However, I do not recommend adding these to the raised bed itself.
Check out this post for more info on how-to fill a raised bed.
Planting in the raised beds
Choose a location that will have access to water and has good drainage. Most cut flowers prefer full sun, so picking a spot that has at least six hours of sunlight per day is best.
When sowing seeds directly, plant them with enough space that they can get plenty of air flow once grown. The seed packets will provide the best information depending on the variety of the plant.
I tend to plant them a little closer together than what is recommended. But it is also important to remember that they have enough room to grow and with enough air flow. Too much moisture without that airflow can lead to bacteria, root rot, and other diseases.
Also, be sure to consider how the sun will fall throughout the day. The best bet for planting is in a nice sunny spot of the yard where it can receive at least 6 hours of direct sunlight.
In excessive heat, shade cloth is a great option to protect the plants. Another option is to plant where they will be protected from late afternoon sun or when the heat of the day is strongest.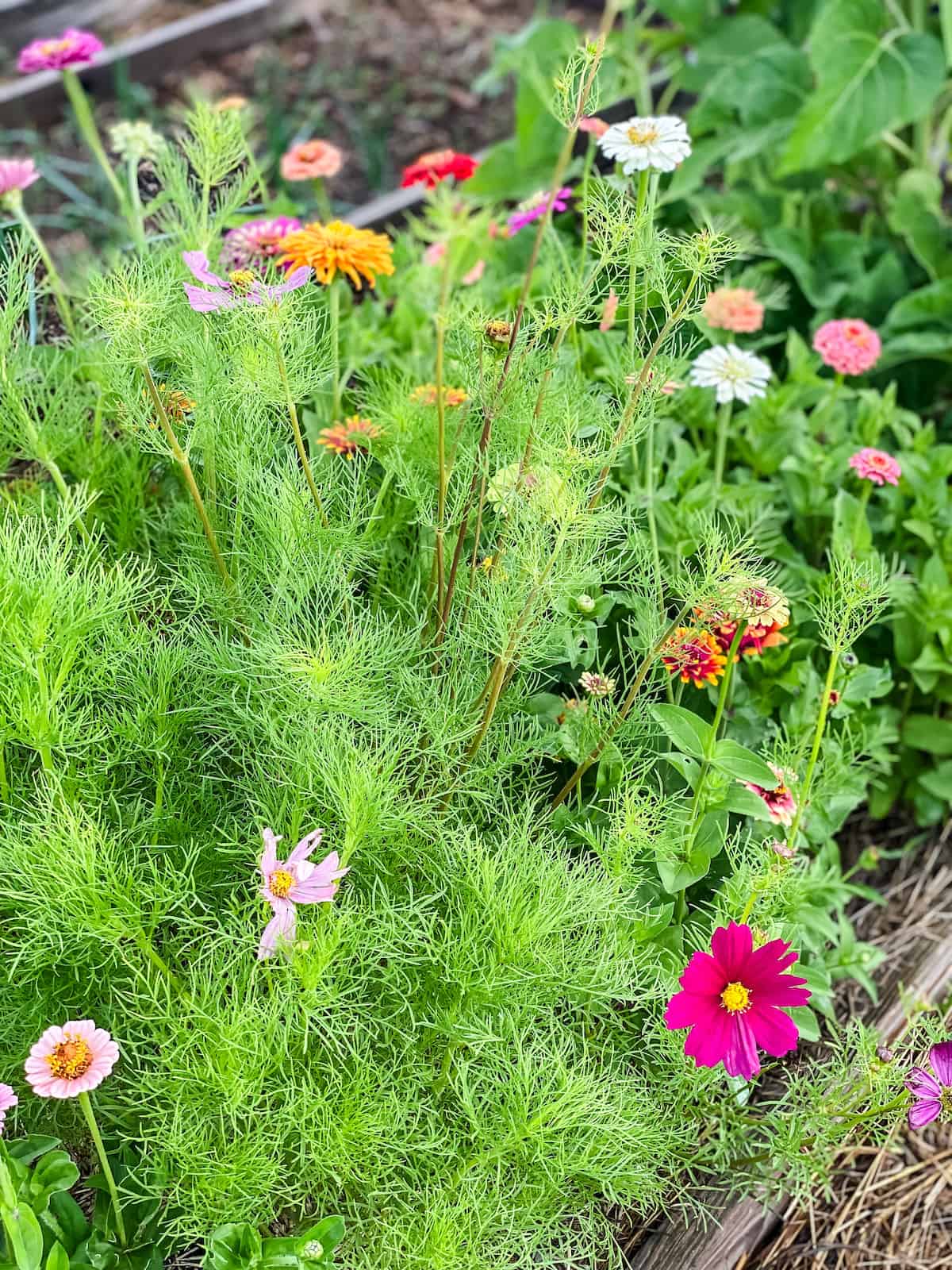 Making floral bouquets & arrangements for vases
There are many different options for creating fresh cut flower arrangements and bouquets and will really depend on your preferences.
For me, I prefer either romantic or whimsical, rustic and natural styles for our farmhouse vs traditional or professional arrangements. This more loose style of arranging flowers also works well with many of the flowers that I suggested in this post.
After harvesting the flowers, either arrange directly to the vase or hold in your hand while building the bouquet. Tie with twine if desired to hold together.
Tips:
best time to harvest flowers is in the cooler parts of the day (morning or evening)
keep a bucket of water for placing cut flowers in while harvesting
fill your vase (or mason jar) with cool water and plant food / floral preservative for long vase life (optional)
change your vase water daily and remove any old wilting flowers
try to cut the flower stem deep on the plant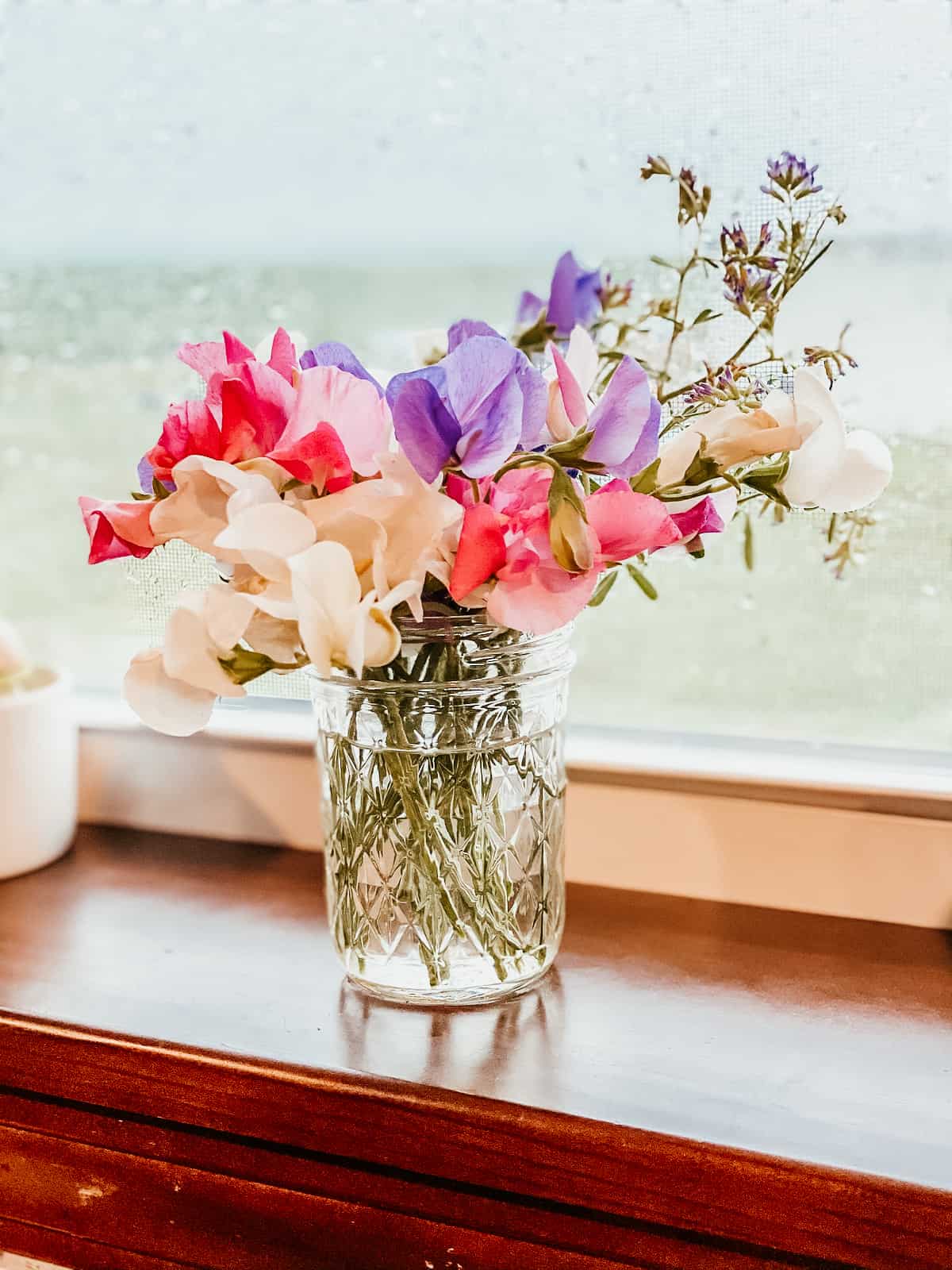 More from the garden
These are some of our favorite garden posts that we think you'll love too!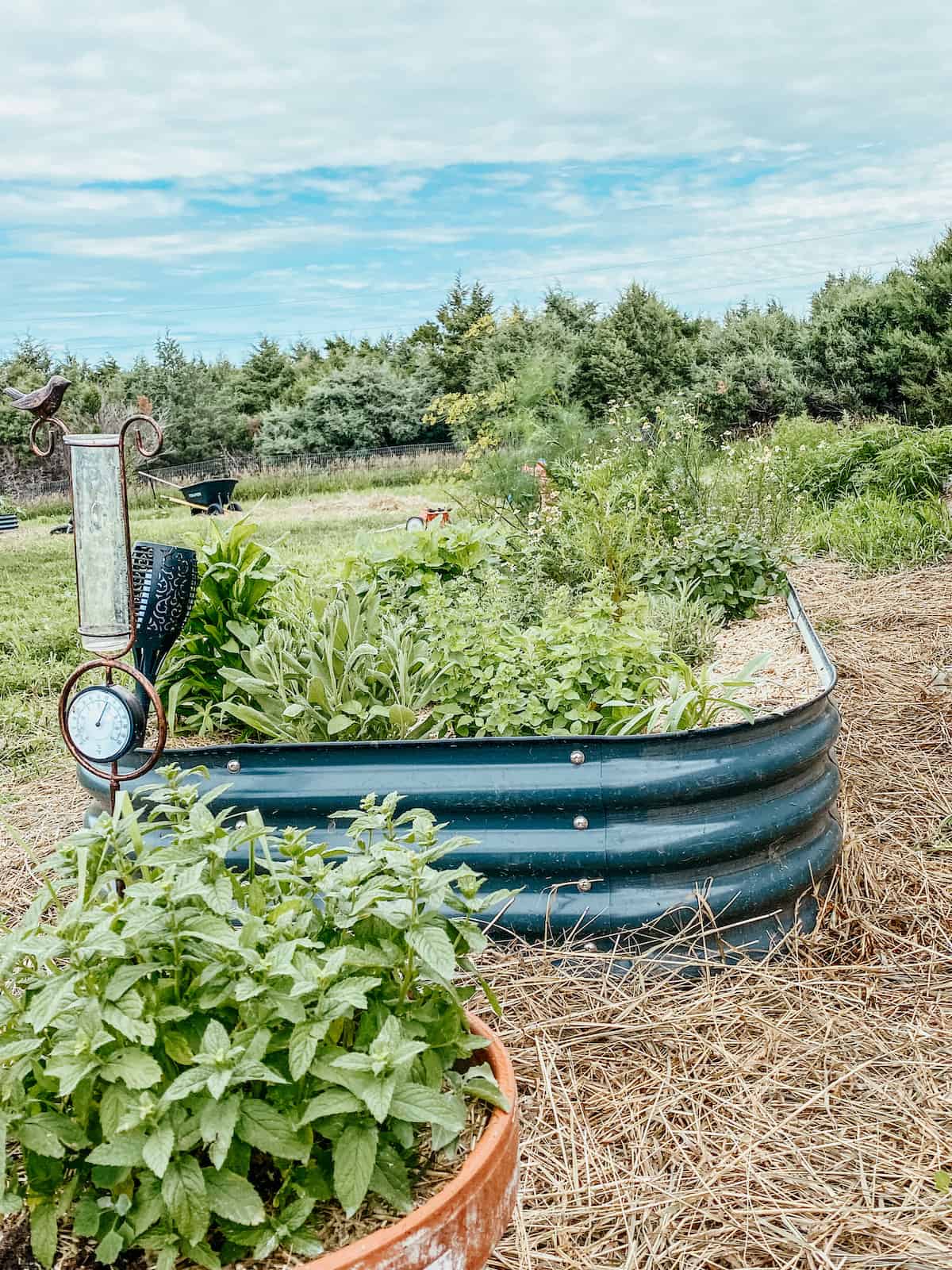 FAQ (frequently asked questions)
Is it too late to start a cut flower garden?
Generally a good time to sow seeds for a cut flower garden is just after any danger of frost has past in the spring. However, many varieties of quick growing flowers can be started up until about mid July depending on your growing zone. Check the back of your seed packet for more information on how long the variety takes to grow.
What does cut flower garden mean?
A cut flower garden is full of blooms of flowers that are grown specifically for cutting to fill vases or create bouquets to enjoy in the home or give as gifts.
where would you like to start?