Herbs are an easy and inexpensive way to add flavor and freshness to all sorts of dishes. They're also great accents to an attractive raised garden bed. Today I am sharing how we built a new raised bed herb garden.
I hope that this post will inspire you to build your own herb garden bed. One that is full of delicious herbs for teas, fresh salads, soups, sauces, and your most favorite recipes!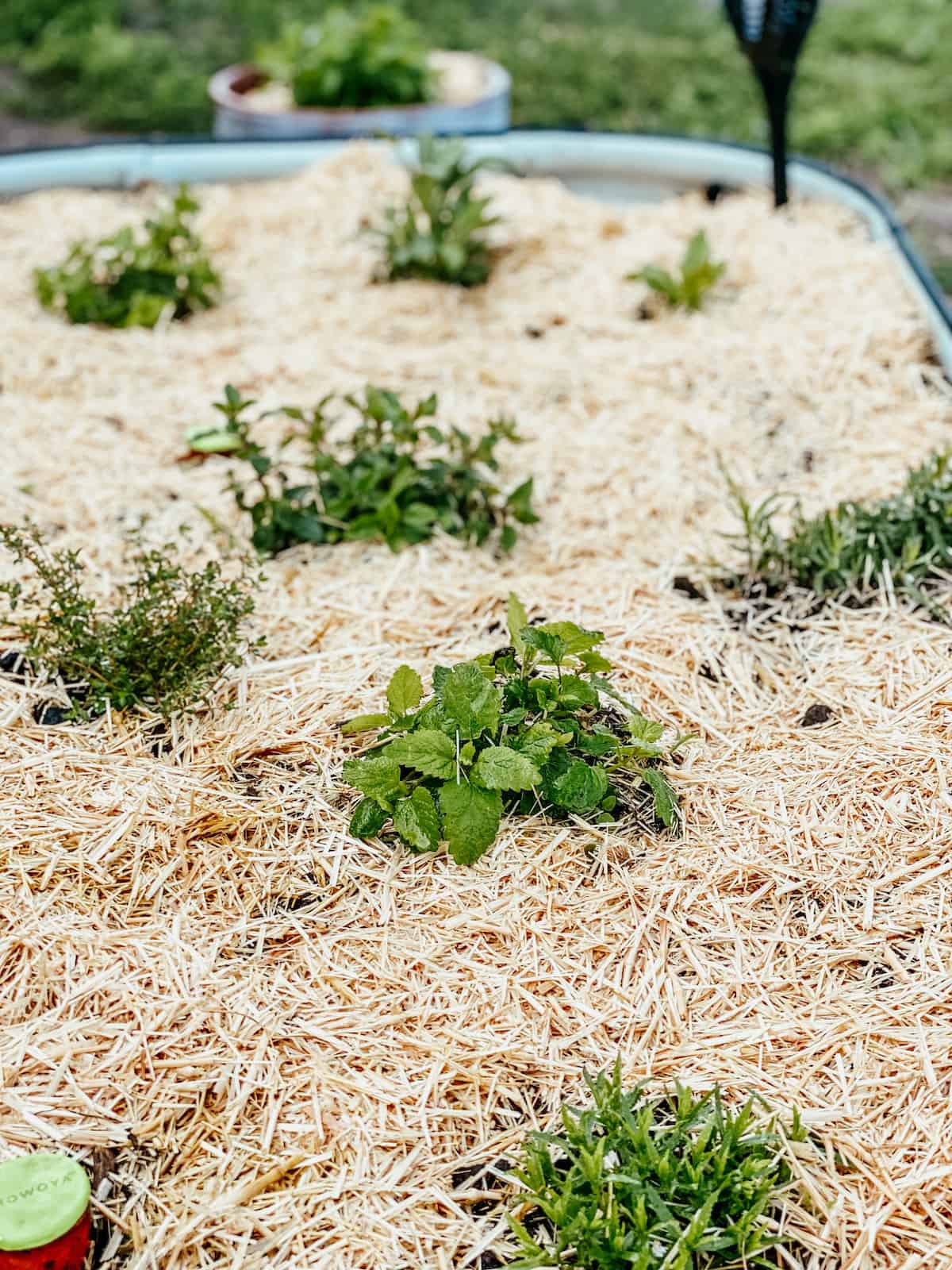 As a firm believer in companion planting, I already have herbs and florals scattered throughout the kitchen garden. But I also wanted the convenience of running out the kitchen door for fresh herbs as needed when preparing a meal.
So that's where this new herb garden comes in.
Building a Raised Bed Herb Garden
Earlier this year, we began the process of updating and expanding our entire home garden. We added 14 new raised beds for the kitchen garden including the children's garden spaces.
You can read about the raised garden bed update here.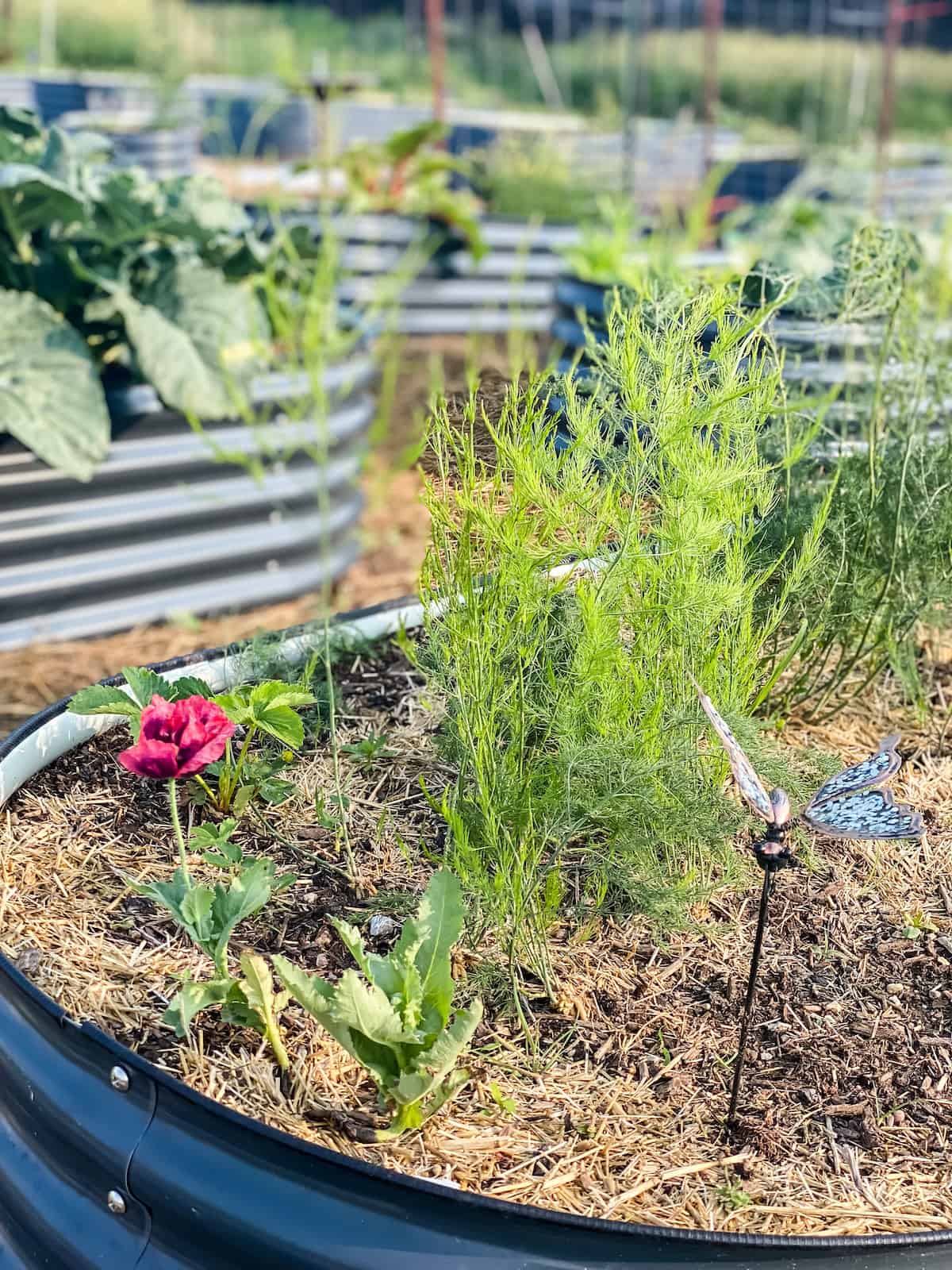 While we were creating the plans for the updated kitchen garden, I wanted to add a separate kitchen herb bed for convenience while making meals.
And with this new home build, we are converting a cattle pasture into a garden slowly over time. So this additional bed helps with our landscaping around the yard a little too.
Btw, converting an old pasture to a garden is a little challenging! But, its a rewarding process…and continual work in progress!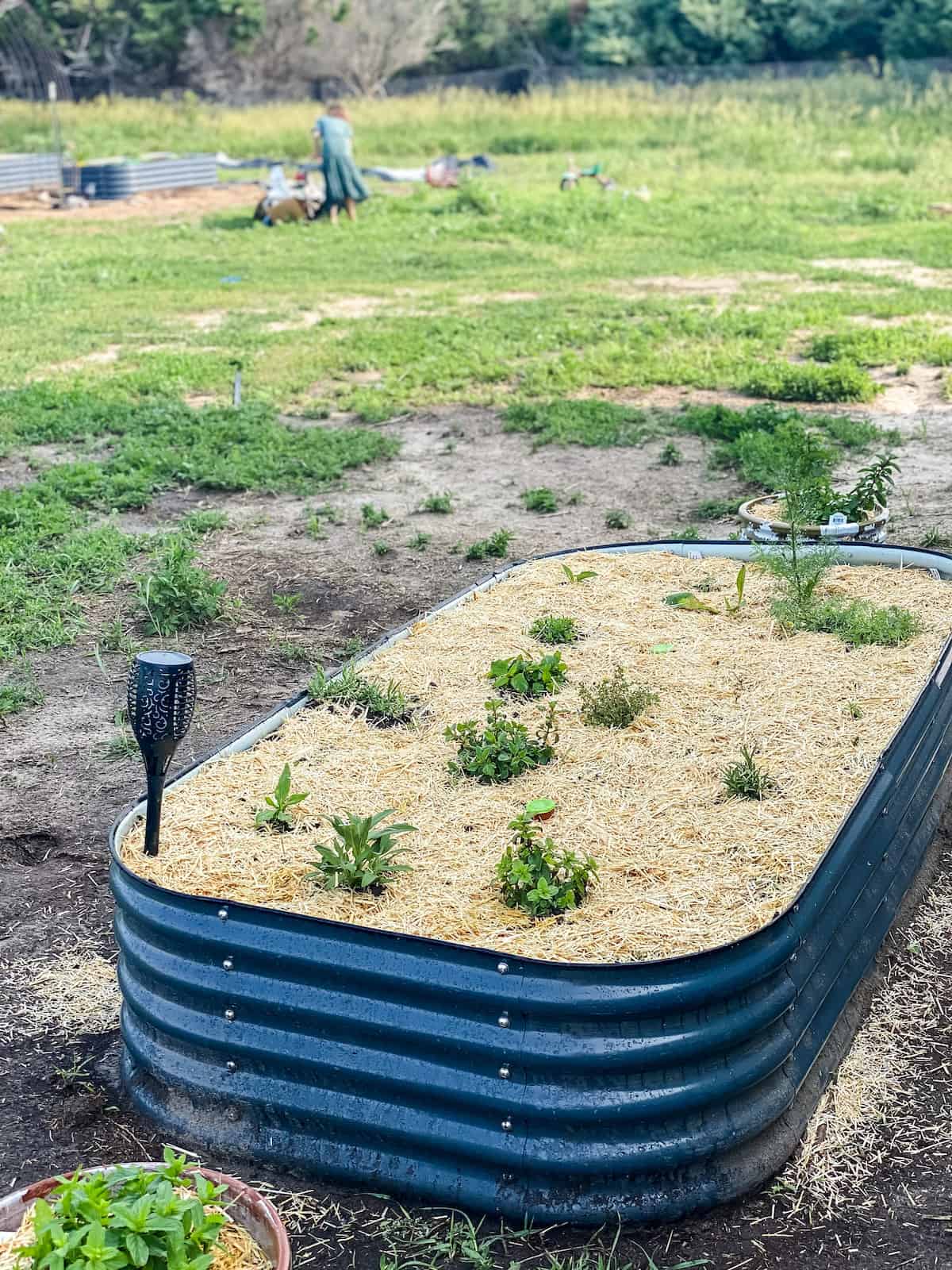 How to create a raised bed herb garden
There's so many wonderful benefits of gardening in raised beds. My favorite benefits are the accessibility and ease on my aging back. 😅
They're also such a beautiful addition to the garden space and are so much more easier to maintain. And harvesting & pulling weeds from a raised bed garden is so much easier than our previous in ground gardens.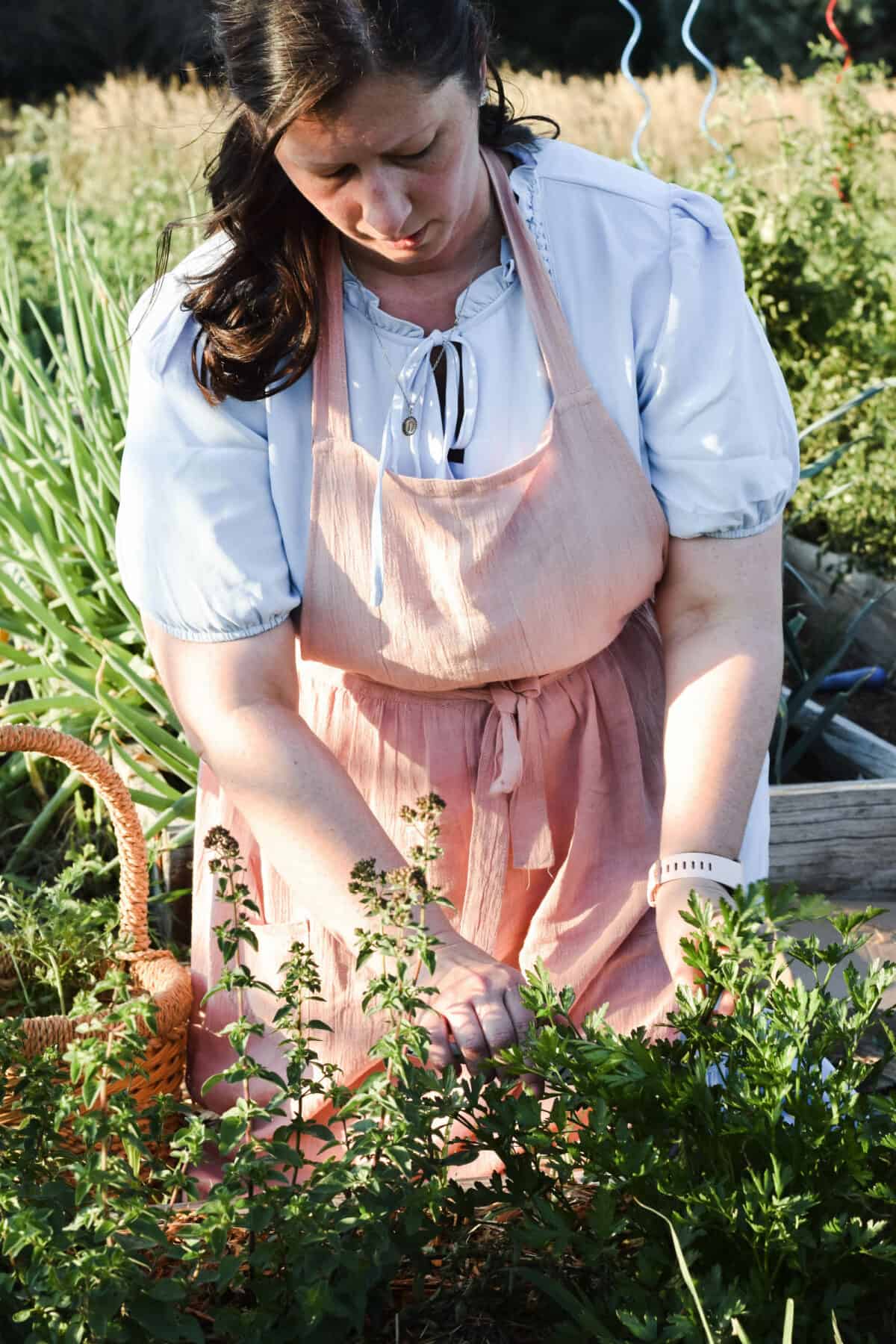 We started this new herb bed build with our favorite metal raised garden beds from Olle Gardens. I chose the 12-in-1 kit for this herb bed.
If you are using a landscape fabric or something below the raised bed to help with weed prevention, it is ideal that you provide good drainage to prevent excess water from building up. Simply cut small drainage holes throughout the fabric before filling the beds.
Next we filled the raised bed with layers of organic matter. Such as old logs, sticks, old hay, quality organic topsoil, compost (I really like to use mushroom compost in the garden), and then topped with garden straw as a mulch after planting.
And before planting the herb bed, I suggest laying everything out to get an idea of placement. You want to check how large the plants grow and provide for adequate spacing.
In addition, I added two small Growoya watering pots to the center of the bed to help in limiting hand watering.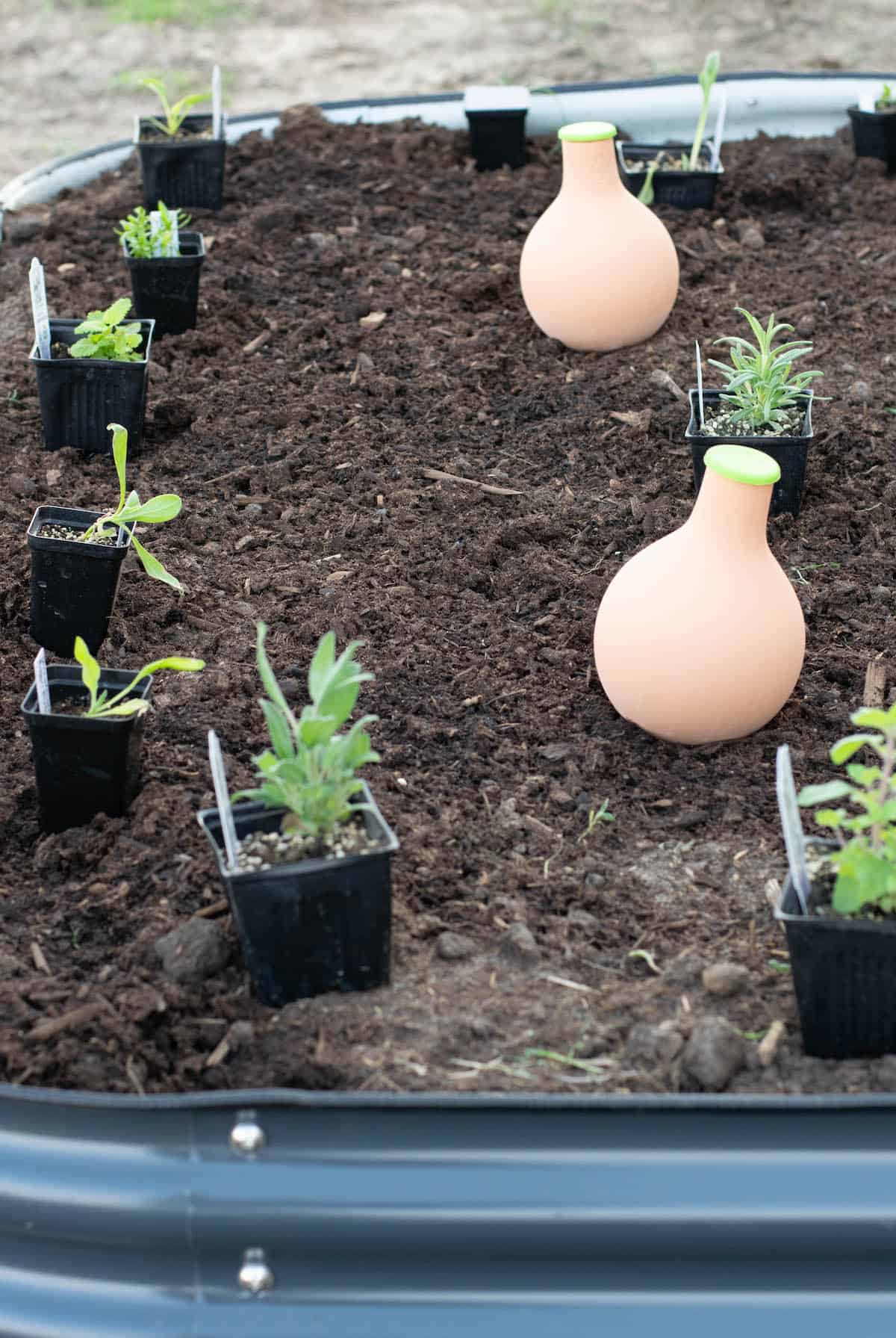 What herbs to grow in raised beds
Since everyone has so many individual culinary tastes, I will say that this is dependent on what you love to cook with!
I'm a pretty big believer in growing what you and your family enjoys to eat.
We have things like garlic chives, medicinal herbs, lavender, basil, and some other annual herbs scattered in the main garden beds as part of our companion planting plan.
Companion planting has many benefits – some of which are for drawing in pollinators like bees & butterflies with a variety of florals. And another is to deter common pests with herbs and other plants.
Before planing out the spring garden, we started many of the herb plants from seed. Most of those were planted in the original herb garden space and scattered among our main garden spaces.
I also purchased some really good quality herb plant starts from Azure Standard. This is a great option if you don't have access to organic plant starts locally. I usually order some of my annual herbs from Azure when I don't start from seed. They always arrive in excellent condition!
In this new culinary herb bed I added my most commonly used herbs in recipes. Check out some favorite ways to use fresh herbs with these recipes on one of my other websites: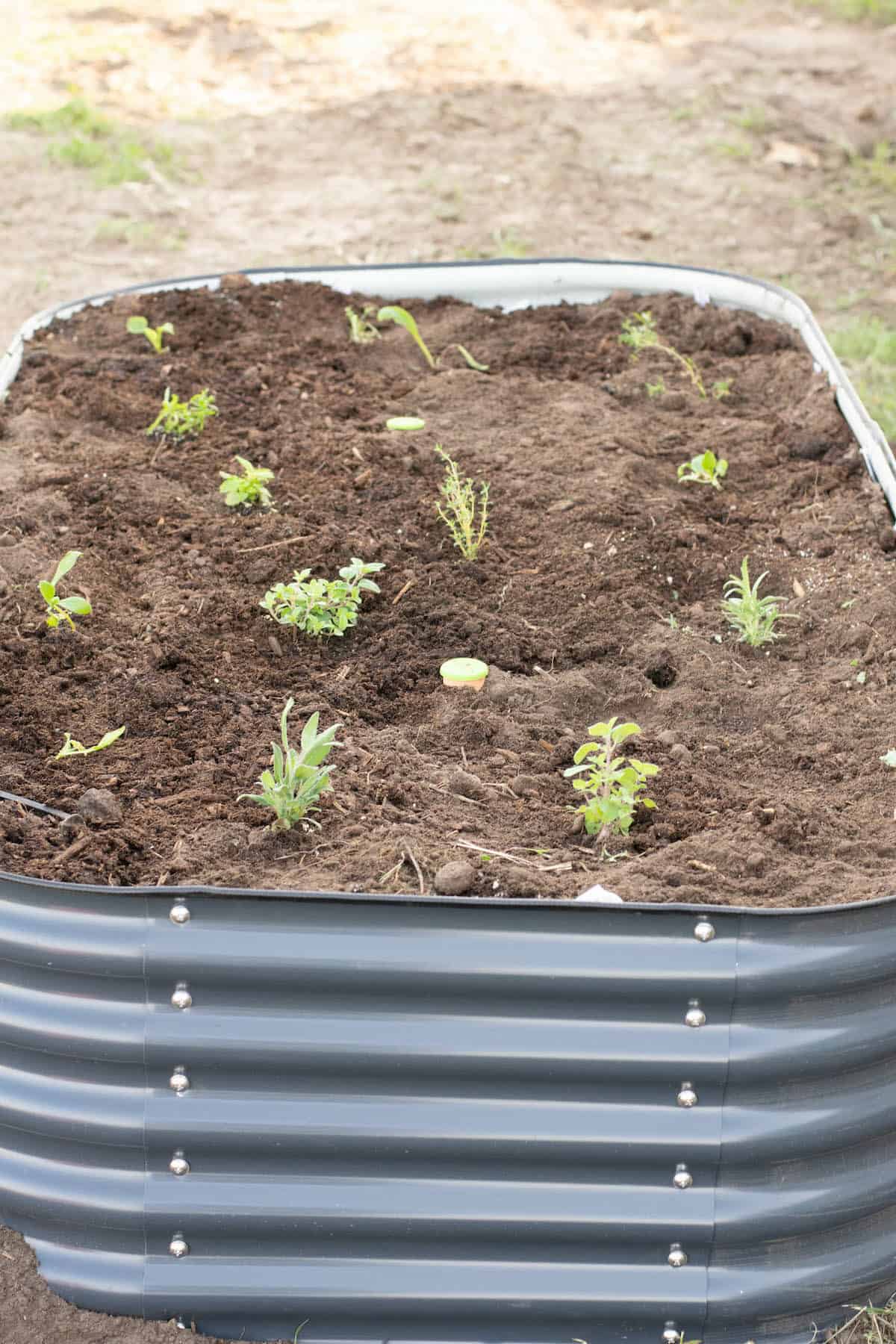 I chose to add mostly perennial herbs, with a few annuals, some medicinal herbs that I had extra, and even some flowers for ascetic.
Here's what we added this year:
rosemary
oregano (2 plants – I am Italian! 😉 )
parsley
sage
thyme
cilantro (from seed – they have just sprouted. And I'm going to attempt succession sowing them this year)
French tarragon
lemon balm (so good in tea!)
tulsi aka holy basil (also great in tea)
dill
I also had a few extra medicinal herbs that we added to this bed:
yarrow
echinacea
calendula
I even planted a few flowers like cosmos, strawflower, and zinnias for the pollinators and ascetic.
Mint is grown in it's own planter because it has a tendency to become invasive. This year I'm growing separate pots of both spearmint and peppermint. We love to use the leaves of the spearmint in teas. And peppermint makes a great compliment to many meat dishes.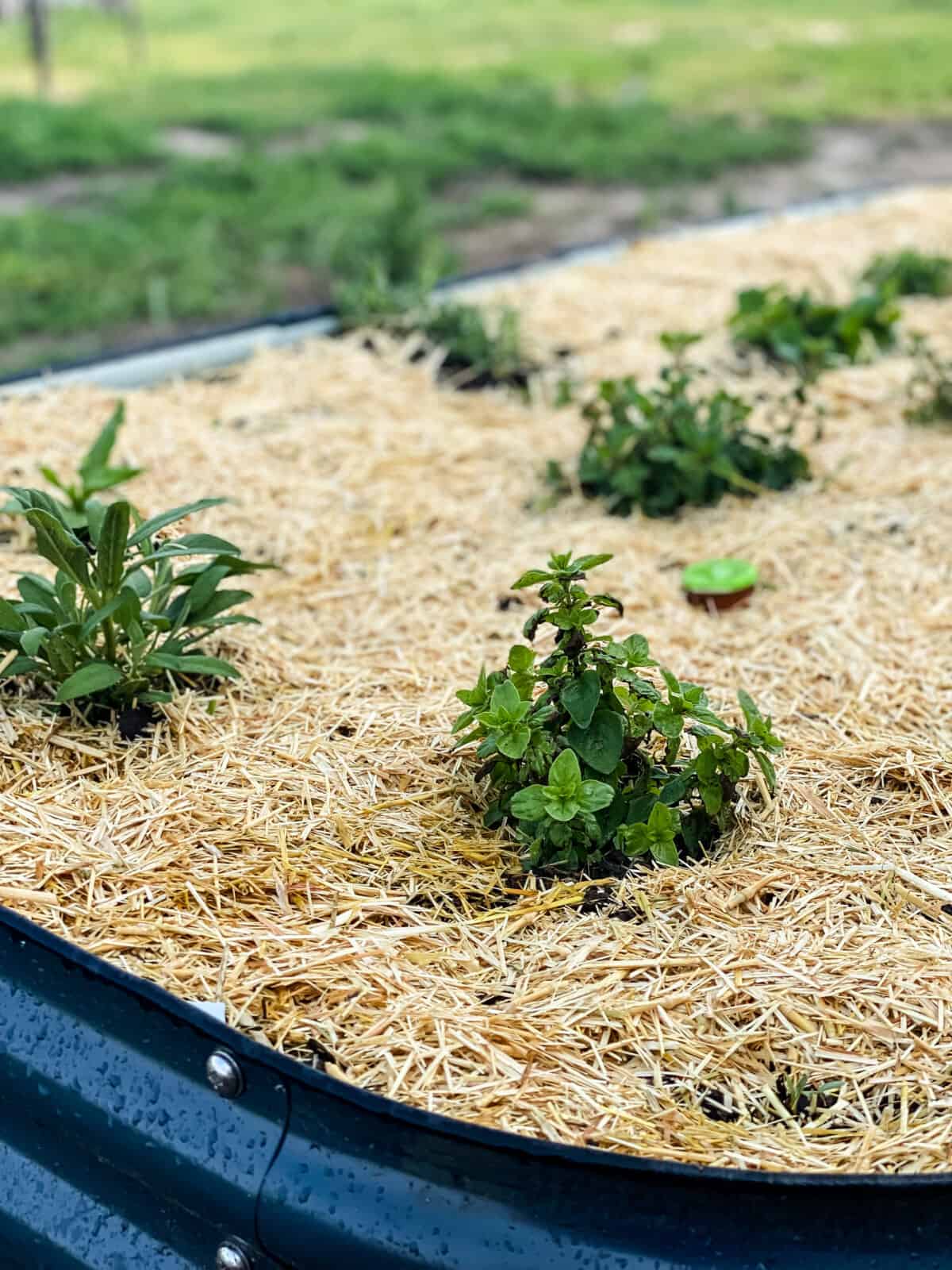 And this next photo is of the herb garden bed after about a month of growth. I love how much it has filled in the space in such a short amount of time!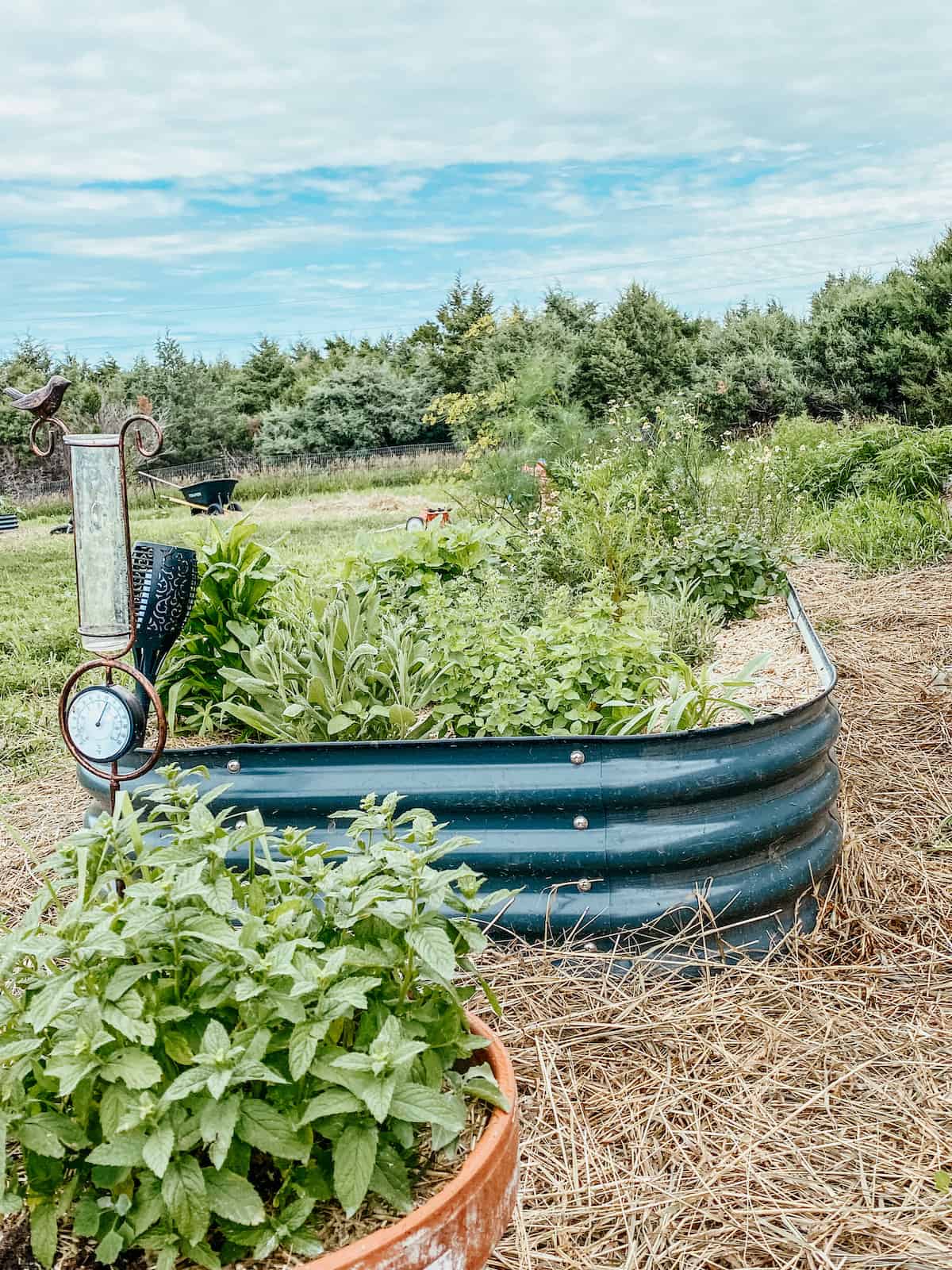 🌿 Favorite products mentioned in this post
More Raised Bed Posts
Here's a few of our favorite raised garden bed posts that we think you'll love too!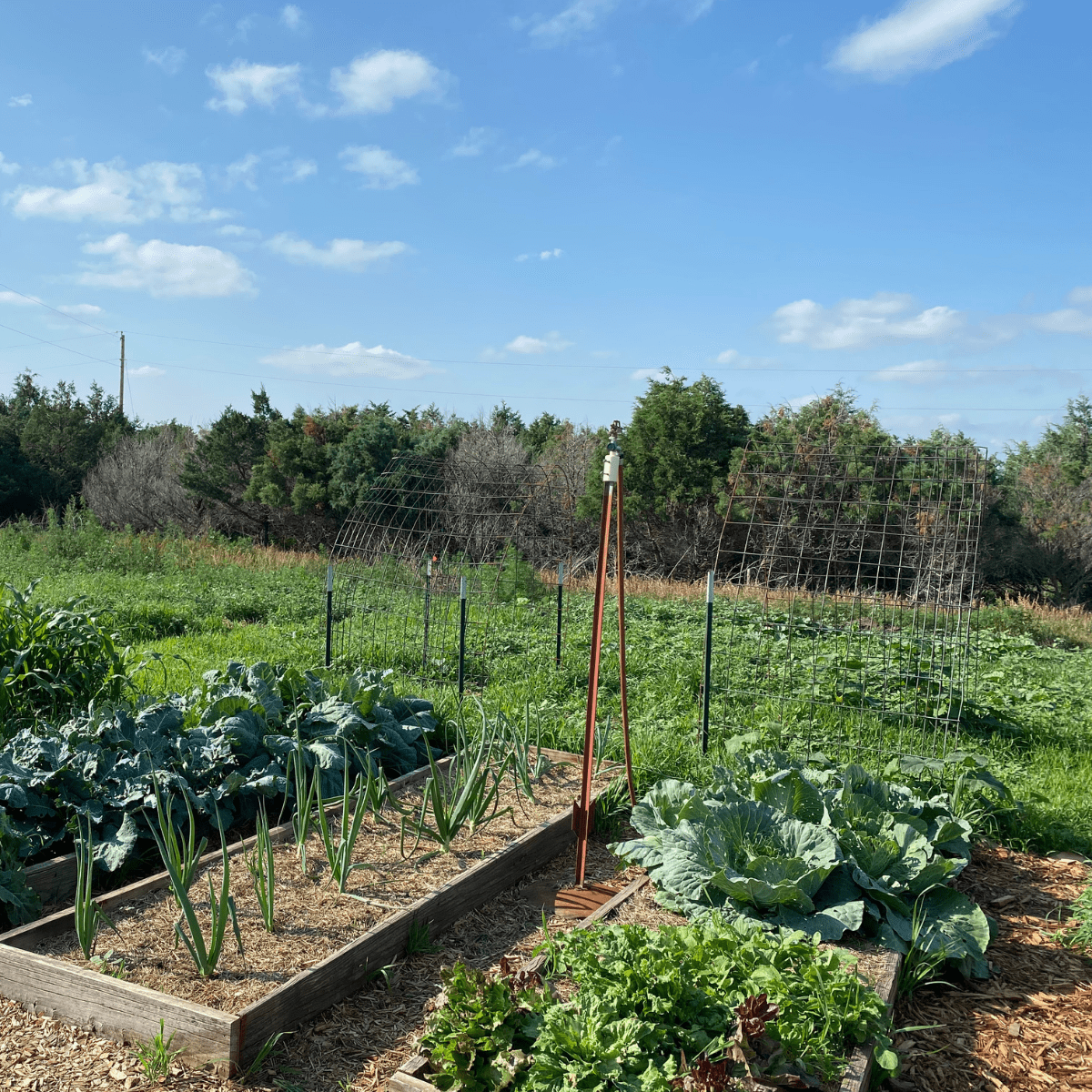 FAQ (frequently asked questions)
How deep should a raised garden bed be for herbs?
Herbs should generally be planted about 6-12 inches deep depending on variety. And so a raised bed should give enough room for the roots to grow. The raised beds in this post are 17" tall, which makes them perfect for growing herbs!
What is the best soil for herbs in raised beds?
Generally speaking, a good light sandy/loamy soil combination is great. For some Mediterranean specific herbs, a sandy or gritty texture is good. A good quality top soil with some good quality (and finished) compost is a great option too.
where would you like to start?