Have you been considering using Caraway cookware? In this post, I'm sharing my honest review of the Caraway pans.
If you've been on the fence about purchasing this beautiful cookware set, let me share my experience a bit. Including some pros & cons. In this post I'm sharing everything you need to decide if a pricey pot or pan set is really worth it.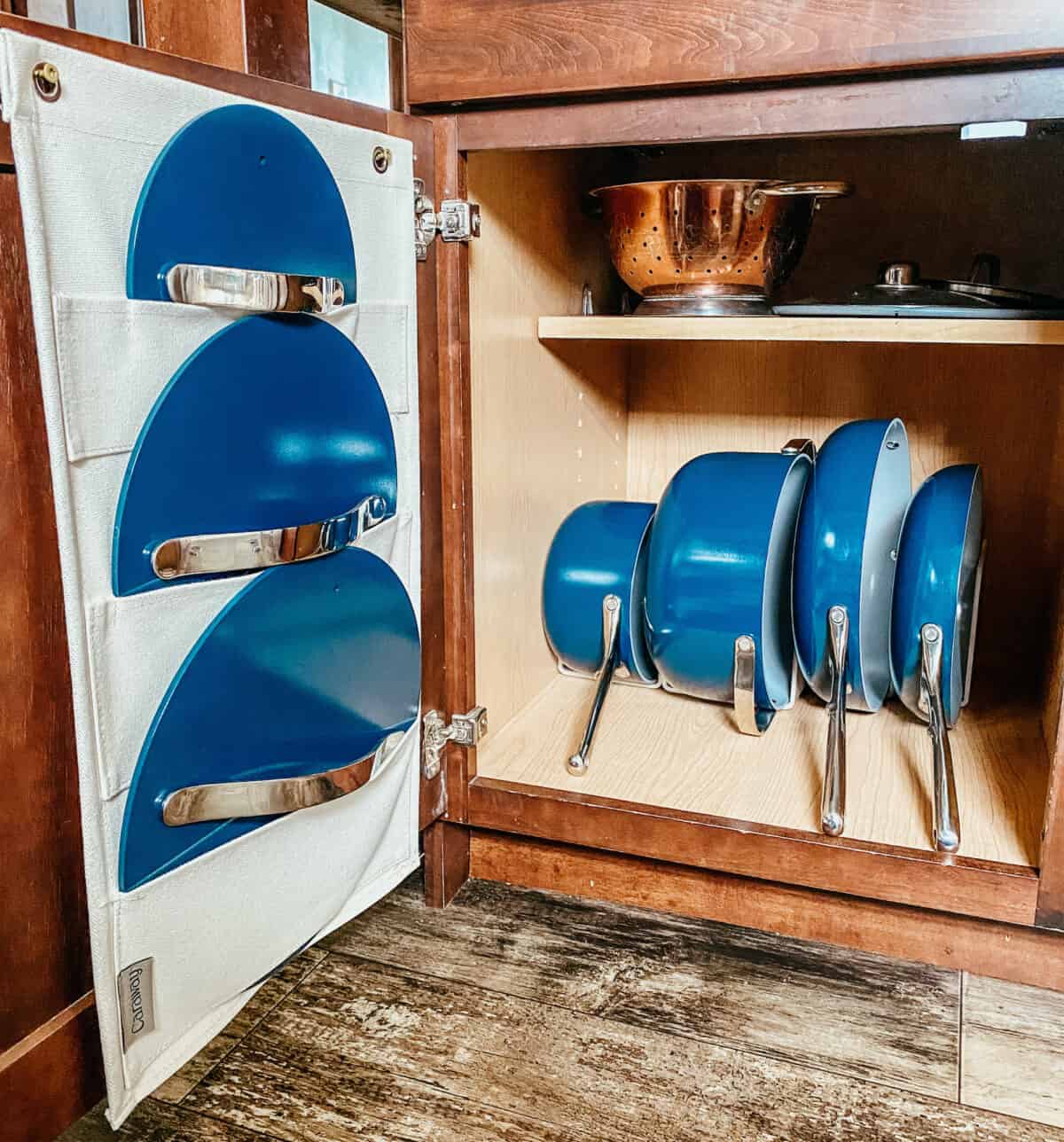 This post is sponsored by Caraway Home. We were recently gifted this set of cookware for our honest review. All thoughts & opinions are my own and I will be sharing what I love & don't like about these pots & pans.
Caraway Cookware – are they worth the money?
You've probably heard about these stylish cookware either on the Internet or social media. But are they worth the hype?
Before I share my pros and cons, I want to first say that they're worth the money! They are worth the investment for several reasons.
They are free of toxic chemicals. Thinking of some of the harmful chemicals in some of the cookware on the market, I consider these non-toxic pans as an investment in my family's health.
The ceramic coating makes the cookware have a perfect non-stick surface that make them super easy to cook & clean.
These pans are simply beautiful! If adding style with functionality are important to you, look no further!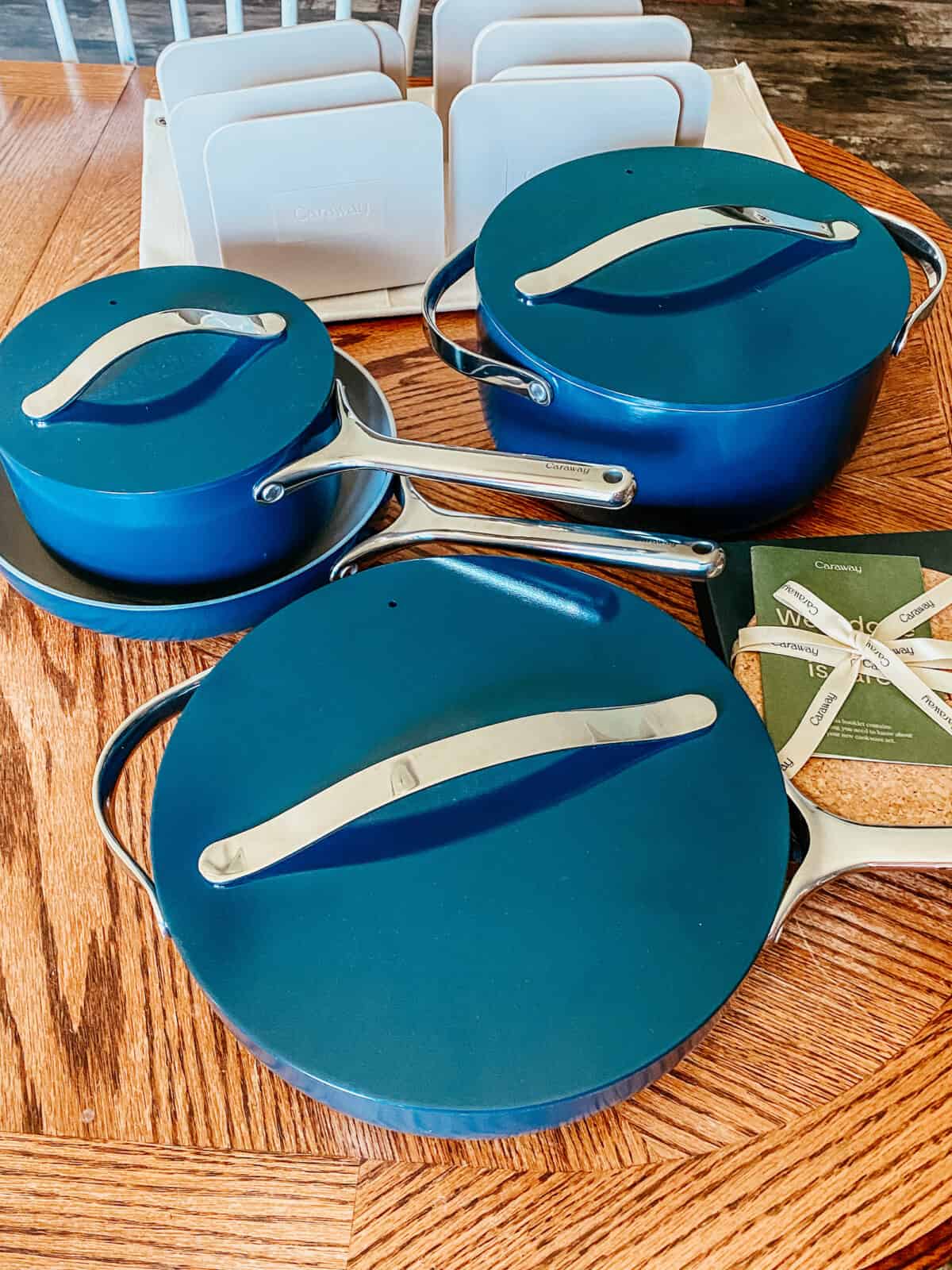 Durable, Attractive, and Non-Toxic Cookware
The Caraway cookware set gives cast iron & stainless steel a run for the money.
Don't get me wrong, I've been a long time fan of my cast iron skillets and stainless steel pans. They definitely have their uses on the homestead. But I don't love everything about them either.
For one, cast iron needs to be extremely well seasoned to give it a non-stick surface. They are also kind of heavy and I have difficulty with lifting heavy cookware because of rheumatoid arthritis.
Caraway pans are also a little bit on the heavy side due to their quality & durability. But they are so much more manageable for me to lift and maneuver during a flare up. I'm sharing this if this is an issue for you or someone you know!
Stainless steel (and cast iron for that matter) are pretty complicated to clean. Ya know what I'm talking about. Just think about how hard it is to clean off scrambled eggs from those cookware!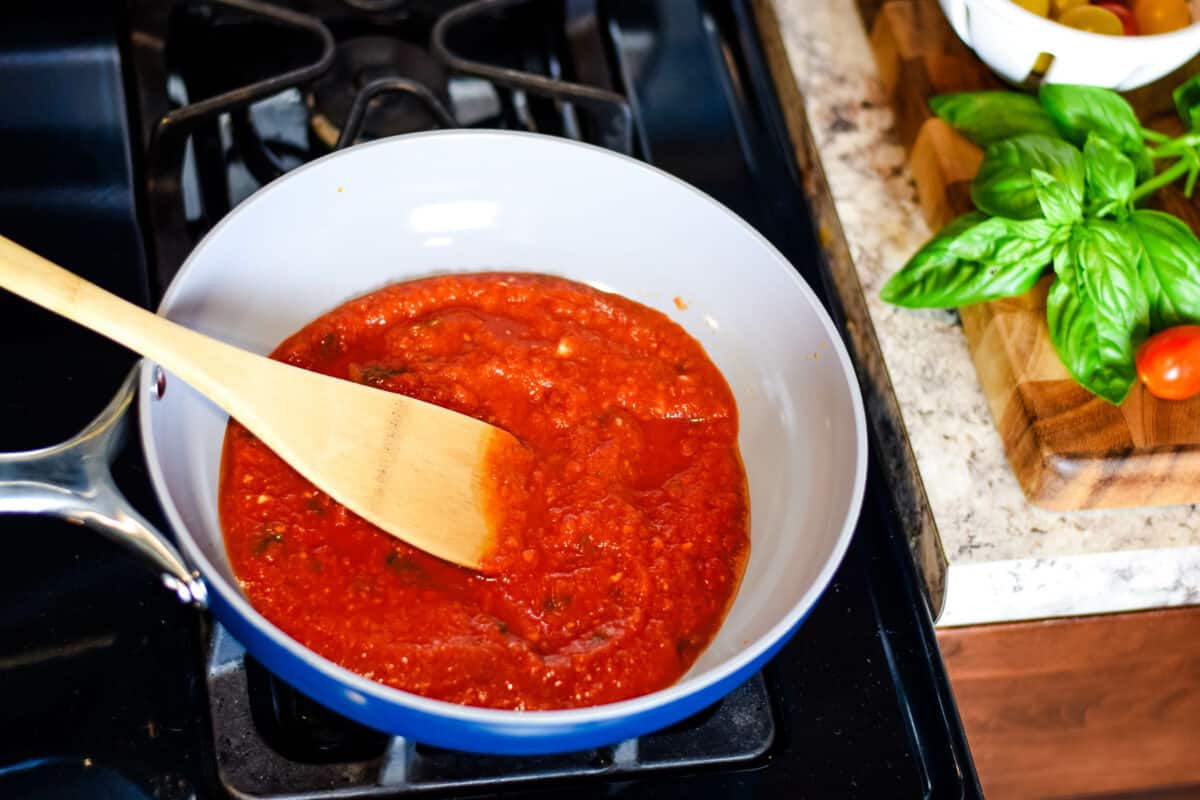 Perfectly non-stick!
Caraway pans are ceramic non-stick using a mineral-based coating. This won't leach toxic materials into your food!
Free from harmful toxins.
These high quality cookware are free of PTFE (such as Teflon®), lead, cadmium, and other toxic materials!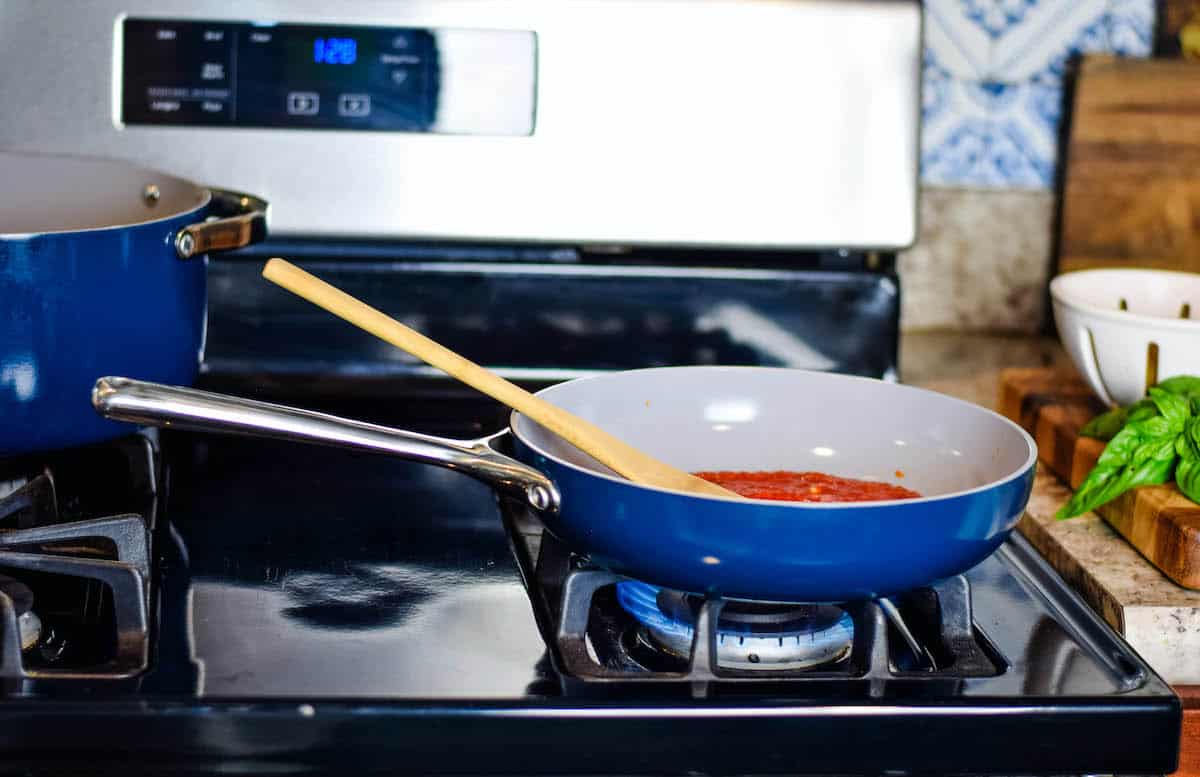 Caraway Cookware Features
At a glance, the Caraway Home cookware has these features:
Non-stick ceramic, aluminum core, & stainless steel handles
Non-toxic coating + free of PTFEs, PFOA, heavy or toxic metals, other PFAs
Oven safe up to 550° F
Come with pan & lid storage solution
Works safely on all of these stovetops: induction, gas, & electric
So, what does the cookware set come with? Each 4-piece cookware set comes with the following:
10.5" fry pan
3 qt sauce pan with lid
4.5 qt sauté pan with lid
6.5 qt dutch oven with lid
In addition, these sets come with a great storage solution! Included are pan racks, canvas lid holder and a set of 2 biodegradable cork trivet.
They also come in a wide variety of color options: navy, sage, cream, white, perracotta, and marigold. In addition to the classic colors, they also have beautiful "iconic" colors.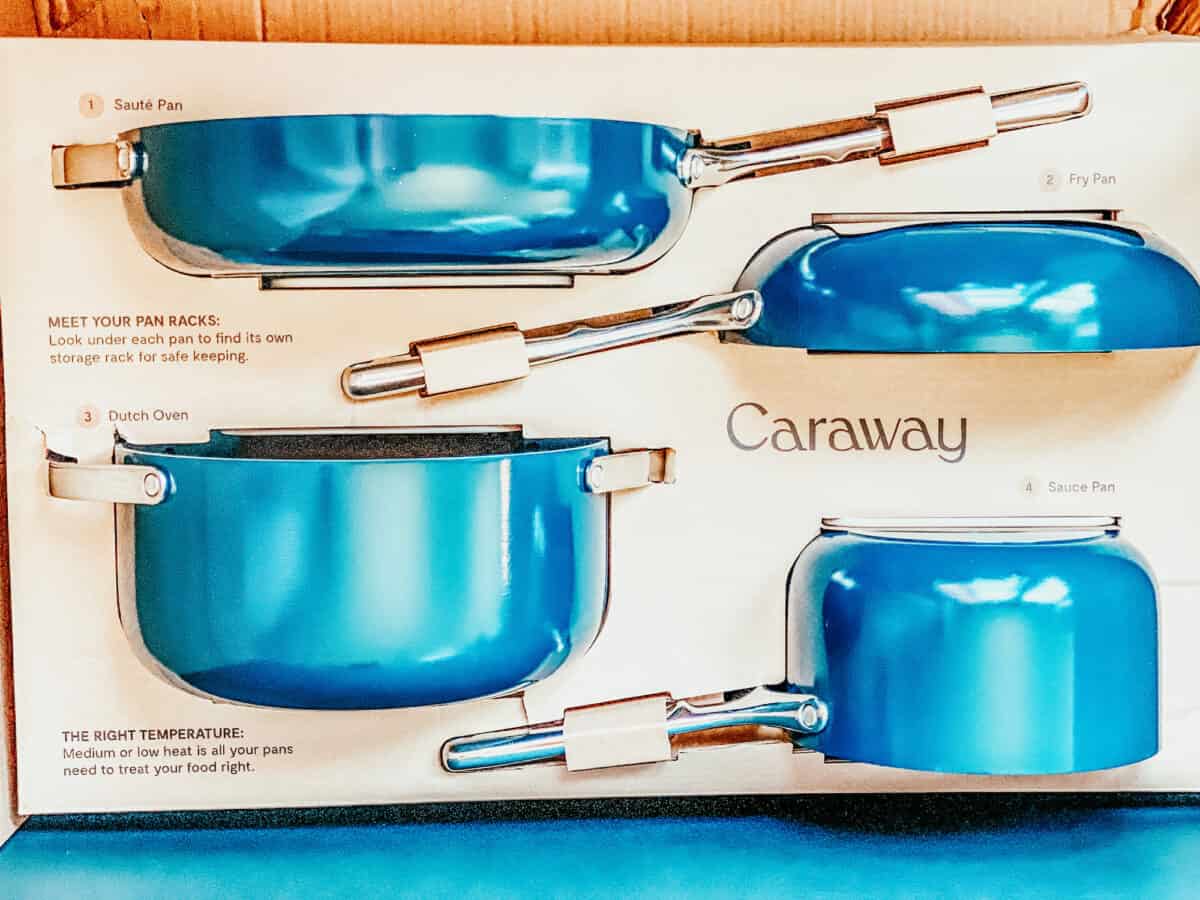 On A Budget?
If you're on a budget, but also want to start replacing your toxic nonstick pans with Caraway's non-toxic ceramic cookware, I have some tips for you.
Purchasing the cookware set is the best value overall. However, you could start building your collection with individual pieces. Another option to consider is starting with the Minis Duo or the Fry Pan Duo.
Purchase individual pieces:
Caraway Home also has a lovely bakeware set that is equally beautiful & impressive. And also on my wishlist!
These cookware & bakeware sets make a great wedding, anniversary, or Christmas gift idea!
Use less butter & oil!
Because of the ceramic's naturally slick surface, you can slim down on seasoning the pans.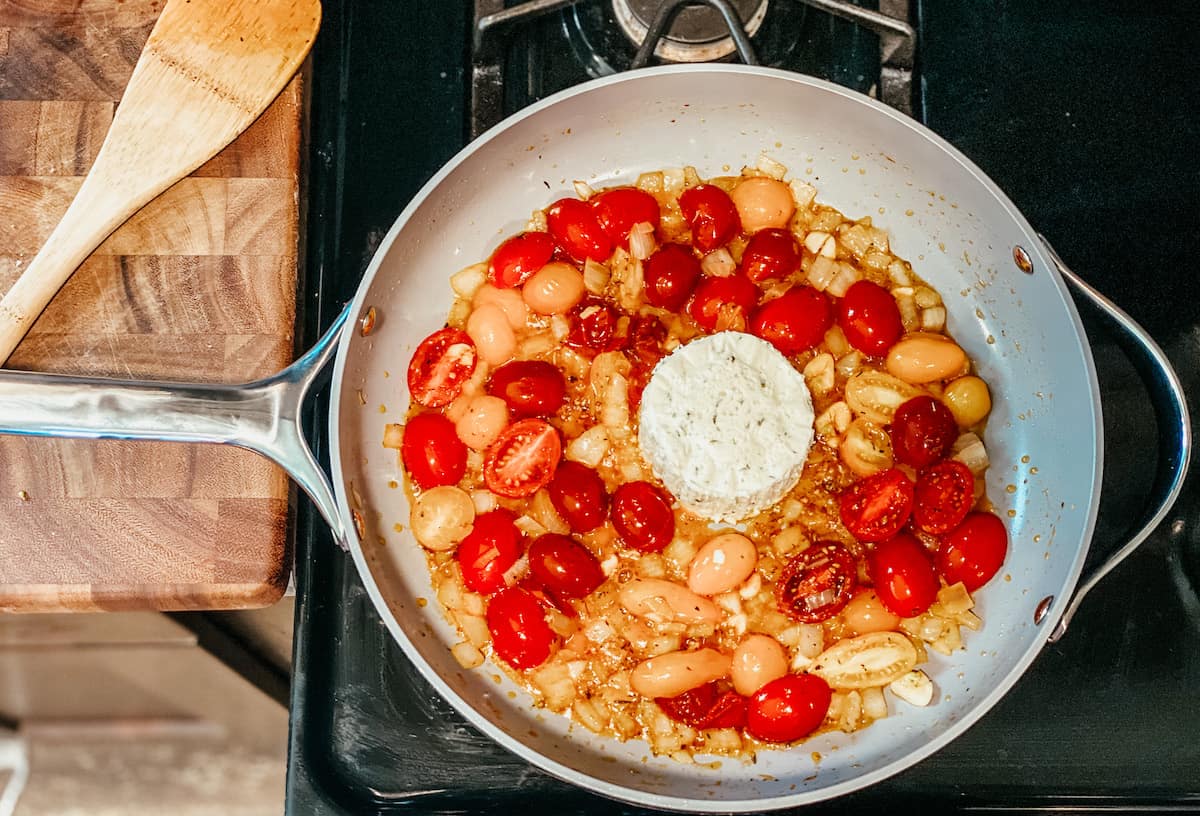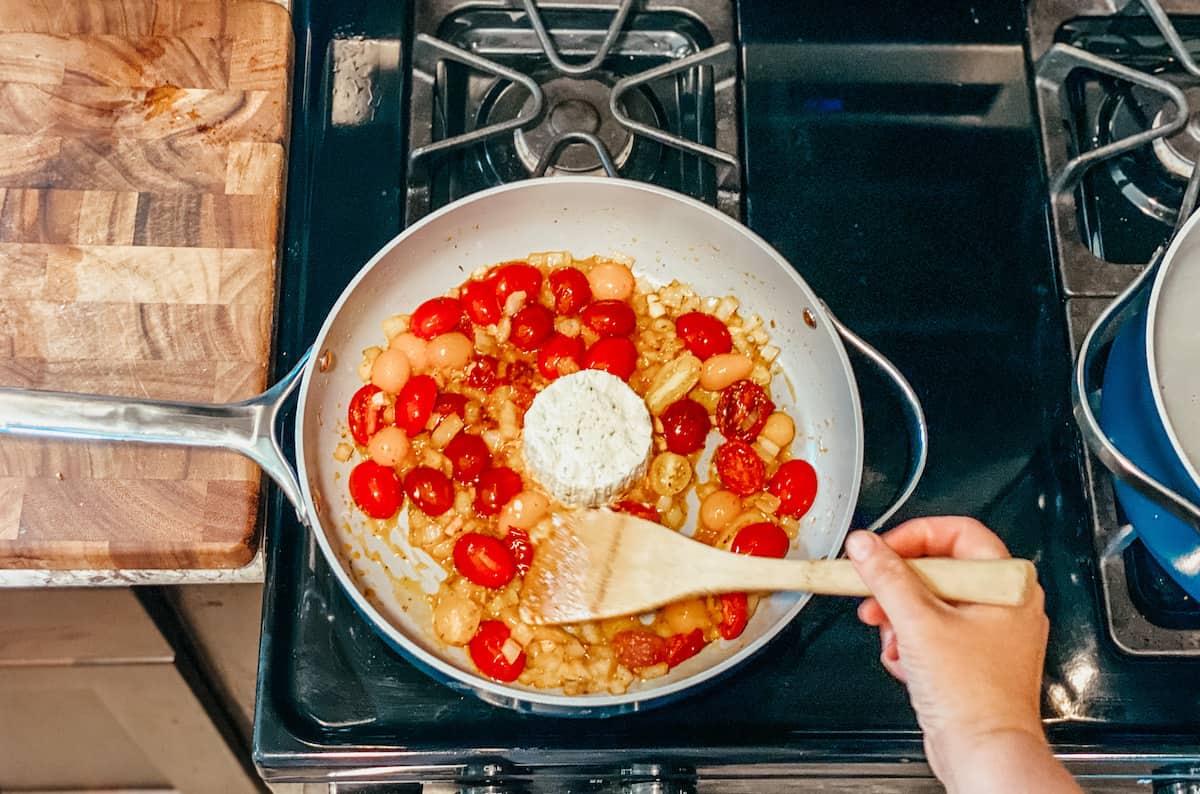 Versatility with cooktops.
Works safely on all of these stovetops: induction, gas, & electric
How to Care for Caraway Nonstick Cookware
If you're new to using these non-stick pots & pans, there's a few things to keep in mind.
use on low to medium heat on the stovetop
hand wash is recommended (they are not dishwasher safe as it will wear down the non stick ceramic surface)
use non-abrasive sponges or wash cloths
use oils sparingly (ceramic comes naturally non-stick, so there's no need to season the pans beyond a sprinkle of oil).
avoid using metal utensils (we like these these silicone utensils & wooden spoons or bamboo spoon sets).
pre-heat for up to 90 seconds on low to medium heat only before adding oil.
carefully place pans on and off stovetops. Sliding across metal stovetops may damage the steel base.
Cons of these non-stick pans
A few small things that I don't love about these pans.
the outside does scratch easily — not a huge deal if you're careful with your cookware. But I do have 4 children and they are very helpful in the kitchen.
because they are pretty durable, some pieces like the saute pan are slightly heavier than I would like. This is not a problem for most people. But because I have RA, this tends to be a little difficult for me to work with during a flare up.
the handles tend to get a little hot during cooking. I'm pretty used to working with cast iron skillets so it's not a huge problem for me. But it would be a nice feature to have.
So, that being said, I definitely think that Caraway pots & pans are worth the investment. Consider it as an investment in a healthier lifestyle.
FAQ (frequently asked questions)
Is Caraway home worth the money?
Yes, absolutely. They are beautifully & quality made non-toxic cookware & bakeware that is free of harmful chemicals. Chemicals like lead, cadmium, PTFE (Teflon®), and PFOA.
Does Caraway last a long time?
Just like any other non-stick cookware, it can wear down over time. With proper care & cleaning, they should last for many years.
Can you dish wash Caraway pans?
It is best to hand wash these pans after they've had time to cool down. Dishwashers are known for being harsh and can damage the non stick ceramic coating.
Do the handles on Caraway pans get hot?
Yes, they do get hot to touch. Be sure to use potholders when cooking for in your Caraway pans.
where would you like to start?