This Pear Crisp Recipe is a decadent fall time treat. Made with seasonal fresh pears and baked to a tender perfection. You'll definitely want to save this recipe for family sweet treat.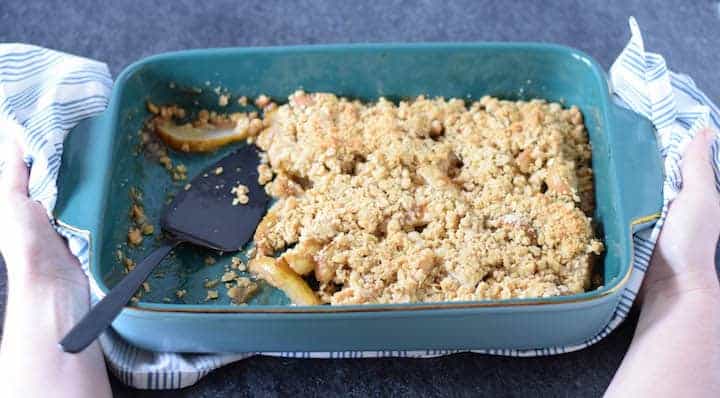 Farm Fresh Pear Crisp
Pear season for us typically happens in early fall. And with it brings a wonderful bounty of delicious fruit.
One of my family's favorite fall sweet treats, is this delicious pear crisp recipe.
This super yummy recipe uses pears before they are completely ripe. Similar to an apple crisp, I like to make this recipe before the pears are soft and ripe.
If using ripe pears, I find that the pears are too soft and juicy and it doesn't work well.
And if the pears aren't slightly ripe, they don't give off the delicious pear taste. However, you can still use unripe pears (think crispy like apples) and it'll still be delicious. It just won't have the same flavor.
We are looking for an in between ripe and non ripe.
More delicious recipes you might like: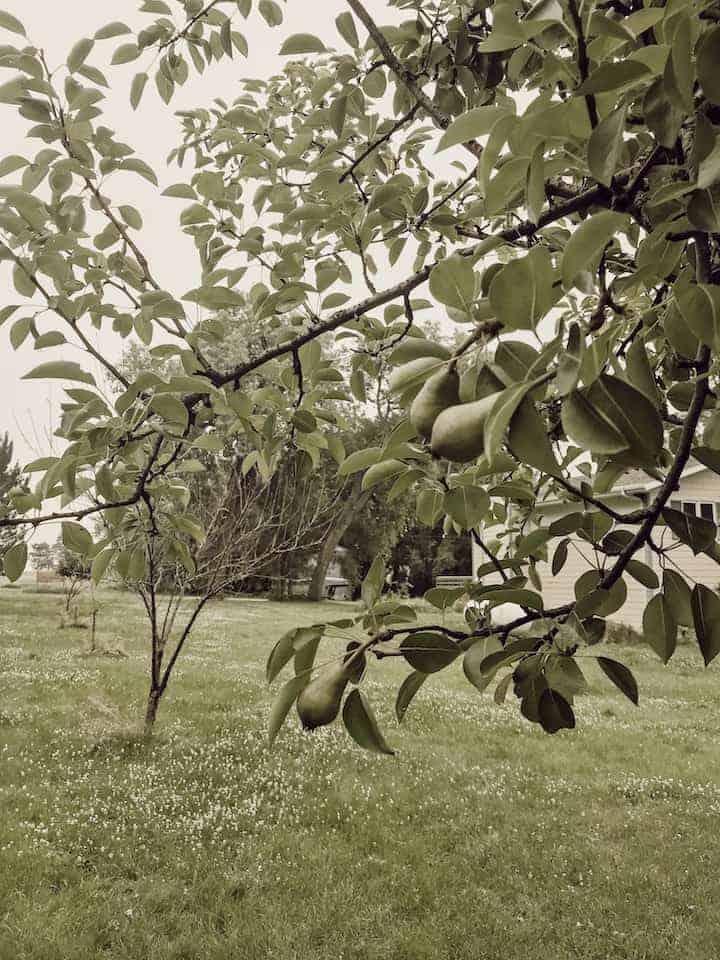 How to Tell When Pears are Ripe
Pears are different from some fruits when harvesting. They do well if picked and harvested before they are ripe. Pears aren't a type of fruit that you would want to ripen on the tree.
Pears ripen from the inside, so it may be difficult to judge ripeness based off of the way they look.
To test ripeness, take a pear and apply gentle pressure around the pear. If it is slightly soft, it is most likely ripe.
Pears should be slightly soft, but not mushy.
How Long do Pears Take to Ripen
This really varies depending on the type of pear variety. Some pears like the popular Bartlett variety can ripen within 4-5 days.
Other varieties like Anjou pears can take up to 10 days to ripen. And some others only take about 7 days or so to ripen.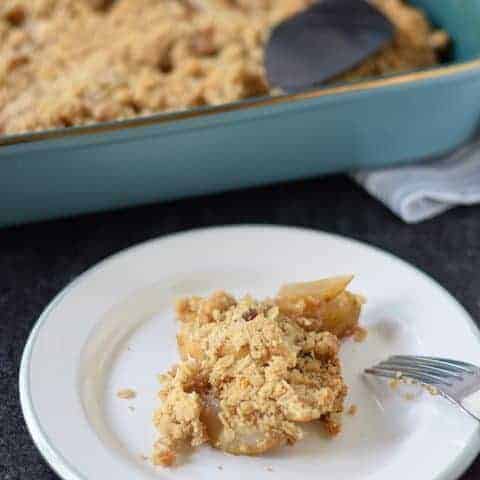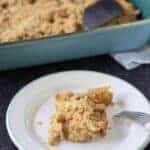 Farm Fresh Pear Crisp
This farm fresh pear crisp recipe is a delicious sweet treat. Simply made from slightly ripe pears and baked til perfectly tender.
Ingredients
Instructions
Preheat oven to 375 degrees F.

Slice pears evenly and add to a baking dish. Next, pour the water over the top of the sliced pears.

Mix the cinnamon with 1/4 cup of the brown sugar. Sprinkle the cinnamon and brown sugar mixture over the pears.

In a separate bowl, add the remaining brown sugar, flour, salt, and oatmeal and combine.

Work in the butter to the oat mixture until crumbly. Be careful not to over work it and melt or soften the butter too much.

Spread the crumble mixture over the pears and gently spread it evenly.

Bake for 30-35 mintues or until pears are soft and crumble mixture is golden brown.
Notes
I used a 9X13" baking dish for this recipe. You can use a smaller one if needed, just be sure to adjust the baking time slightly. You'll want the pears to be soft and tender, not mushy. And the cruble to be golden brown, but not overly crunchy.
Nutrition
Calories: 161kcalCarbohydrates: 37gProtein: 2gFat: 1gSaturated Fat: 1gCholesterol: 1mgSodium: 62mgPotassium: 145mgFiber: 4gSugar: 22gVitamin A: 37IUVitamin C: 4mgCalcium: 32mgIron: 1mg
Tried this recipe?Give it a 5 star rating and pin it to your Pinterest account!
More farm fresh recipes: