This year we are going traditional and old school for the holidays. My goal is to create fun and memories for my children. The first project are these homemade Christmas decor dried oranges.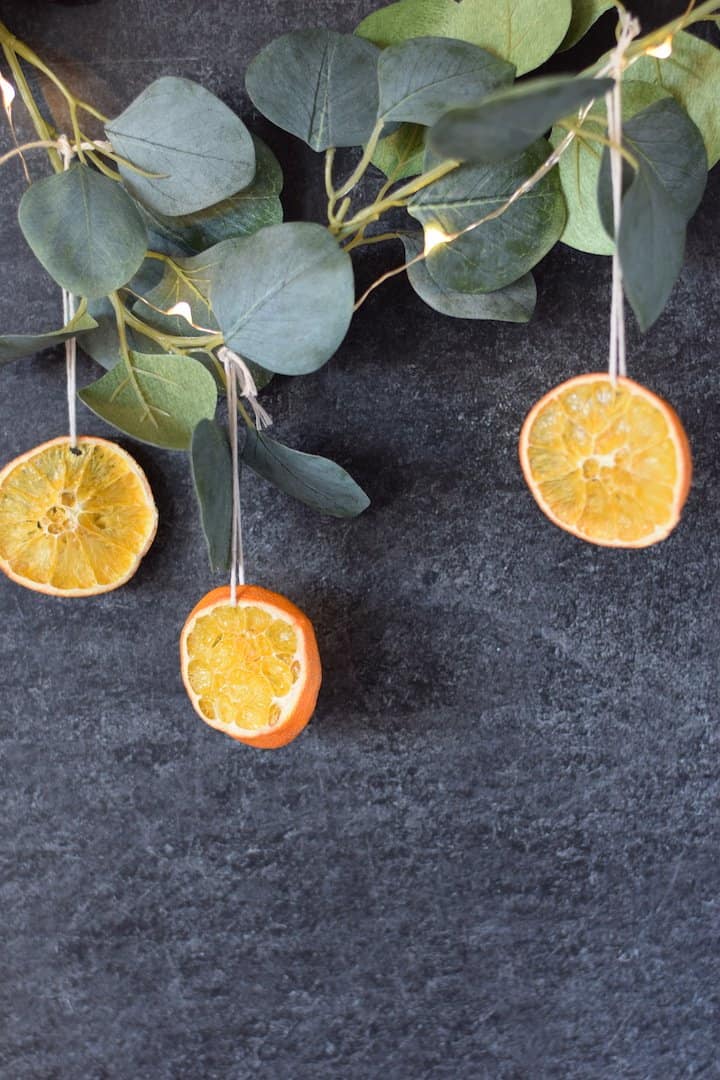 How to Make Dehydrated Oranges
Dried oranges aren't really complicated to make. But it does take a bit of time. It's as easy as prepping them and letting the dehydrator do its thing.
I used my Ninja Foodi to dehydrate the oranges, but any standard dehydrator will work.
When slicing up the oranges, you'll want to make them as uniform as you can. This way they can dry evenly.
I used 6 medium sized oranges and they fit well on a couple of dehydrator racks inside of my Ninja Foodi.
This is enough for me to use on our Christmas tree when we set that up, plus on garland in various windows throughout the house.
After slicing the oranges, you'll lay them out on a single layer on the dehydrator trays. Set the dehydrator to 135 degrees F. And set the time for 6 hours.
The thicker the slices, the longer it will take. And it can take up to 8 hours to fully dehydrate.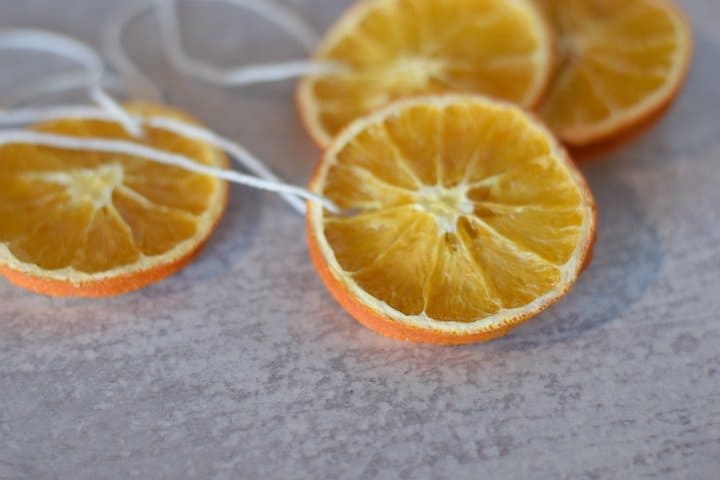 Using Dried Oranges for Christmas Decor
After the orange slices were dehydrated, I used a small kitchen skewer to poke holes in them. Then I used standard kitchen twine to make a rustic inspired string to hang them.
I have eucalyptus garland that I doubled up and hung above my kitchen window. Then I tied the dried orange slices around the garland.
To hang the garland to the window, I have two small nails in the top corners of the window frame. This holds the garland up and isn't noticeable.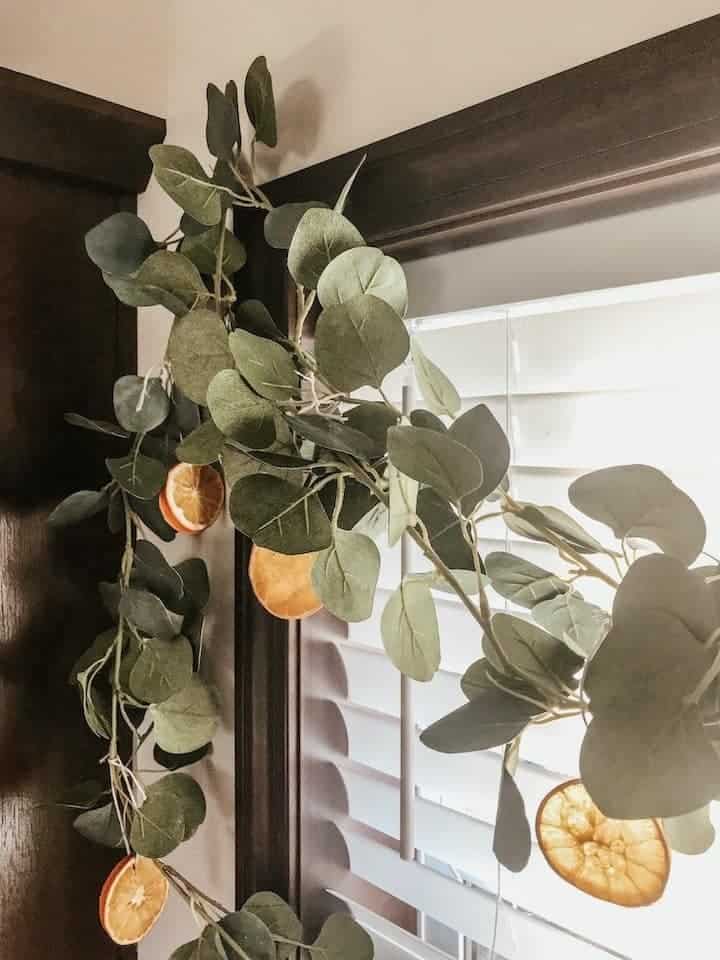 Other great uses for the dried oranges in homemade Christmas decor:
Make a rustic Christmas wreath
Use for decorating Christmas gifts
Hang with garland around the home
Use dried oranges as vintage inspired Christmas ornaments on the tree
Get creative!
More Christmas DIY
Here's a few of our favorite Christmas posts that we think you'll love too!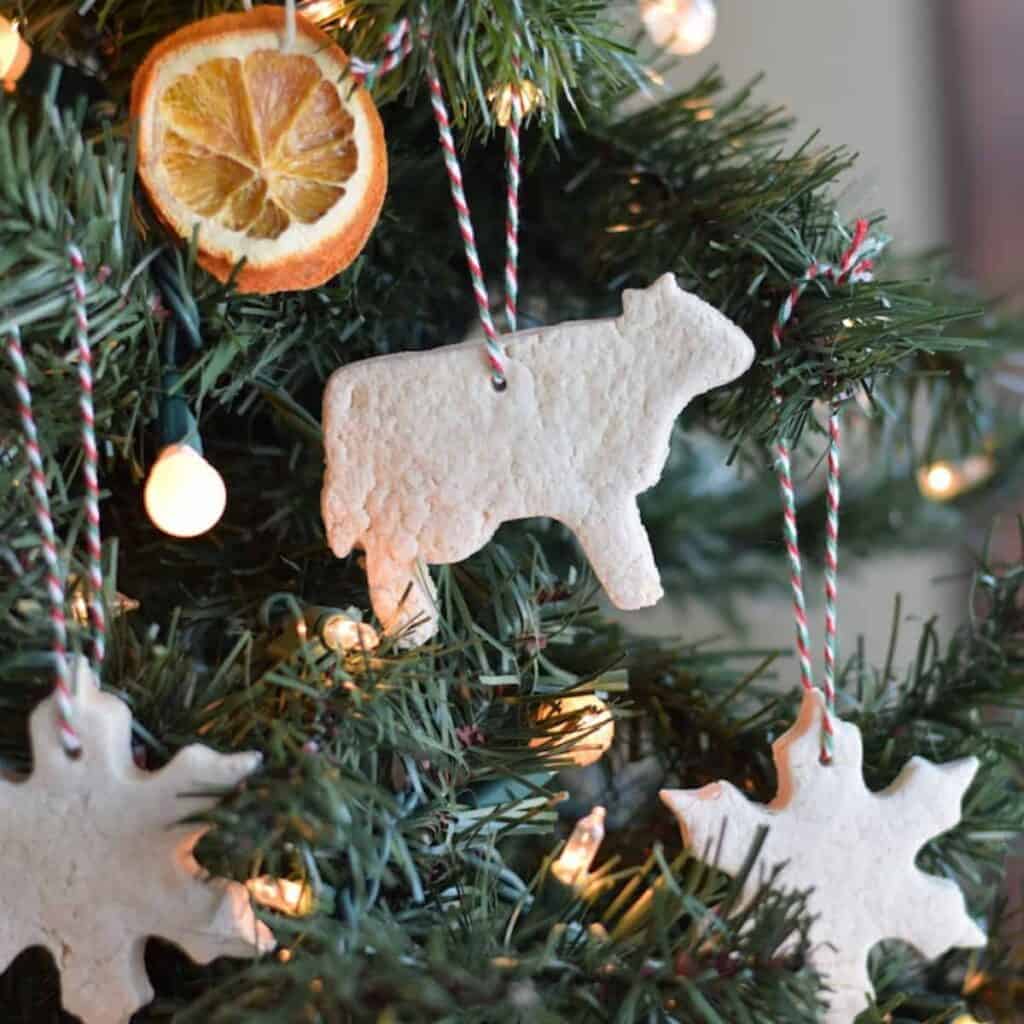 Dehydrated Oranges for Christmas Decor
How to dehydrate oranges to use for vintage inspired homemade Christmas decor.
Ingredients
6 medium oranges
standard kitchen twine
Instructions
Slice oranges to desired thickness. But also keeping the oranges as uniform in size as possible. Remember: the thicker the slices, the longer it will take to dry the oranges.

Layer the orange slices on a dehydrator tray evenly and avoiding overlap.

Set the dehydrator temperature to 135 degrees. And dehydrate for 6-8 hours until the orange slices are dry and crispy.

To use in decor, I found a simple small screwdriver or kitchen skewer works well for poking a hole in the dried oranges to use for hanging.

Kitchen twine or other rustic twine looks great for hanging the oranges on a Christmas garland or tree.

Use a hot glue gun for an easy way to decorate with the oranges on a Christmas wreath.
Tried this recipe?Give it a 5 star rating and pin it to your Pinterest account!