These Egg Muffin Cups are deliciously creamy with the addition of cheeses and heavy cream. They are also a perfect breakfast for busy mornings. They're easy to make and store well in the refrigerator to make ahead and easily reheat.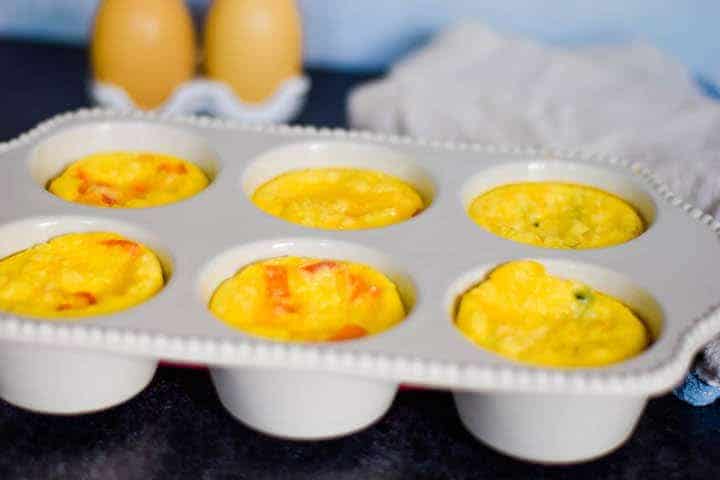 This post has been sponsored by Organic Valley. However, all opinions are all my own. As many of you may know, I only work with brands in which I truly believe in.
And if you are new to my site, I'll give you a brief explanation. For my family, we choose to support those brands that align with our values, health, and lifestyle.
Why Organic Matters
Nothing beats the taste of farm fresh eggs. And living on the ranch has given me a true appreciation for the efforts of organic farmers. In a world surrounded by convenience, many of you would agree that this way of life isn't easy.
But it is worth all of the efforts and hard work.
To put it simply, organic food is better for our health. If you are on the fence about organic products, I highly recommend the documentary "Secret Ingredients"
These added ingredients really play a part in overall health. Plus, organic and non GMO food just tastes better.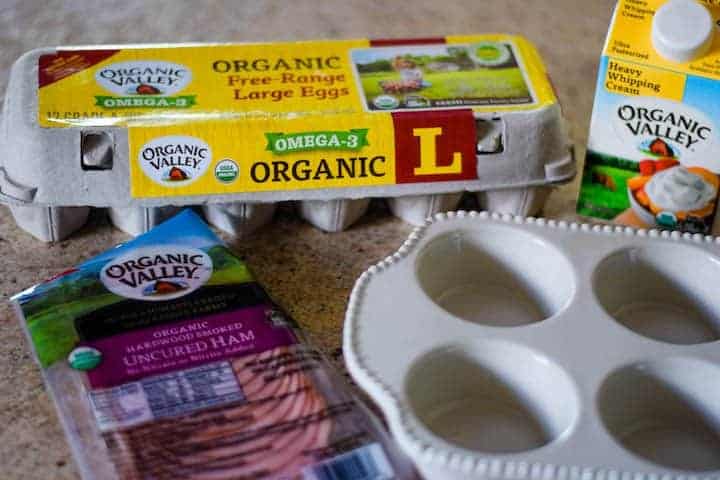 Quality Ingredients Makes Better Tasting Food
I'm a firm believer that the best food is homemade. And the best homemade food is organic from quality producers. This is one major reason why my family has been a long time supporter of Organic Valley.
The quality of the eggs, cheese, and cream are what really helps this egg cup muffin recipe stand apart from others out there.
And of course, it is made from love. Love and treating animals with proper care and respect will give the best quality results. Just like when you cook from the heart.
Organic Valley operates as a Co-op. Meaning they are not a corporation, they are farmer owned and run. This also means that the animals all receive the best possible care. And happy animals give the best results.
Learn more about what cage free, free range, and pasture range eggs really mean.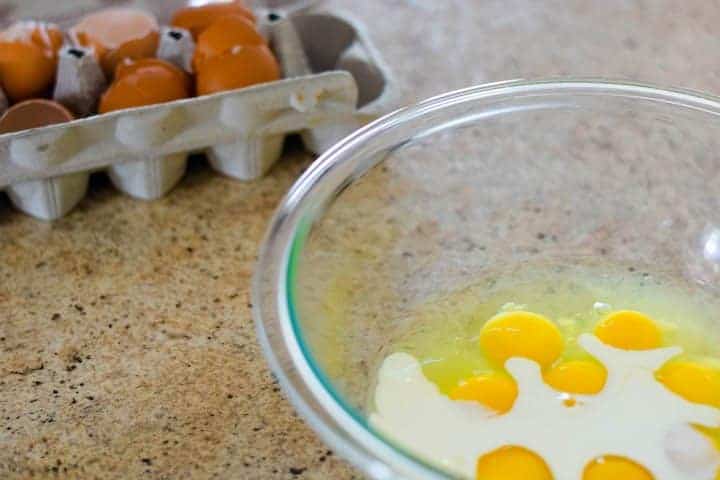 How to Make Egg Cup Muffins
Preheat the oven to 350 degrees F.
While the oven in preheating, grease the inside of the muffin cup pan with butter for extra creaminess or use olive oil. Be sure to get all bottoms and sides.
In a large bowl, whisk together the eggs and heavy cream until well incorporated.
Carefully spoon in the egg mixture to the muffin pan. Fill about half way.
Then add in your additional toppings. This time, I used Organic Valley ham and broccoli in a couple of the egg muffins. And I chopped up sweet red bell peppers in another few. And finally gorgonzola cheese crumbles in a couple of the egg cups.
Next, top off with more egg mixture and a little bit of shredded cheese to the top of each muffin cup. Be sure to leave a little bit of room in each cup so it doesn't cook over.
Bake in the preheated oven for about 26-28 minutes. Check it about 5 minutes before. You want to be careful not to overcook the eggs. Otherwise, they end up spongy and dry.
The consistency that you are looking for is a nice custard like and creamy egg cup.
Additional Ingredient Ideas:
Meats: ground breakfast sausage, bacon, or chorizo (be sure to precook the meats).
Caramelized onions and sautéed mushrooms.
Flavorful cheeses: Gorgonzola, Parmigiano, Pecorino, or Sharp cheddar.
Fresh veggies: broccoli, sweet or hot peppers, or tomatoes.
Fresh herbs: basil, mint, Italian parsley, or oregano.
When using your additional toppings, use what you have available! I'm all for finding creative ways to use up leftovers and keep things frugal.
Have leftover taco meat? Why not try to add it to a couple of muffin cups! Serve it with a little sour cream, salsa, and fresh avocados for a little Mexican inspired breakfast!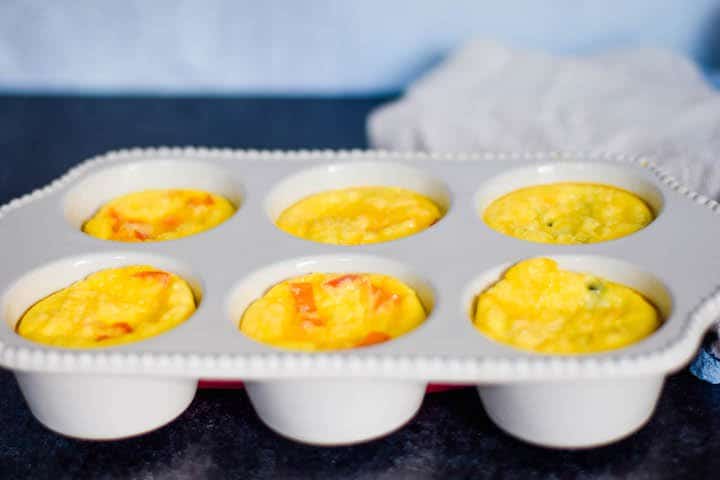 How to Reheat Leftover Eggs
Another great thing about these egg cups is that they can be made ahead of time and stored in the refrigerator. When storing in the refrigerator, store with a tight fitting lid.
I like these glass bowls for my food storage.
They can be kept fresh in the refrigerator for about 4 days.
To reheat the eggs – I've found that the best method is to reheat low and slow in the oven. Set the oven to 300 degrees and heat the egg muffins for about 10-15 minutes, or until heated through.
You don't want to bake them too long or at too high of a temperature because this will make spongy and dry eggs.
And I definitely don't recommend heating them up in a microwave.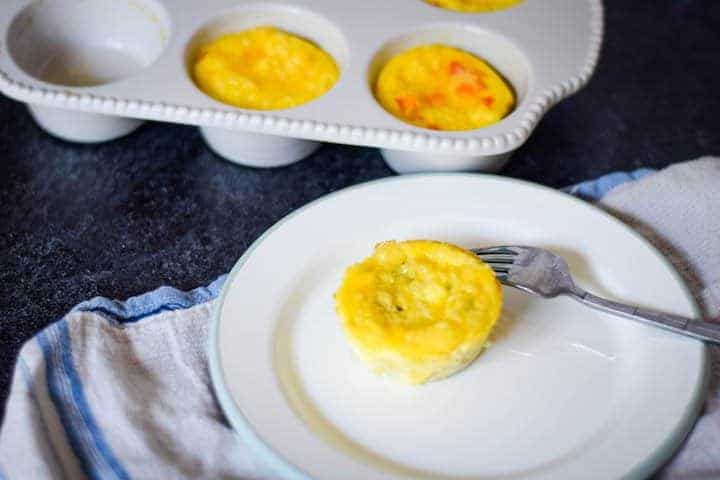 More Farm Fresh Recipes: