Build your ultimate garden no matter where you live! Find inspiration with these creative up cycled planter ideas!
While we have been patiently waiting on the new home to wrap up, our garden plans have been scaled way back. But I still wanted to make sure I had a few essentials growing.
So, we are doing a couple of small (ish) planters out of old cattle feed bunks that my husband found on the ranch. I am sharing what we are doing with the bunks and I also have a few other upcycled planter ideas that you'll love!
I love the idea of finding something old and giving it new life. And who doesn't love to build something frugal and upcylced?
So these upcycle ideas for the garden will make any budget conscious DIY'er happy!
Disclosure: Boots & Hooves Homestead may earn a commission for purchases made after clicking links on this page. View our disclosure policy for details.
Garden Planters from Old Feed Bunks
We are waiting on our new home to finish up so we are temporarily staying at the family ranch. In the meantime, I still wanted a bit of a garden until we could get to creating our own more permanent design.
My husband was about to retire these old cattle feed bunks. And I snatched a couple of them up to use as frugal raised garden beds.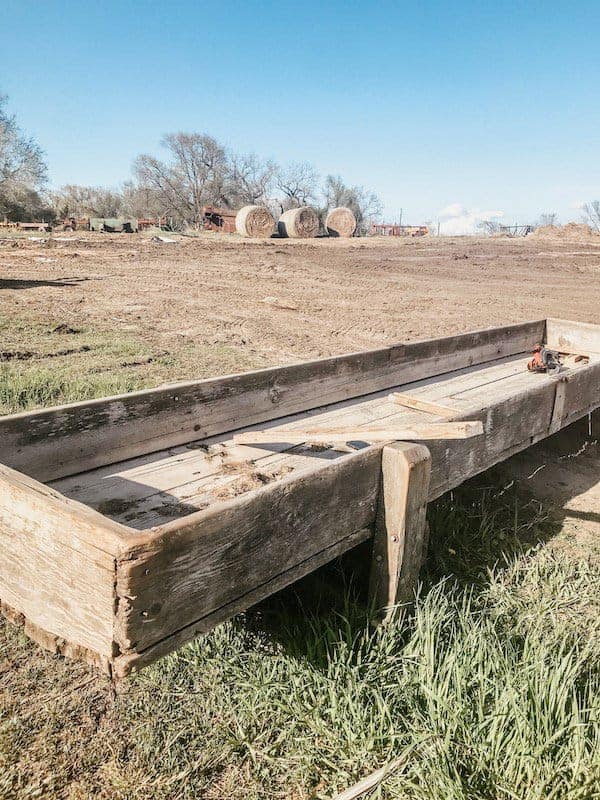 Before I used these old feed bunks as a garden bed, my husband gave it a little more stability with some extra screws. These bunks have seen their share of use around the ranch and I'm so thrilled to give them new life as a raised garden bed.
I will definitely make sure they have a home in our permanent garden design at the new house. And a big part of our greenhouse garden.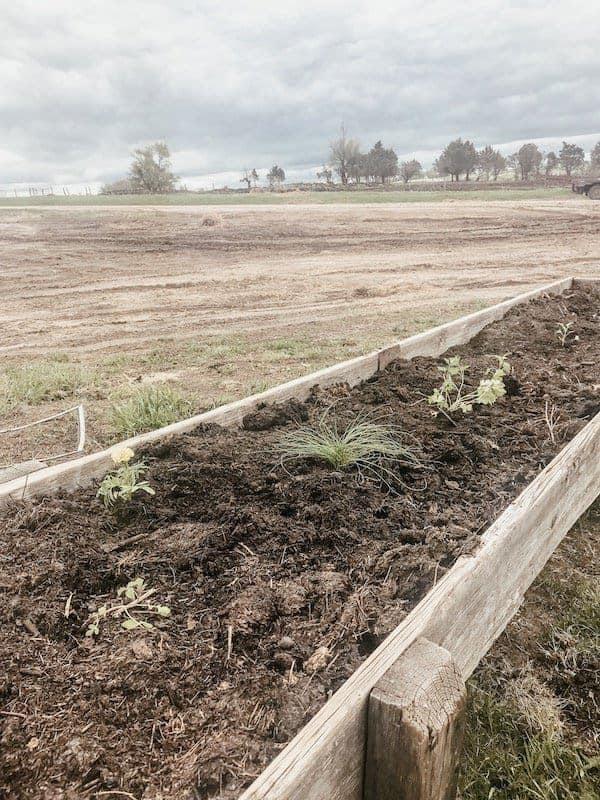 We filled the bunks with great ranch soil. This one is filled with garden gold. Ahem…we cleaned out the goat pens.
No kidding, but the goat manure is the best addition I've ever included in my garden!
And since I'm keeping it simple this year, I filled the beds with a variety of tomatoes, peppers, and herbs from my favorite place to order seeds and transplants, Seed Savers Exchange.
We are working with limited spaces this growing season, so I worked on planting things that I love and do well together.
Related: The Benefits of Companion Planting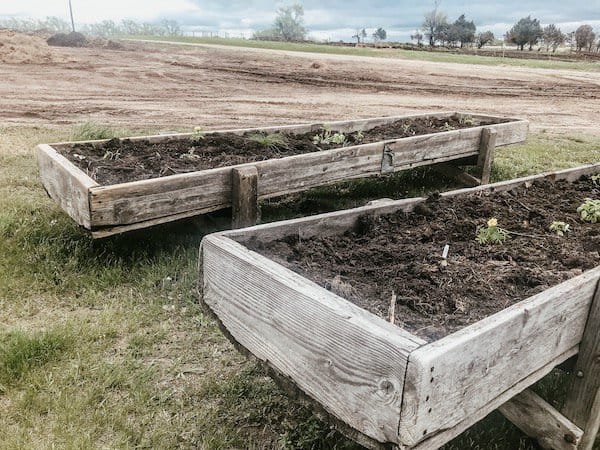 A Few Tips for Getting Started with Raised Bed Gardening
Before you begin construction, determine where in your garden they will be kept. You'll want to ensure you have the proper amount of sunlight. At a minimum, they'll need about 6-8 hours of direct sunlight.
A raised garden bed makes a great choice if you don't have time to battle weeds often. They are much easier to maintain!
Another thing you'll want to make sure that you don't overcrowd your space by adding too many plants. Consider each plant's growing needs and their roots.
I really like trying to follow the principles of permaculture because it helps determine what works and doesn't work for our land and garden needs.
Another Frugal Raised Garden Bed
My friend, Laura shared her upcycled raised garden bed design with me. And these garden planters are adorable. I'm thinking that I need to go hunting for some old galvanized metal to make some!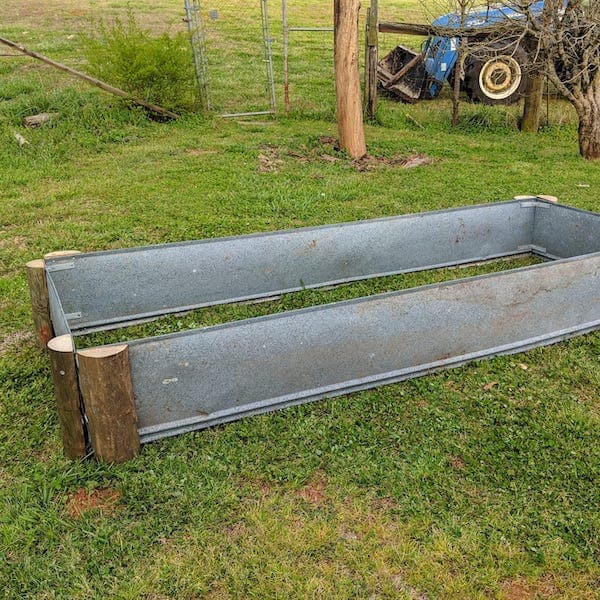 Laura made these raised garden beds by salvaging galvanized metal roofing from a shed on their property. The galvanized metal with the old log corner pieces give it a perfect rustic vibe.
Get more tips from Laura on how to start a vegetable garden and gardening with raised beds.
Upcylced Planter Ideas
If you are looking for unique raised garden bed ideas, you're in the right place! I'm all for finding ways to reuse and repurpose things that we already have around the home and ranch.
This allows us to expand our creativity and it saves us money!
Using a raised garden planter is a lot easier on the back and knees. I'm finding my planters much more easy to maintain than a regular garden bed.
These ideas are also perfect if you have limited garden space!
More Garden Posts