Did you know that carrot greens are beneficial and nutritious? Dehydrating carrot tops is an excellent way to store these greens for a healthy flavor boost to recipes.
After growing and harvesting your own fresh carrots from the garden, you may be wondering what to do with the greens. Believe it or not, they are rich in nutrients and many awesome benefits! In this post, I'm going to share how to dehydrate carrot greens and what to do with them.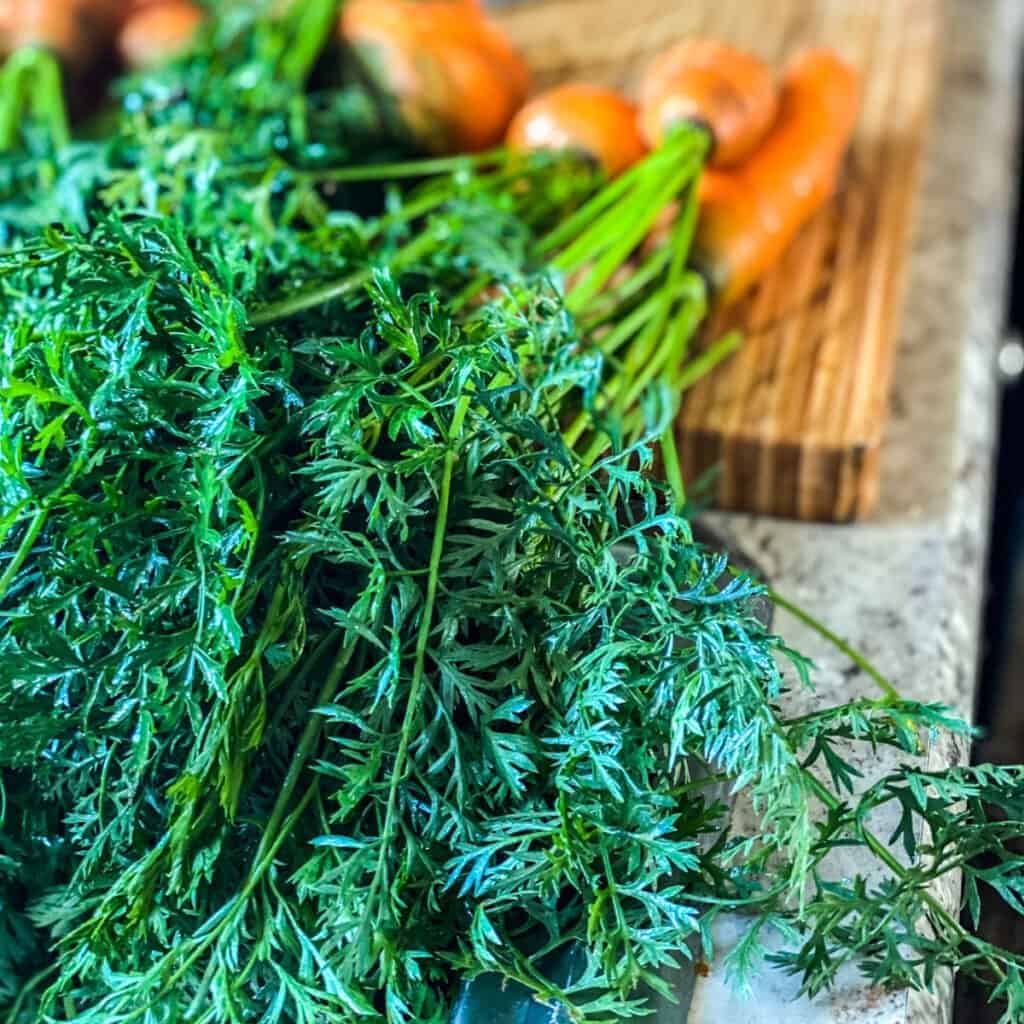 Why dehydrate carrot tops
There are many options for using the greens in a variety of recipes. So, I will just highlight how we use ours up after harvesting them from the garden.
One method of food preservation that I've really enjoyed in our home is to dehydrate fresh produce. This method works for a variety of reasons.
Canning is great for many recipes, and I also like to freeze certain foods too. But with others, I prefer to dehydrate them.
This is usually for things like herbs, greens, mini tomatoes, or extra harvested foods that I have an overabundance of.
After dehydrating, they take up less storage space, and it is so nice to be able to grab my own homemade spices from the pantry!
Dehydrated carrots also make a great option for storing bulk root vegetables over the winter months with minimal space! You can even use a mortar and pestle to create a green carrot powder for use in sauces or other recipes.
Looking for a delicious way to use up your fresh carrots? Try this creamy carrot and acorn squash soup recipe! Or these fermented carrots with ginger and turmeric.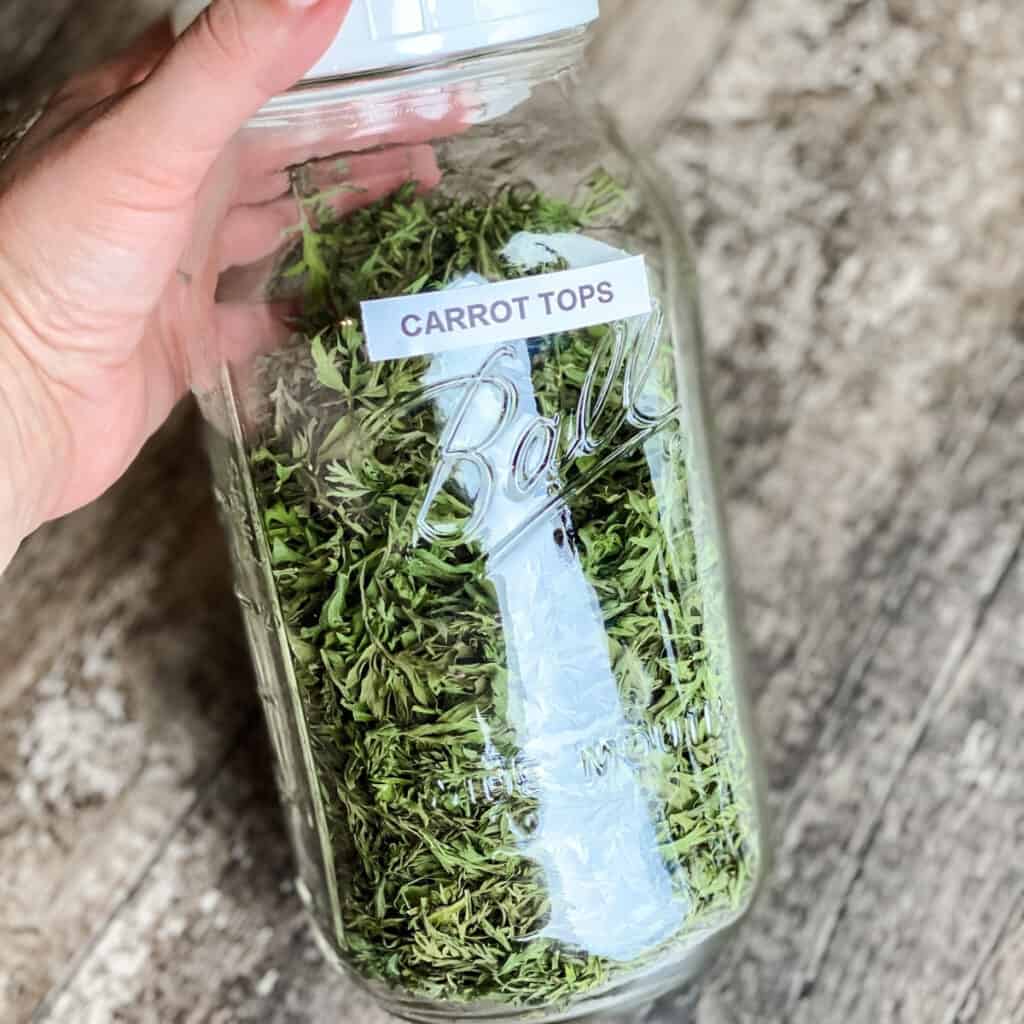 Benefits of carrot greens
Just like the carrots themselves, carrot greens or tops are rich in many beneficial vitamins and nutrients. These include vitamin A, vitamin C, chlorophyll, magnesium, dietary fiber, and more. (source)
And for us it is a matter of frugality to reuse the whole plant in our home as long as they are edible! And we also strive to reduce food waste as much as possible.
If you are purchasing carrots from the grocery store to dehydrate and store for long term, I would highly recommend purchasing an organic variety. You will want to avoid eating greens that have been sprayed with pesticides.
Related: How to Grow Carrots
Ways to use carrot tops
A great way for using carrot greens should be done in the same way that you'd use seasonings in cooking. Using too much can over flavor a recipe.
In our kitchen, we add dehydrated carrot tops to soups, stews, stir frys, and even sprinkle a little in smoothies for a little boost of leafy greens.
If you would use carrots in a recipe, you can sprinkle a bit of carrot greens in.
Another popular method for using up the leafy part of these root vegetables is to create a carrot top pesto. Simply remove from the stems, add to a food processor with a bit of lemon juice, olive oil garlic clove, pine nuts, and desired seasonings. Or try this carrot top pesto recipe!
Related: Garlic Scape Pesto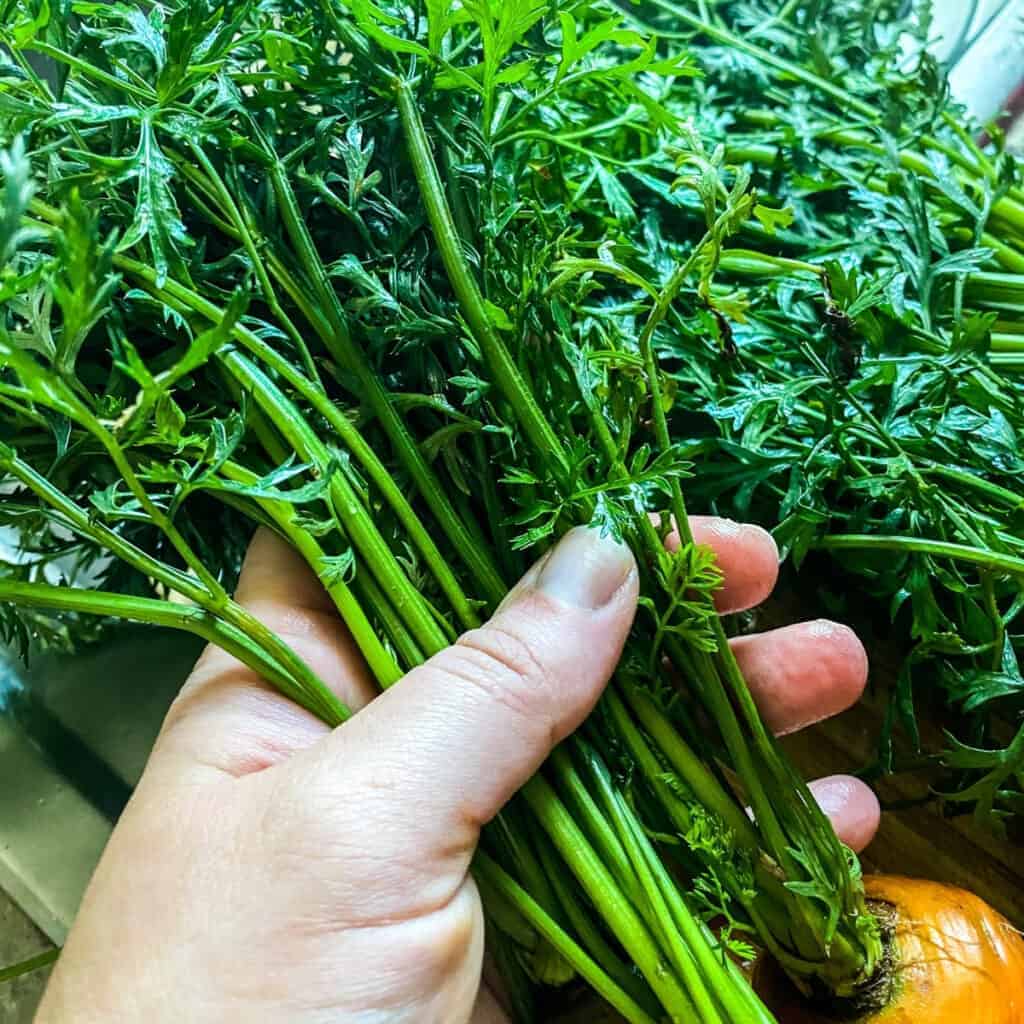 Methods of dehydrating carrot tops
There are a few different ways that you can successfully dehydrate the leafy greens from carrots. My preferred method is to dehydrate a little at a time in the dehydrator.
But a word of caution, carrot greens take up a lot of space so this method would work well if you're harvesting in small batches. Or only drying small quantities of carrot tops.
The benefit of dehydrating this way is that it takes up less time. Here's how I do this:
Wash the carrot tops and drain
Trim the greens just above the base of the carrot root
Remove any excess stems and lay flat in a single layer on the dehydrator tray
Dehydrate for about 4-5 hours (or until completely dry) at 125 degrees
Another option to dehydrate this leafy green vegetable is to bundle them in a bunch and hang them to dry. I use this method often when dehydrating fresh herbs or greens in bulk.
After washing the carrot leaves, simply use kitchen twine to wrap around the stems and hang them to dry.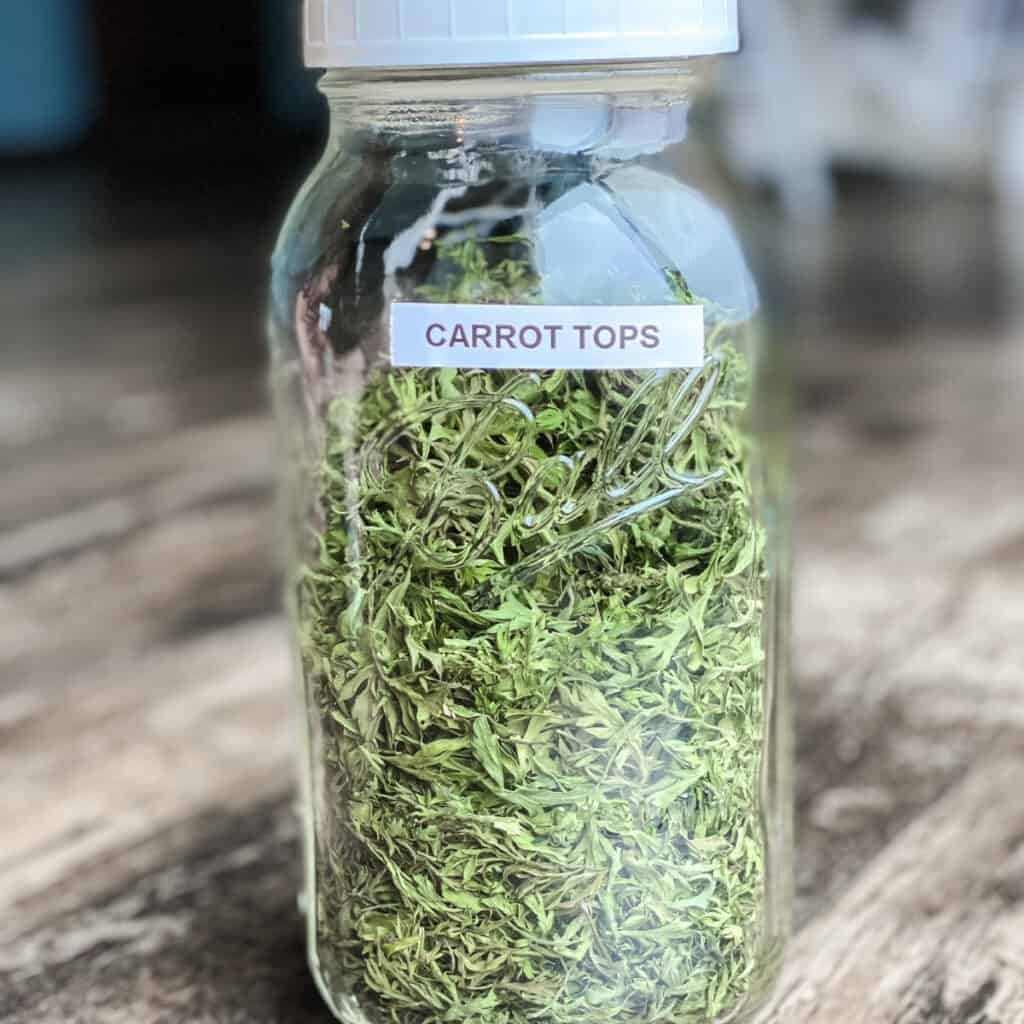 How to store dehydrated carrot greens
After the carrot tops are dehydrated, remove the leaves from the stems and store them in an airtight container. I prefer a large mason jar with plastic lid for long term storage in the pantry.
Keep it in a place out of direct sunlight and at room temperature. A pantry or spice cabinet is a great option for longer term storage.
Note: the leaves must be completely dried before storage to prevent spoilage.