There really is nothing like the feeling of being organized. If you like structure in your day, stick around! I'm sharing my favorite & best organization tools for home and work.
I've been asked all about all about the organization tools that keep me on track. So I'm sharing my absolute favorites that simplify my life and give me structure in my day.
Life is busy and things can quickly turn to chaos if we don't stay organized. Some people thrive on procrastination and chaos (ahem, hubs). Some other people thrive on organization, planning, and structure. This is totally me.
Best Organization Tools for Home & Work
If you're anything like me, new planners and organization tools make you happy! I like a variety of paper planners and digital tools to help me stay on track.
Running a website or blog, takes a lot of work. There are a lot of things involved and many moving pieces we need to stay on top of. If I didn't have reminders for certain tasks or use my handy organization tools, something could easily get missed.
A deadline could be missed, an opportunity to generate sales could be missed, a piece of my site could stop functioning because I forgot to update it. This is why I'm loving the schedule features in many of the tools that I currently use.
Airtable
This is my an ultimate favorite of mine. I use this online tool for planning out a variety of tasks. If you love staying organized with spreadsheets, Airtable is perfect for you.
But it is so much more than the typical spreadsheet! You can customize each spreadsheet (called bases) and workspaces to fit your needs.
I use it for just about everything like, planning my editorial calendar, content creation, tracking forms, organizing budgets, and expenses for our accountant, and so much more.
It really is a must have tool on my list!
Time Blocking Planners
Time blocking is pretty much my favorite way of planning out my day. It is also what I call a sanity saver.
If you aren't familiar with time blocking, it is basically just blocking out time frames in your day for specific projects or tasks.
Related: Time Blocking for Busy Moms
You really don't need to use a fancy planner for time blocking. However, you will need a planner that has daily time slots.
My favorite are the Erin Condren Life Planner Binders. I use the daily format for my binder. mean, it is perfect for time blocking! Plus, its feminine. All wins!
Outlook Calendar
An oldie, but still a goodie in my opinion.
I run my business email through outlook and I love the many awesome scheduling features.
I use these schedule features whenever I need to coordinate meetings or give myself pop up reminders on my calendar.
Its a favorite online tool of mine.
Lesson & Curriculum Planner
When it comes to homeschooling, I need a plan. And I like to keep a separate planner for our homeschool lessons.
Planning out our curriculum and activities helps me to keep our home school lessons organized and structured.
Here is a review I wrote on my other website of the Erin Condren Teacher Planner.
Google Drive
An awesome option for file storage.
I also use it for creating simple slide shows, word documents, and basic worksheets to print on the go. It is a great organization tool for keeping all of my documents easily accessible.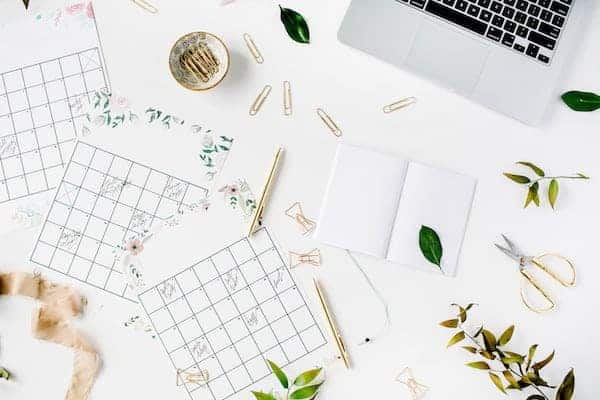 So there you have it. My list is short and simple, but I find it highly effective in keeping my day structured. I find that having less is actually more helpful than having too many things to keep track of.
I'll say it again… clutter = chaos.
I have quite a few free organization & planning printable tools available in my member free resource area. Sign up below for access.