How to roast coffee beans at home using a cast iron skillet. Using green coffee beans and a little bit of time, you can have incredibly fresh roasted coffee at home.
If you have been following along with my posts for a little while, you know that I'm all about the coffee life. I mean, as a mom of little ones, its how I function best.
But I didn't realize that once I learned how to roast coffee beans at home, I wouldn't buy any other version.
Because fresh roasted coffee is seriously the best I've ever had. No joke, this stuff is legit. And it's incredibly easy to make!
I can't believe that I have waited until this far into my adult life to discover how awesome fresh roasted coffee is. And the stuff I've been drinking before tastes stale in comparison. I guess its safe to say, I'm done buying pre-roasted coffee!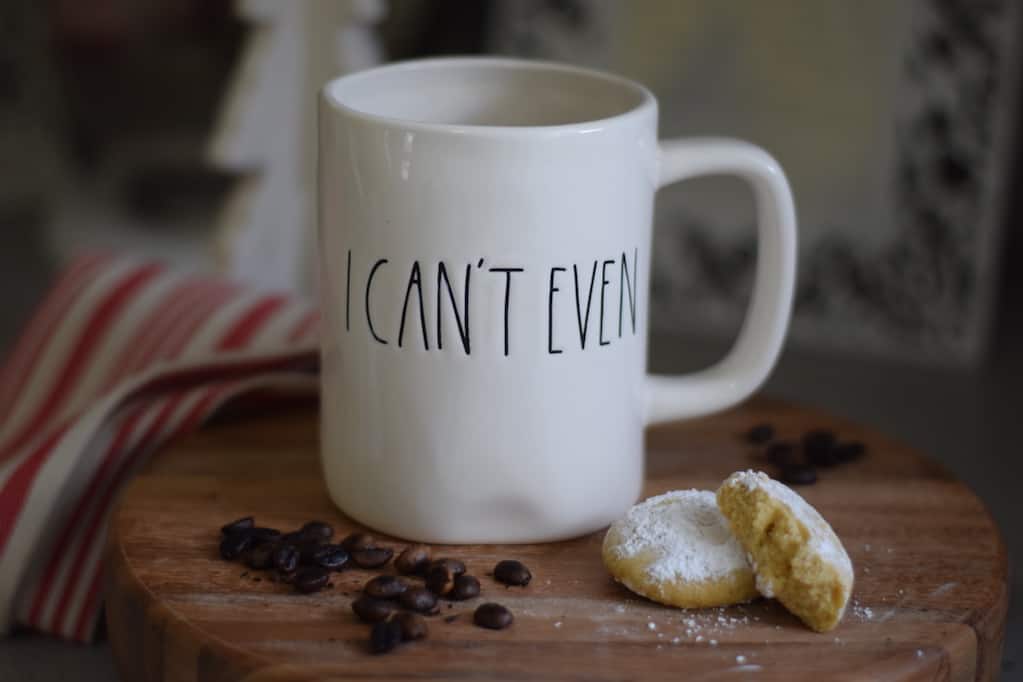 How to Roast Coffee Beans at Home
There are a couple of different ways that you can roast coffee beans at home. I've tried using a popcorn popper and I've tried doing it in a cast iron skillet.
The cast iron skillet method is the easiest and my preferred method of roasting coffee. The cast iron provides a nice even heat.
My personal preference is to roast the coffee beans in small batches so that it doesn't become stale tasting. I only make approximately 3 tablespoons at a time, for our morning coffee. Unless we have a particularly busy week ahead, then I'll roast some ahead of time.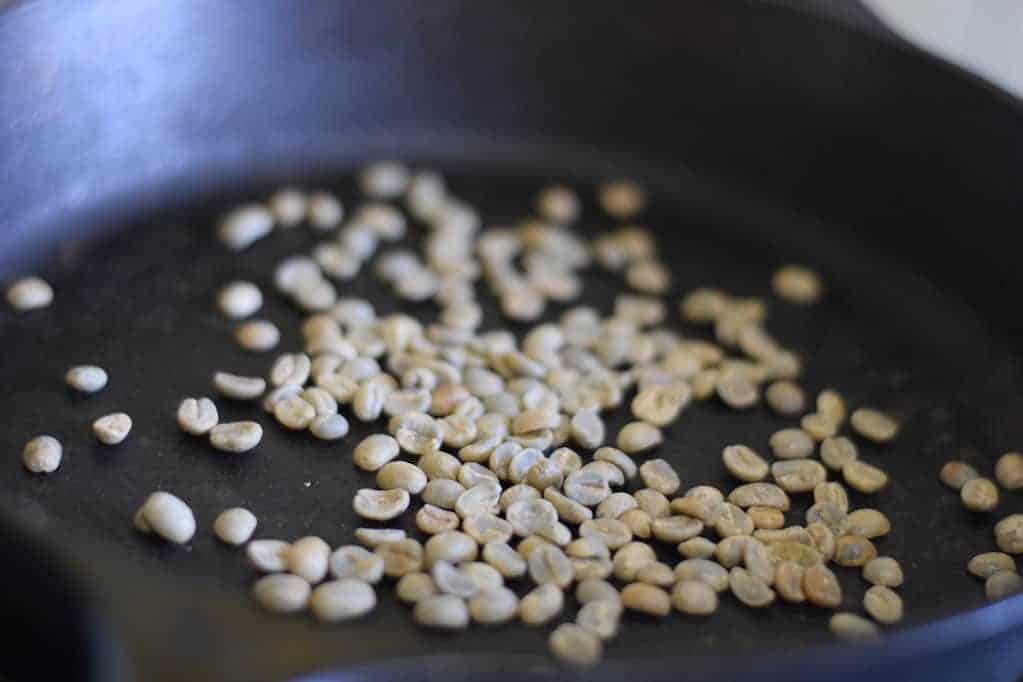 What You'll Need to Start Roasting Coffee Beans at Home
Organic Green Coffee Beans (here's the version I like best)
A specifically designated cast iron skillet or this size. Because you don't want the food you've cooked in your skillet to effect the taste of your fresh roasted beans.
The important thing about the size is that when you're roasting your beans they are evenly distributed in a single layer on your skillet.
If you don't already have one, a basic coffee grinder is needed after you're done roasting your beans.
Getting Started
Add your coffee beans to your cast iron skillet over medium-high heat and continuously stir them as they begin roasting.
After a few minutes they'll start to crack and pop, it sounds similar to popcorn popping.
You'll want to give it time to go through a second crack before you finish roasting.
If they start to roast unevenly, turn the heat down a bit. But keep stirring.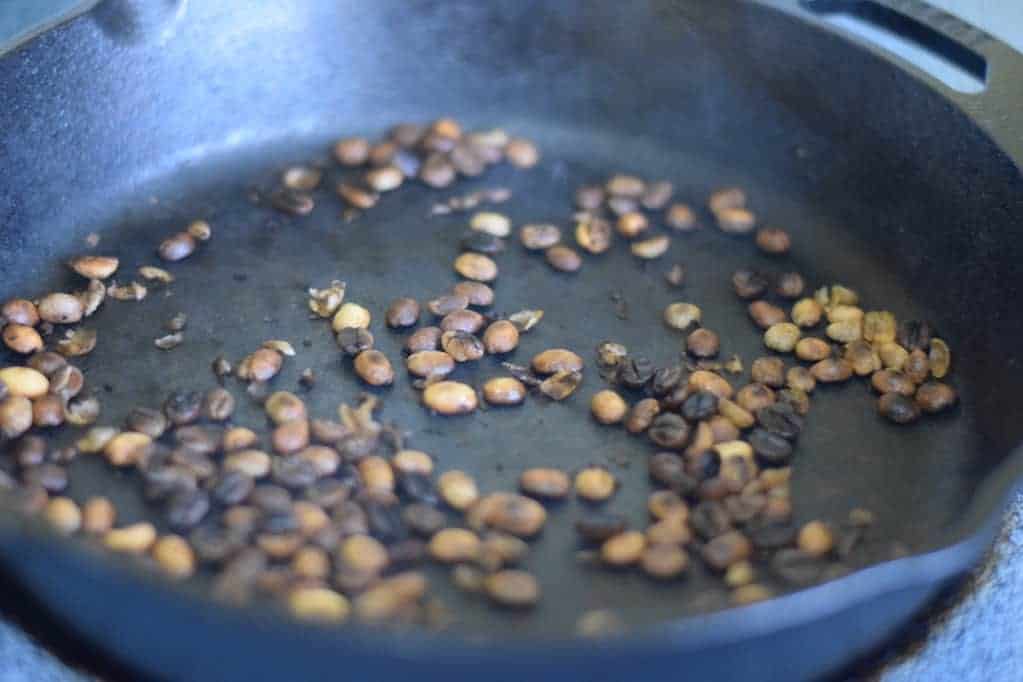 How long you roast the beans really depends on how dark you like your coffee. If they are too light, they will taste sour.
I like a dark – medium and my husband prefers a super dark or an almost black roast. So I compromise and go for in between. But it may take a little experimenting until you find your desired roast.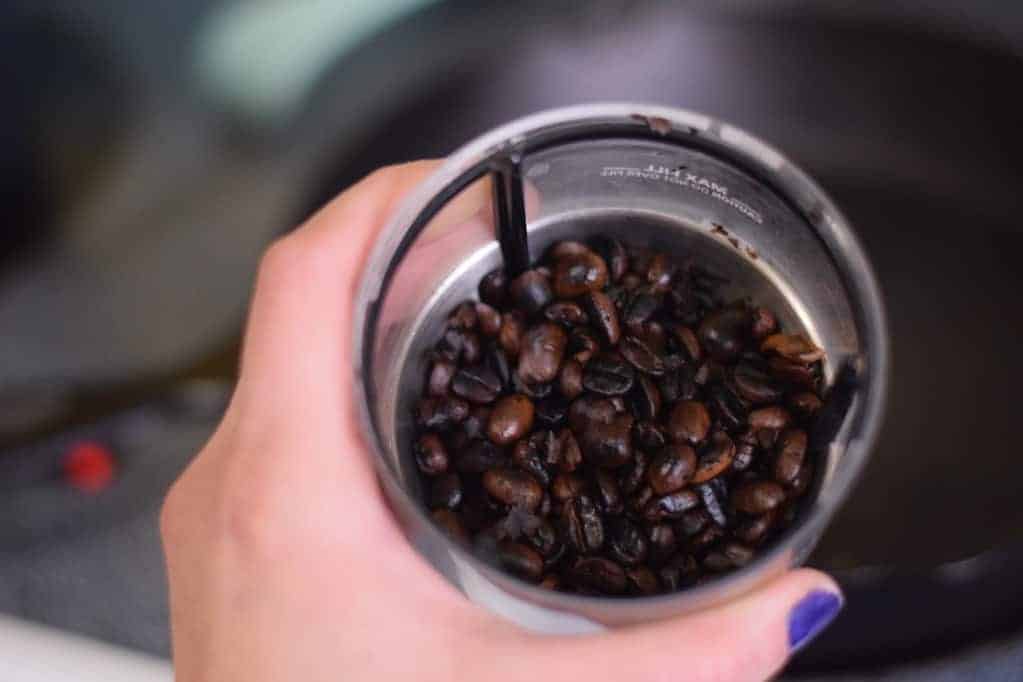 Add your beans to a colander and stir until cool. Next, you'll add your freshly roasted beans to a coffee grinder and grind to your preference.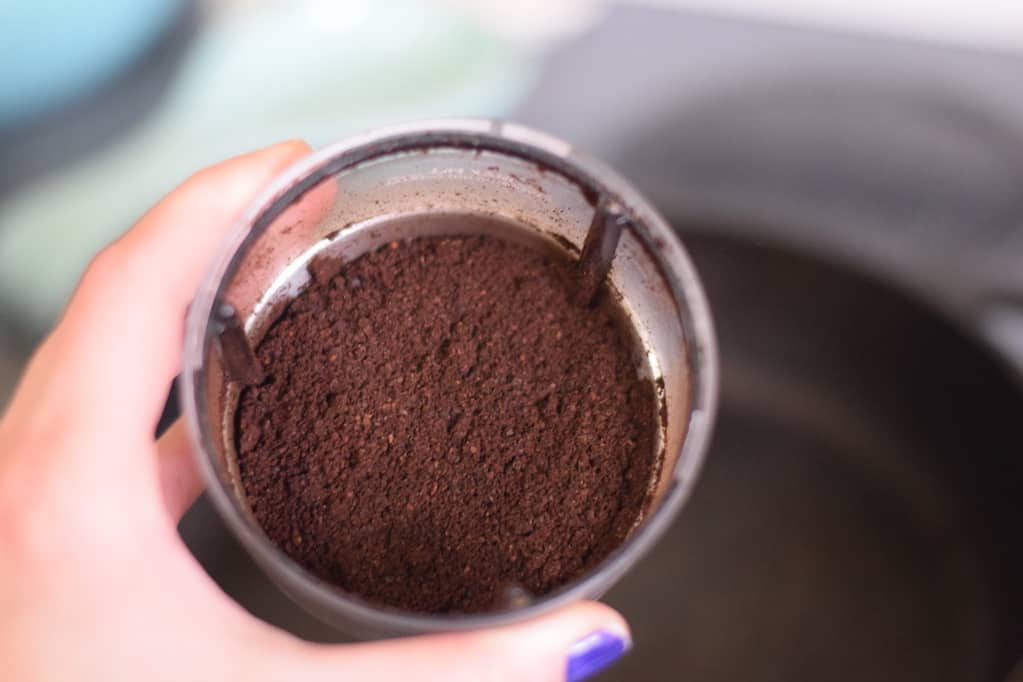 Now you're ready for some seriously delicious coffee.
A Few Helpful Tips
The beans will smoke while you're roasting them. A good kitchen vent or fan is helpful if you're roasting your coffee beans indoors.
Otherwise, just expect your kitchen to get a little smokey. I usually just run a fan and open a window and I'm good to go.
If you are roasting your beans for storage, allow them to cool completely in a colander with good air flow underneath for at least 12 hours before storing them in a glass container with lid.
This is because they continue to release gases as they cool.
To keep the fresh roasted coffee beans from tasting stale, I'd recommend making them in small batches. Nothing beats fresh brewed though!
That's really all there is to it! So simple, right? I can't believe I wasn't doing this a long time ago!
Related:
How to Make Homemade Lattes at Home (4 delicious recipes!)
where would you like to start?