This quick and easy poached cod recipe is a perfect weeknight meal. The cod is poached in a delicious and homemade creamy pomodoro sauce. And the result is a succulent, tender, flaky fish with Italian flavors.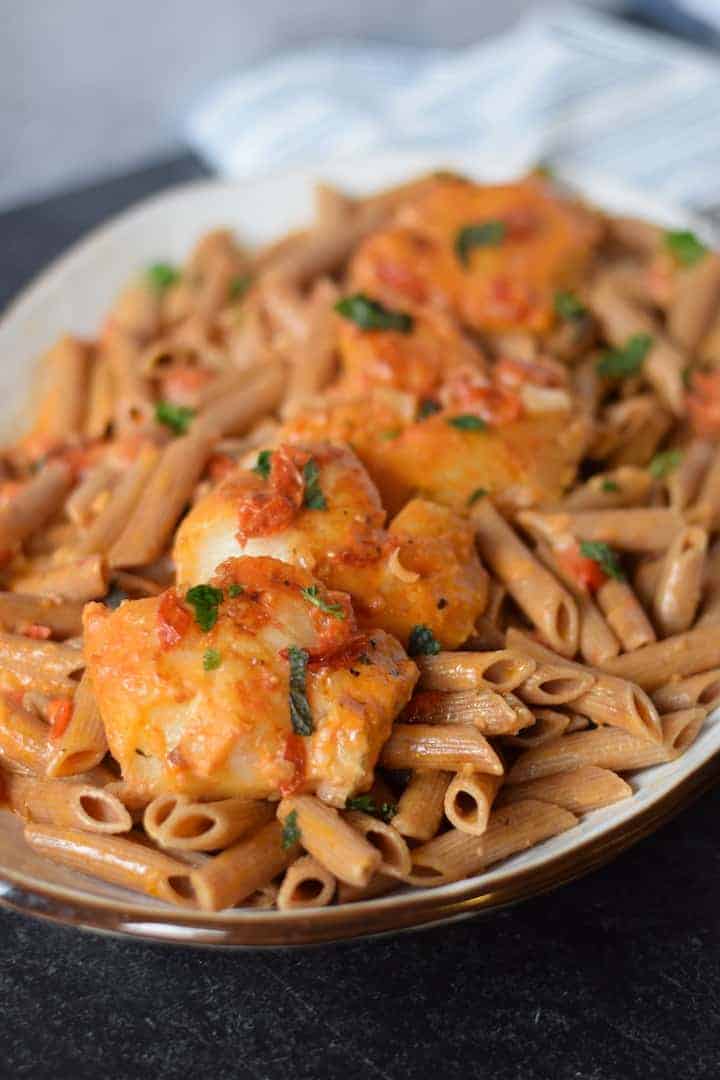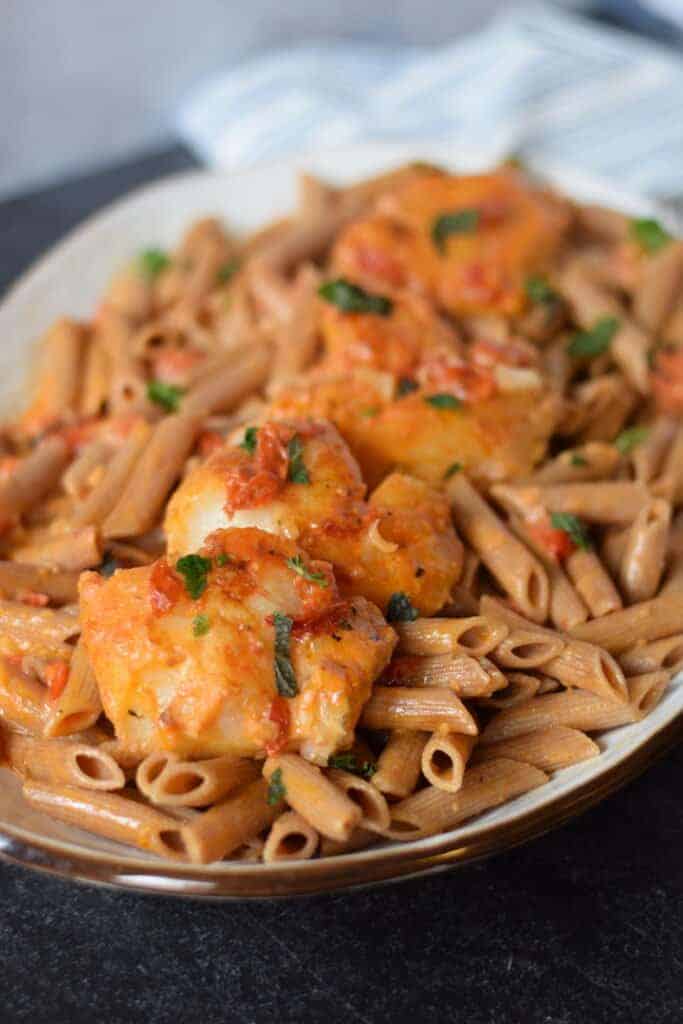 What is poached cod?
To poach cod or any fish really, means to simmer it in a small amount liquid until cooked.
And for this recipe, I use a homemade creamy pomodoro sauce. It gives the fish a great flavor and it isn't super complicated to make.
How do you poach cod?
The method or technique is pretty simple. Start by preparing the sauce. Cut the cod into serving pieces. I used slightly over 1 1/2 pounds of cod and cut them into 6 serving sizes.
Bring the sauce up to a simmer, add the fish and simmer in the liquid. Add a lid to the pan and simmer until cooked through.
Other fish that work well for poaching:
sole
halibut
tilapia
haddock
snapper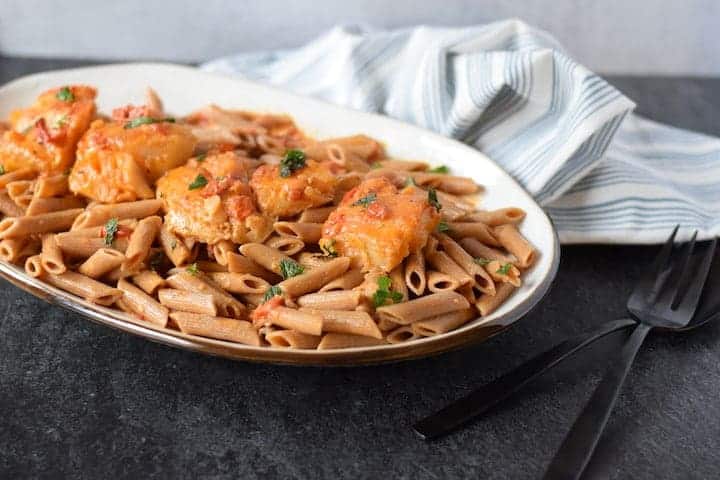 How long do you poach cod?
The cook time on cod or any fish will vary slightly depending on the thickness of the fillet. Smaller portions will require less cooking time. Poach the cod fillet for approximately 10-15 minutes.
Or until the the internal temperature of the fish (at the thickest part of the fish) reads 145 degrees F on an instant read thermometer.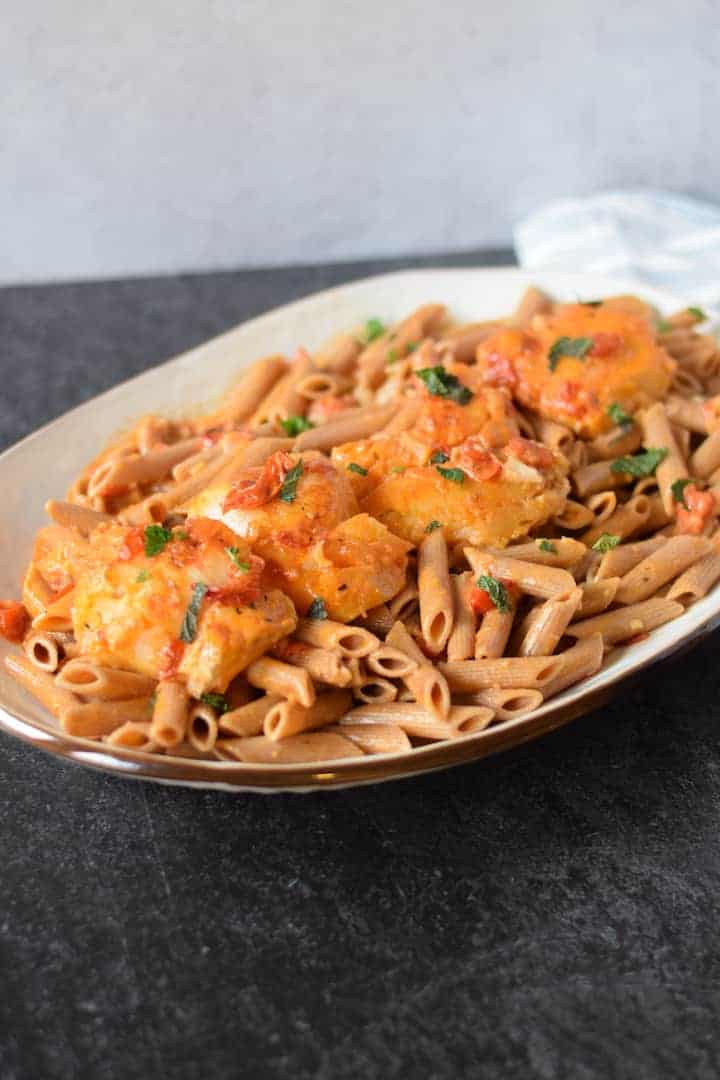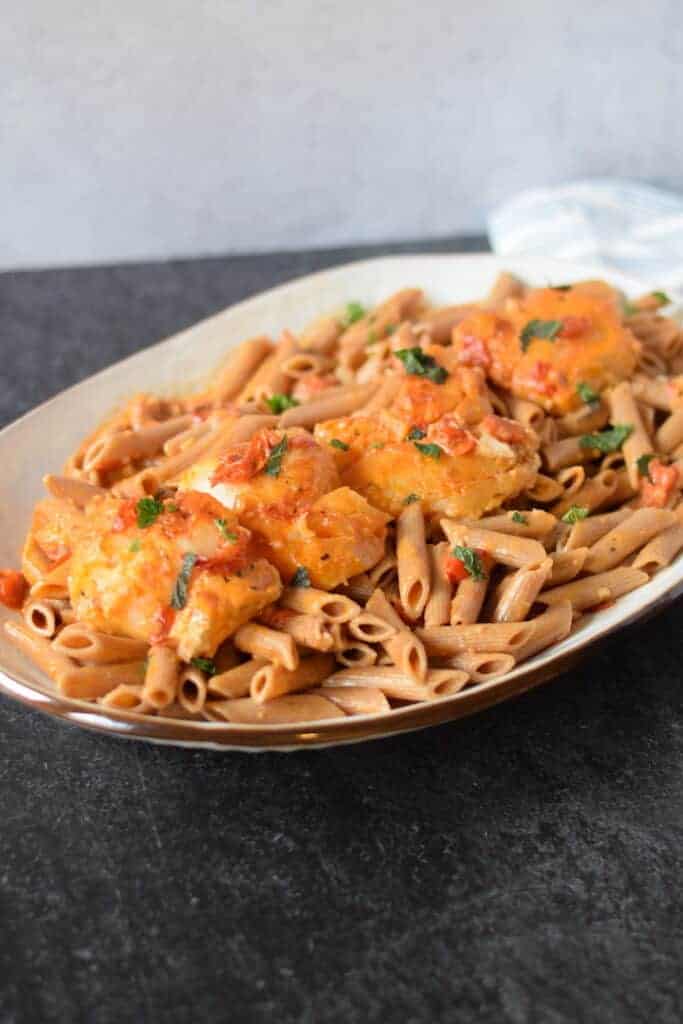 How to Make Poached Cod in Creamy Pomodoro Sauce
For this recipe, I start with making this homemade creamy pomodoro sauce recipe. The sauce is simple to make and takes less than 20 minutes.
The combined time of the sauce and poaching the fish, will result in a delicious dinner ready in about 30 minutes!
Serve this deliciously saucy fish over your favorite cooked pasta. In this recipe, we used penne whole wheat pasta. But this recipe really works well with most pasta shapes.
Add a pretty platter, sprinkle of fresh parmigiano cheese and chopped herbs for a pretty presentation.
More recipes you may like: