This quick and easy poached cod recipe is a perfect weeknight meal. The cod is poached in a delicious and homemade creamy pomodoro sauce. And the result is a succulent, tender, flaky fish with Italian flavors.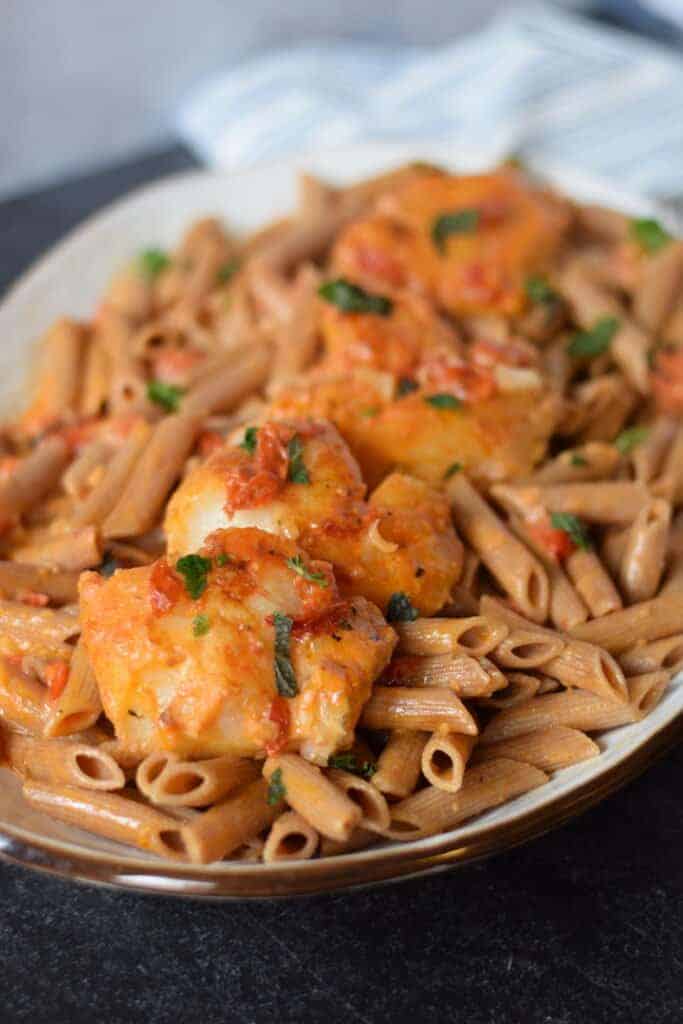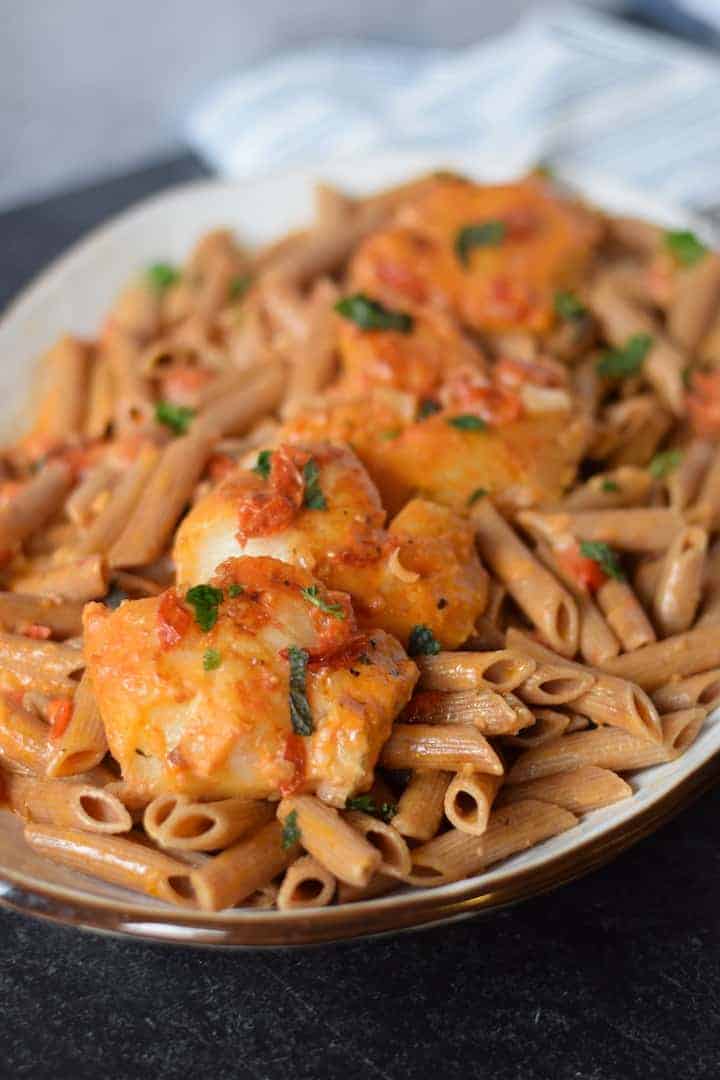 What is poached cod?
To poach cod or any fish really, means to simmer it in a small amount liquid until cooked.
And for this recipe, I use a homemade creamy pomodoro sauce. It gives the fish a great flavor and it isn't super complicated to make.
How do you poach cod?
The method or technique is pretty simple. Start by preparing the sauce. Cut the cod into serving pieces. I used slightly over 1 1/2 pounds of cod and cut them into 6 serving sizes.
Bring the sauce up to a simmer, add the fish and simmer in the liquid. Add a lid to the pan and simmer until cooked through.
Other fish that work well for poaching:
sole
halibut
tilapia
haddock
snapper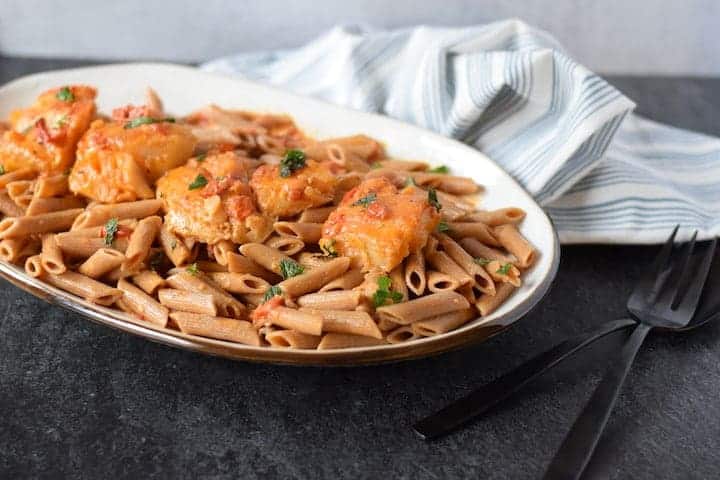 How long do you poach cod?
The cook time on cod or any fish will vary slightly depending on the thickness of the fillet. Smaller portions will require less cooking time. Poach the cod fillet for approximately 10-15 minutes.
Or until the the internal temperature of the fish (at the thickest part of the fish) reads 145 degrees F on an instant read thermometer.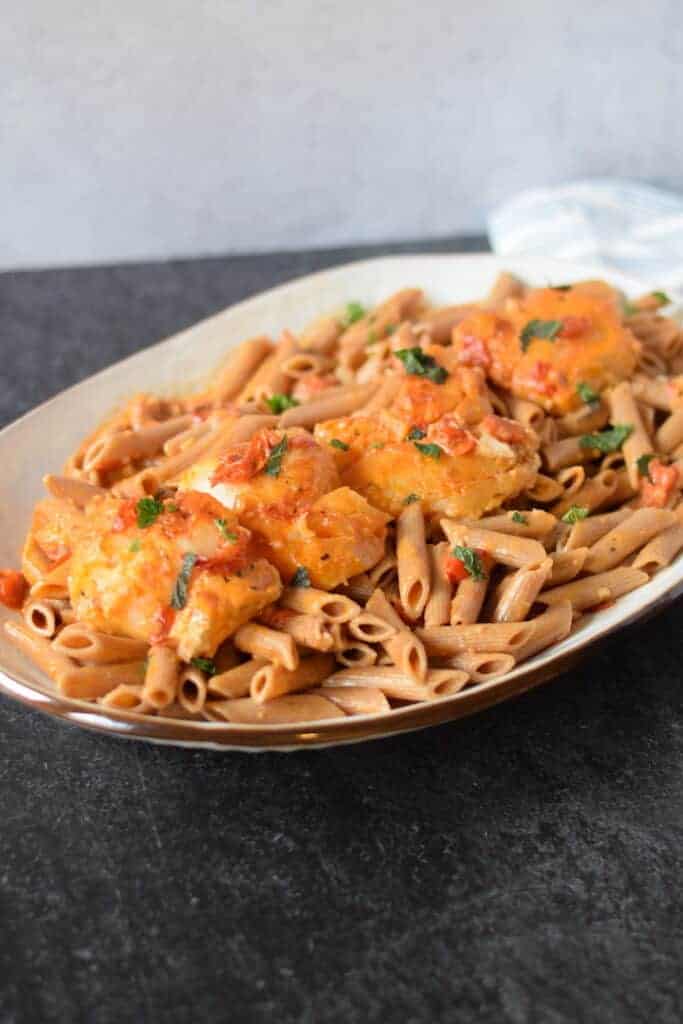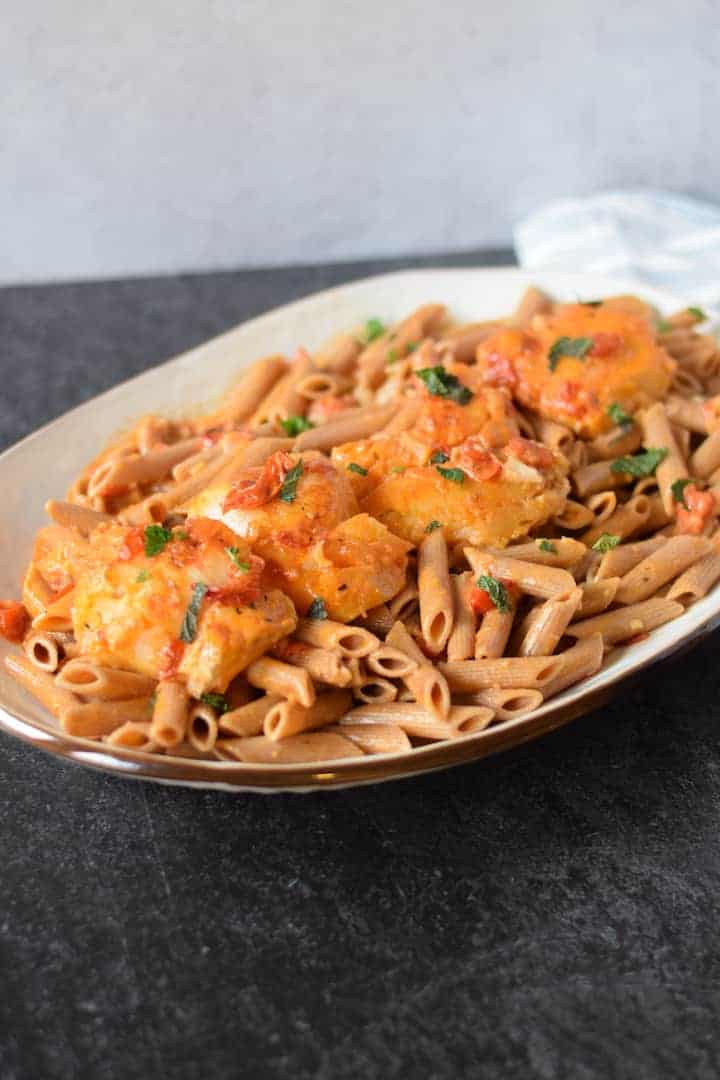 How to Make Poached Cod in Creamy Pomodoro Sauce
For this recipe, I start with making this homemade creamy pomodoro sauce recipe. The sauce is simple to make and takes less than 20 minutes.
The combined time of the sauce and poaching the fish, will result in a delicious dinner ready in about 30 minutes!
Serve this deliciously saucy fish over your favorite cooked pasta. In this recipe, we used penne whole wheat pasta. But this recipe really works well with most pasta shapes.
Add a pretty platter, sprinkle of fresh parmigiano cheese and chopped herbs for a pretty presentation.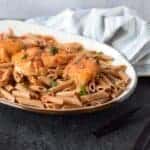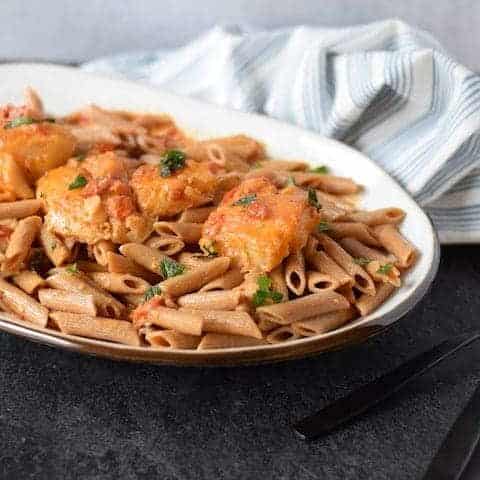 Poached Cod in Creamy Pomodoro Sauce
Flaky, tender, and delicious! This poached cod recipe is a perfect, easy family meal that is ready in about 30 minutes.
Ingredients
1.5 pound cod divided into 4-6 pieces
1 pound of cooked pasta for serving
Pomodoro Sauce
1/2 cup quality extra virgin olive oil
2 cloves of garlic chopped
1 medium onion finely chopped
2 tablespoons tomato paste
1/2 teaspoon salt
1/2 teaspoon Primal Palate Amore seasoning
2 cups mini heirloom tomatoes
1/2 cup freshly shredded parmigiano cheese
1/2 cup heavy cream
Instructions
Make this creamy pomodoro sauce recipe for the cod fillet to poach in. You may use a different sauce if preferred, but this sauce is what I recommend for this recipe.

Once sauce is prepared according to the recipe instructions, bring to a medium-low simmer, not boiling.

Cut up the cod fillet into desired serving pieces. I cut mine into 6 serving sizes. Cut them to 4-6 pieces depending on the thickness and amount of desired servings.

Add the cod portions to the simmering sauce. Place a lid on top of the pan.

Allow the fish to simmer for about 10 minutes. Or until cooked through. The fish will be opaque and flaky. The internal temperature of the cod should read 145 degrees F. Use an instant read thermometer and test for doneness in the middle or the thickest portion of the fillet.

Serve this deliciously saucy fish over desired cooked pasta and sauce. Toss the pasta in the remaining sauce, place on a pretty platter, and add the cooked cod fillets on top of the pasta.

Sprinkle with more fresh parmigiano cheese or fresh herbs, if desired.

Nutrition
Serving: 1cCalories: 656kcalCarbohydrates: 62gProtein: 34gFat: 30gSaturated Fat: 9gCholesterol: 82mgSodium: 447mgPotassium: 858mgFiber: 4gSugar: 5gVitamin A: 897IUVitamin C: 11mgCalcium: 161mgIron: 2mg
Tried this recipe?Give it a 5 star rating and pin it to your Pinterest account!
More seafood recipes: