This Italian Antipasto Platter is super simple to put together. It is an easy way to get a delicious entertaining tray together for the next family dinner or gathering.
Plus, this antipasto platter is filled with low carb / keto friendly ingredients.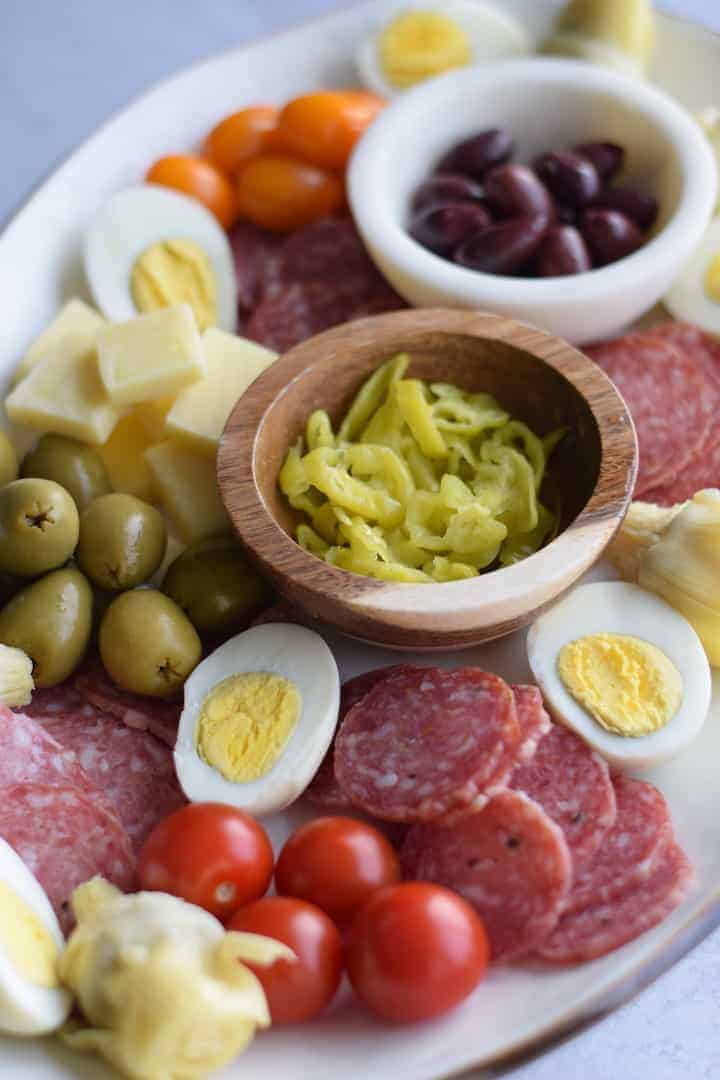 Antipasto platters have always been a big part of our family gatherings. And with a recent event, I was eager to put one together.
However, I wanted it to be a low carb and keto option for some of us that are following that plan.
Sure, we can pick the low carb options and forget the rest. But I like simplicity and avoid the things that could be a temptation for others following a keto diet.
Note: be sure to check the carb counts on certain things like cured meats and cheeses. Some of them aren't as low carb as others!
Italian Antipasto Platter
So, what is an Antipasto platter exactly? In Italian, it means "before the meal". And a great platter is filled with cured meats, cheeses, and vegetables – usually marinated.
If following a keto or low carb diet, you'll really have to read labels and make sure the marinated vegetables and cured meats & cheeses are on plan.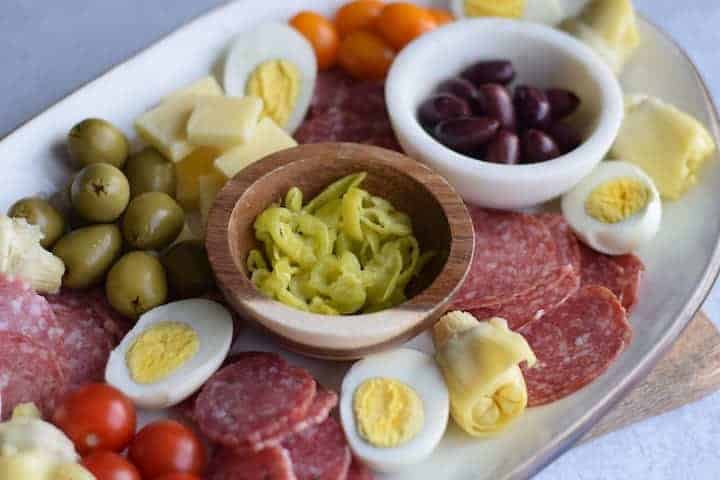 Keto Foods to add to an antipasto platter
Smoked Italian Meats – I like a variety of what is available in the deli. If you have an Italian market close by, check them out!
Here's a few of my favorites:
Italian Dry Salame, Prosciutto, Soppressata, Genoa Salame, and Calabrese.
Italian Cheeses – Typically I like to add a variety of soft and hard cheeses. My top two preferred hard cheeses are Parmigiano-Reggiano (Parmesan) & Pecorino.
For soft cheeses, mozzarella slices or even marinated mozzarella balls are great options. And for a bit of bite, gorgonzola has excellent flavor.
Vegetables – A variety of fresh tomatoes, pepperoncini peppers, Castelvetrano olives or other Italian olives of choice. And although Greek, I like to add Kalamata olives to my antipasto platter.
I also like to include artichoke hearts, sometimes marinated, but usually just plain.
Marinated tomatoes and peppers are also a great addition to an Italian antipasto platter.
Hard Boiled Eggs – These make a great traditional addition. And are another awesome keto / low carb keto protein option for the platter.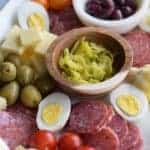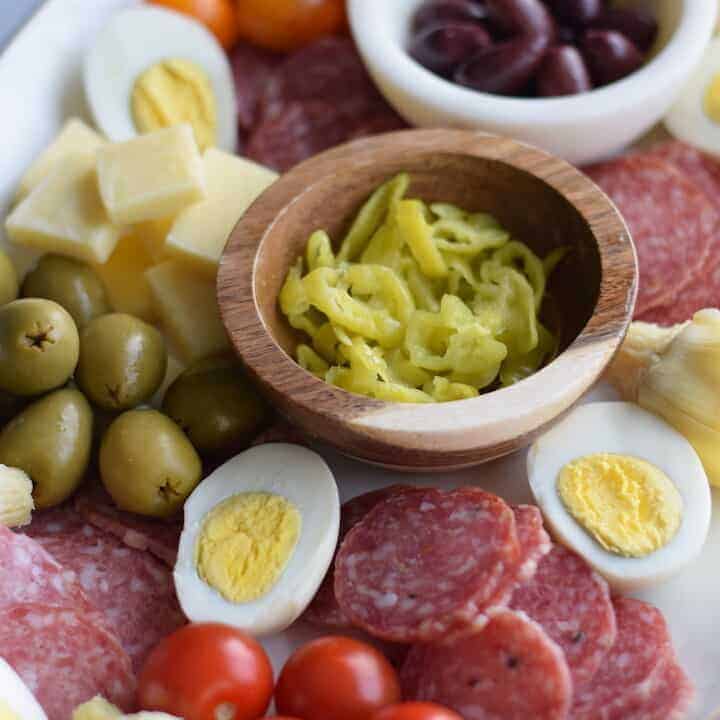 Antipasto Platter
This simple and really fast to put together antipasto platter is a perfect appetizer for a crowd or family gathering.
Ingredients
1/2 pound sliced parma prosciutto
1/2 pound sliced Italian dry salame
1/2 pound sliced Calabrese
1/2 pound sliced Genoa salame
1/2 pound sliced soppressata
1/2 pound sliced Parmigiano-Reggiano Parmesan cheese
1/2 pound sliced Pecorino cheese
1/2 cup sliced pepperoncini peppers
1 cup fresh or marinated cherry tomatoes
3-6 hard boiled eggs sliced in half or quartered
1 small jar of artichokes marinated or not
1 cup Castelvetrano olives
1 cup Kalamata olives
Instructions
Prepare your platter by layering your sliced meats and cheeses. (see note)

Next, fill in little areas around your platter with olives, hard boiled eggs, tomatoes, pepperoncini peppers, and artichoke hearts.

Use little pinch bowls or small salad bowls as fillers.

Serve and enjoy.
Notes
Have your deli slice the meats and cheeses for you when purchasing. It'll be a huge time saver!
Nutrition
Serving: 1cCalories: 516kcalCarbohydrates: 4gProtein: 30gFat: 42gSaturated Fat: 16gCholesterol: 136mgSodium: 2317mgPotassium: 351mgFiber: 1gSugar: 1gVitamin A: 501IUVitamin C: 8mgCalcium: 452mgIron: 2mg
Tried this recipe?Give it a 5 star rating and pin it to your Pinterest account!
More Recipes: