This post is sponsored by Fermentools, all opinions are my own. 
Our journey into the world of healthy eating began with my first pregnancy a few years ago. The moment that I needed to be responsible with the health of someone other than myself, I started to realize how unhealthy I was actually eating.
This really changed the way that I looked at food.
Over time and through much research, I discovered the benefits of probiotics and fermented foods. I have enjoyed the process of experimenting with various recipes and encouraging my whole family to include fermented foods with our meals.
In the last couple of years, I have been quite fond of most fermented foods. 
So when I received the opportunity to review the Fermentools starter kit, I jumped on board. In this post, I'll share a little bit about the things that I like about this kit and my absolute favorite fermented food recipe – Cortido.
Disclosure: Boots & Hooves Homestead may earn a commission for purchases made after clicking links on this page. View our disclosure policy for details.
The Fermentools Starter Kit
This kit is helpful for both the experienced fermenter and beginners alike. It includes everything that you need to ferment your own delicious recipes at home, including the salt! Better yet, it's pink Himalayan Sea salt, my favorite and what we use and love here on the homestead.
All you need to provide is your mason jar, ring and food that you plan to ferment. You'll no longer need to "burp" your jar as this kit includes an airlock, which I found to be super helpful to me as a busy mama. Let's face it, we can use all the help we can get it.
Am I right?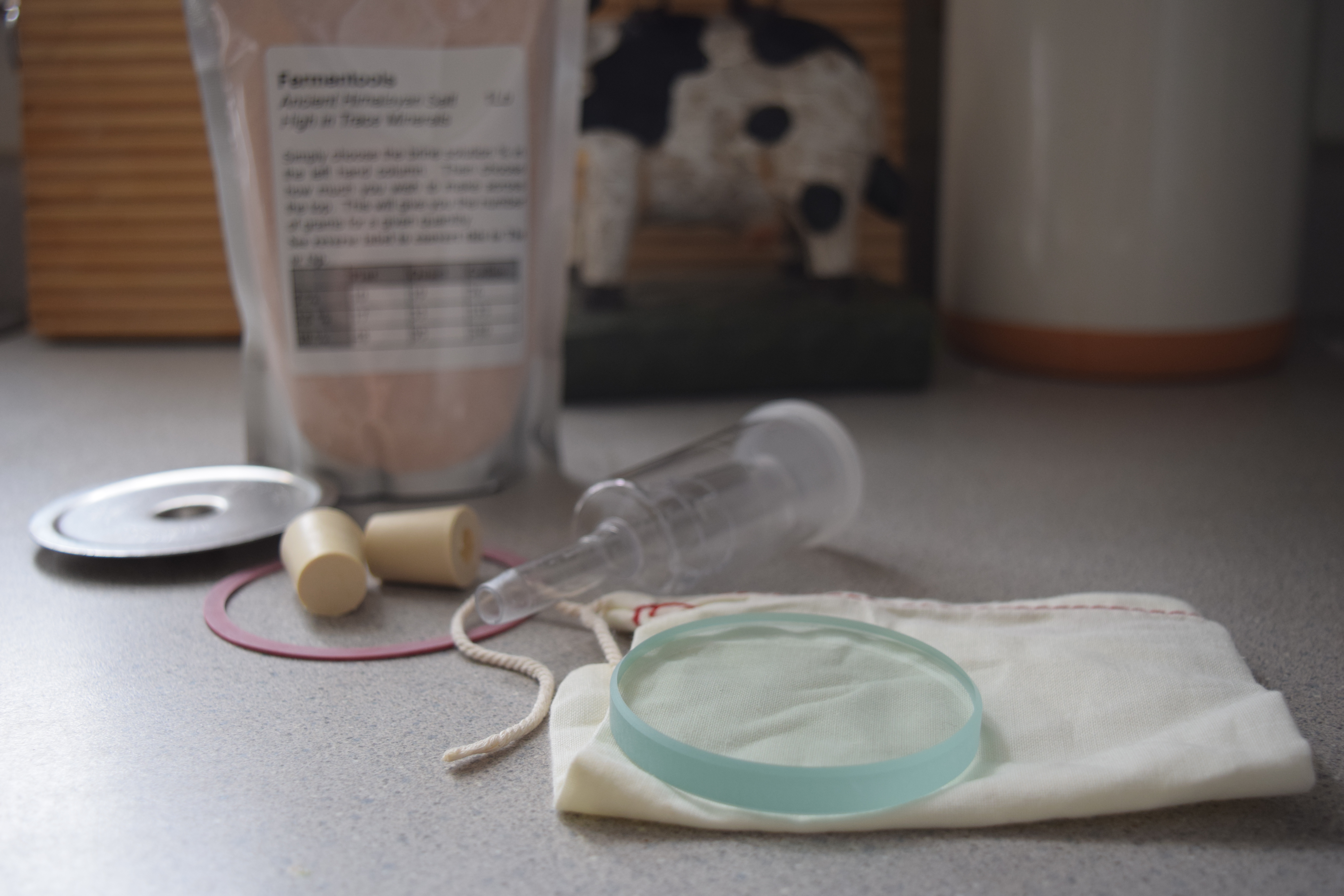 Contents of the Starter Kit
Stainless Steel Lid

 

Glass Weight

1 lb bag of bag of Himalayan salt

Airlock

Gasket

2 Rubber Stoppers

And a canvas bag to store it all!
Another feature that I love about this kit – it includes a nice and heavy glass weight. When fermenting, it is important to keep your food below the brine to prevent bad bacteria from ruining your food. In the past, I've had to keep checking on my ferments to make sure that they were staying below the brine.
The weight in this kit helped in this process and saved me extra time.
 Overall, my experience with this kit has saved me time with the fermenting process. It is easy to use and simple to understand for anyone who wants to get on board with fermenting. I definitely recommend this kit!
Cortido Recipe
Cortido is my absolute favorite food to ferment. It's a tasty relish that resembles a slaw, kimchi or sauerkraut and it pairs well with almost everything.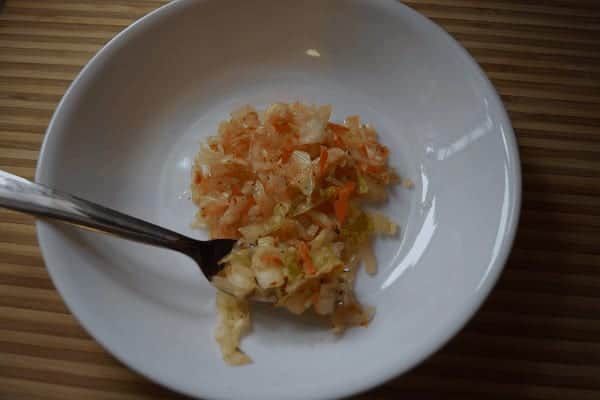 Ingredients:
1 large cabbage, cored and shredded

1 large onion, cut in half & sliced thinly

1 large carrot, grated

1 tablespoon oregano

¼ teaspoon crushed red pepper (or add more or less to taste)

1-3 tablespoons sea salt (this will be a salty condiment and I usually guess between 1-3 tbls when adding salt. The only time that I actually measure is when baking.

)
Instructions:
Add all ingredients to a large bowl and mix together.

Use a wooden meat pounder on ingredients for about 10-15 minutes to release the juices.

Place ingredients into clean mason jars and press down firmly with wooden spoon.

Ensure that the cabbage mixture is below the brine and add your glass weight to ensure it remains there.

Assemble the rest of the fermenting kit. Gasket, stainless steel lid, ring for your mason jar, stopper and airlock. Fill airlock half way with water.

Allow to ferment for 3-5 days at room temperature.

Once finished fermenting, use a refrigerator safe lid and move to cold storage.

Enjoy.
Ready to enjoy fermented foods at home? Get started with this awesome starter kit!
More Recipes Here: