In an effort to get our home ready and even more organized in the New Year, I have put together a simple Declutter Photo Challenge on Instagram. Earlier in the year, I went through a basic declutter session. We are striving for a simple and minimalistic lifestyle here at our homestead, but I want to purge some more. I mean ruthlessly purge.  
Nothing is safe.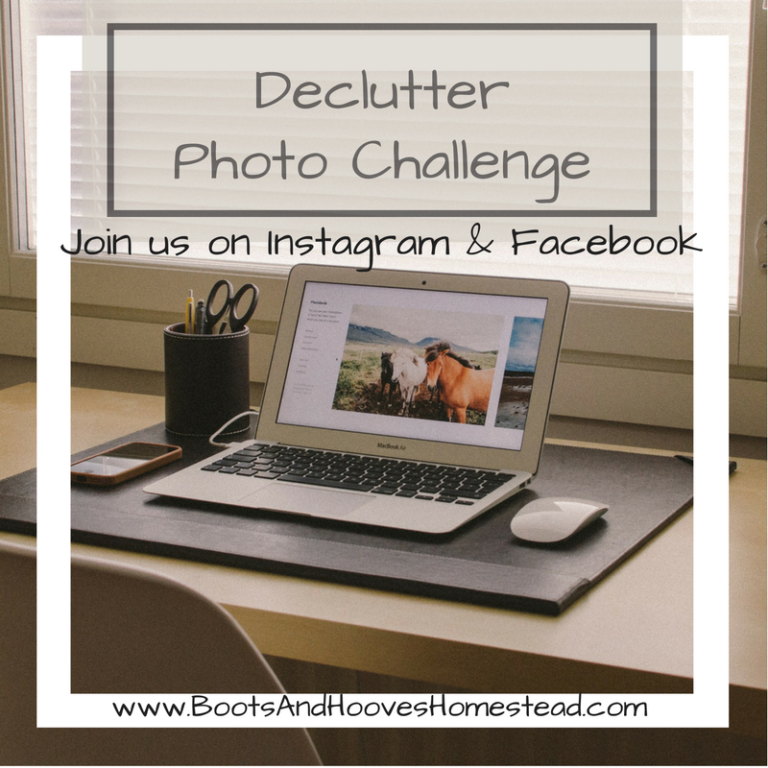 Why we are decluttering…
 Well. In my opinion, clutter leads to chaos. Chaos leads to stress. Stress leads to illness. And when mama is sick, nothing gets accomplished. Who takes care of mom when she's ill? Yeah… Mom still needs to take care of the home, the husband, the children, and a million other details.
 Decluttering leads to less cleaning. It's really simple, less items and things means less things to clean. Score! Less laundry to sort, wash, fold and put away. Oh, and less ironing.
Yes, I still do this for some items.
Do people still iron anymore? I rarely even use our dryer…yep, even during the winter. So, ironing is sometimes a necessity.
 Anyway, where was I going with this. Oh, yeah. A clutter free life is just plain awesome. Less stuff to worry about. Easier to stay organized and focused on what truly matters to us in life. And let me tell you, it isn't cleaning!
 Want to join me? Follow us on Instagram and Facebook for daily inspiration and to join in on the fun. Be sure to sign up below for your FREE access to my Super Declutter Checklist. And post your daily declutter wins.
Here's to making 2017 even more simple and clutter free!